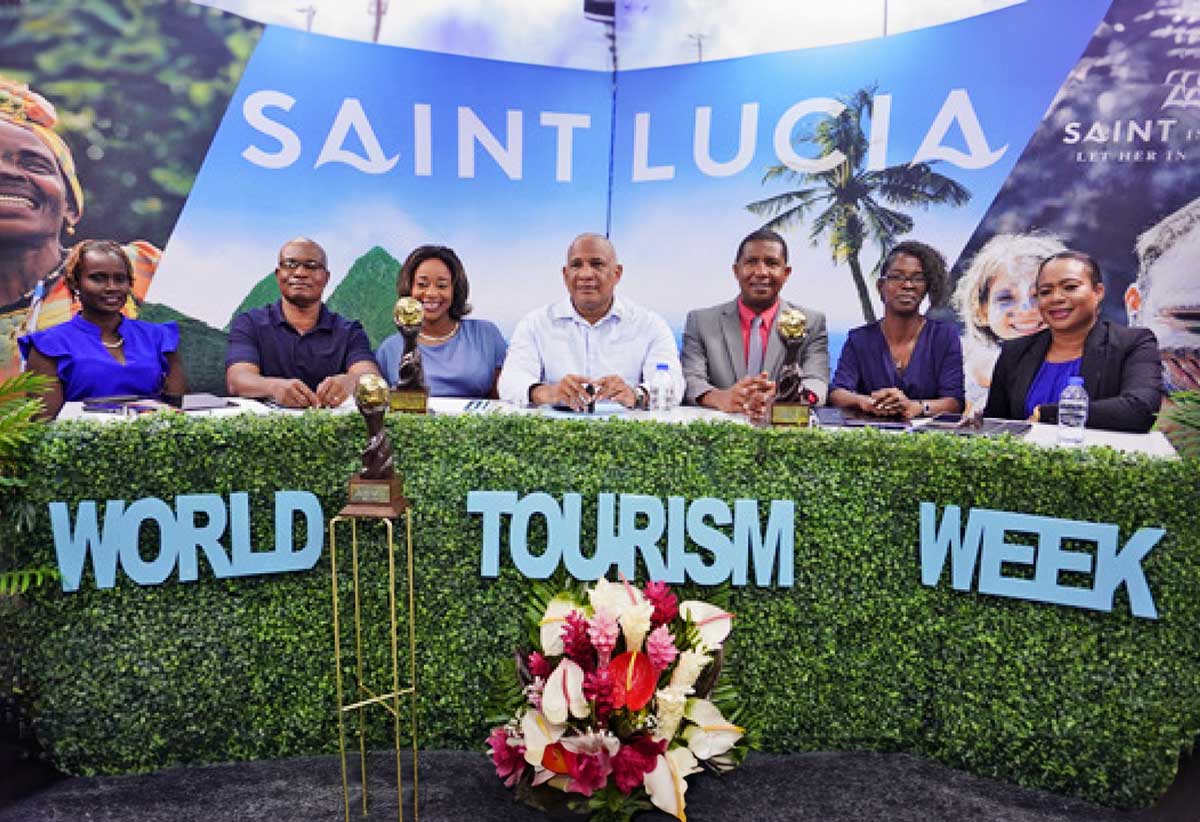 SAINT Lucian tourism authorities have planned a dynamic schedule of activities as the island prepares to observe World Tourism Day 2023, which is on September 27.
Notably, the industry personnel aim to spread awareness of tourism and its impact on the community.
On Thursday, the Ministry of Tourism held an interactive discourse as part of the promotion, where key personnel from the hospitality sector were involved in a panel discussion that revolved around the theme Tourism and Green Investments.
Tourism Minister Dr. Ernest Hilaire, one of the panelists, focused on climate change and sustainable development issues. He noted that the Tourism Development Bill legislation, which is intended to guide the course of the industry for the next two years, will be brought before parliament with provisions to push investors towards green investment.
The minister said historically, concessions have been granted to investors such as the exemption for Solar Energy apparatus, and an exemption of VAT and taxes on building materials for accommodation.
"What we are saying …is that when you apply for concessions there will be some principles that you have to follow which will decide what are the levels of concession that you get," said Dr. Hilaire.
He said for an investor to qualify for this "high level" of investment (CONCESSION) there must be a commitment to certain principles, and Green Bank Investment is a key component in that thrust.
"You have to show that your investment will be in keeping with a sustainable development policy…so from now on, all developers who can demonstrate a commitment will get more incentives than previously allowed and more than others who have not shown a similar commitment," he explained.
Another piece of legislation involves the awarding of Sustainable Development Certificates to persons who have adhered to a charter of action as defined by the authorities, whereby their properties can be issued with this permit.
Hilaire said the government has also been providing incentives to persons who are involved in recycling. "So, for us, it is really important that we cause the legislation to speak of these benefits," he added.
Deputy Permanent Secretary in the Ministry of Tourism, Ann-Margaret Adams noted that the department will see to it that the legislature entails a regulatory procedure. She said it is "very critical" to promote community relations and participation in the tourism industry for sustainability to occur.
In this regard, she added, firstly "It recognises that our communities must be able to benefit substantially, not just participating but wholly involved … and apart from the aspect of community involvement it also looks at maintaining and preserving our national resources."
Adams recalled that about two years ago, the department implemented the Tourism Strategy and Action Plan, which also identified sustainability as a core aspect of tourism development.
She explained that the focus was directed specifically on community ownership, levels of entrepreneurship, and environmental sustainability.
"So, we have recognized this from decades ago, and our approach is to ensure that our community is preserved sustainably and that the benefits accrue to as many as possible," said Adams. "Also, because tourism depends on the environment, we must maintain the integrity of our environment to ensure that our resources are preserved consistently."
Charged with the task of enhancing lives within the local communities, Dahlia Guard, CEO of the Community Tourism Agency (CTA) declared that the goal is to create "Authentic Saint Lucia Experiences" that world travellers can enjoy.
To support community tourism initiatives, she said the agency provides funding and financing support through the disbursement of loans and grants with very affordable interest rates attached and also offers capacity training to individuals keen on earning a livelihood from the sector.
"The agency has identified all these support services that they need for them to aspire …and we conduct lots of engagement in the community as it pertains to consultations and talking to them. Because community tourism really is (entails) from the bottom to up, we can engage the communities a lot and find out what are they interested in to be involved in the decision-making process," noted Adams.
The Calendar of Events to commemorate Tourism Week which runs from September 24 to 30, is listed as follows:
– 24th September – Church Service
– 25th September – Community Tourism – A Day in Micoud
– 26th September – Tourism Policy Round Table
– 27th September – Culinary Showdown – Seasoned vs. Unseasoned chefs
– 28th September – Blaze -in -Blue
– 29th September – Industry Perspectives – Going Green to Stay Clean
– 29th September – National Beach- National Beach Clean Up
– 30th September – Private vs. Public Futsal Competition.