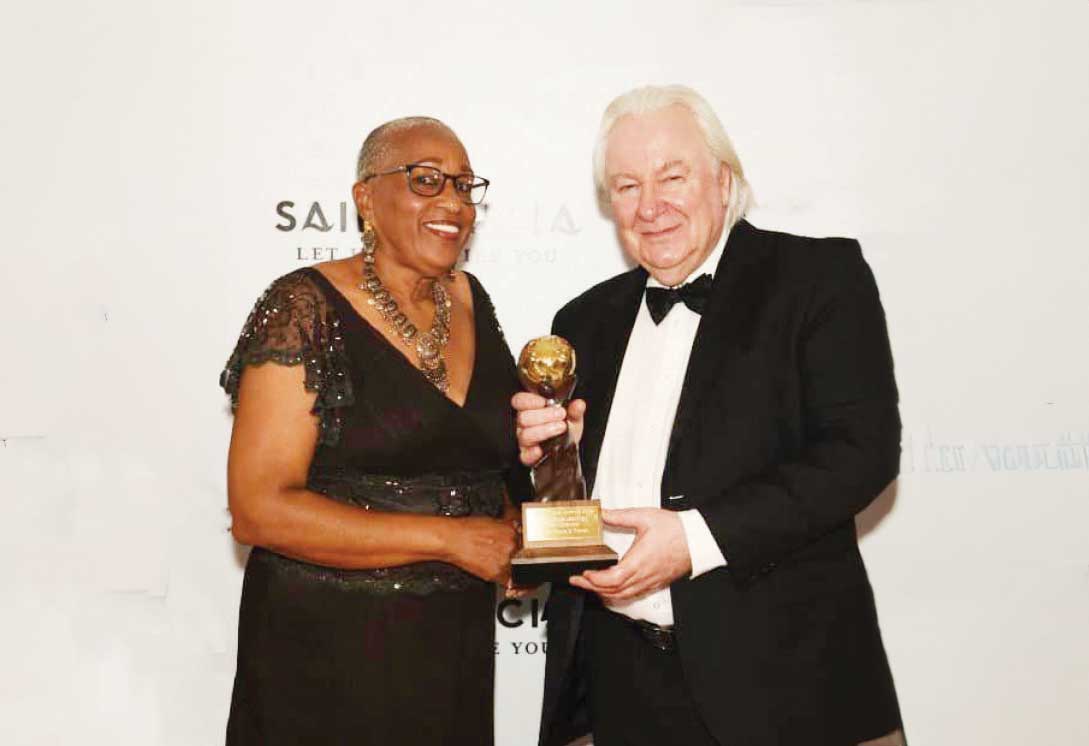 CARMELITA Xavier of Solar Tours & Travel was elated to receive the prestigious award of Saint Lucia's Leading Tour Operator at the recent World Travel Awards, which was held here.
Solar Tours &Travel is identified as the # 1 leading Destination Management Company in Saint Lucia.
Xavier prides herself and her dedicated crew on sustaining the business for more than four decades and credits their success to hard work, toil, and sweat to meet the expectations of their wide-ranging clientele.
Speaking to THE VOICE, at the event, she described the latest achievement as "an eye-opener …so that I can go back to my vendors and say to them there is much more to gain in the simple way that we are doing things and we can do much more than that".
Xavier stressed on the concepts of sustainability  tourism and wellness tourism, as the company marks 41 years of operations.
The Chief Executive Officer (CEO) defined her role as leading her team as a "role model …and to leave a legacy." She said it was important to chart the progress of the business, with "the way that we sell Saint Lucia, in the way that we sell our service to our clients coming to Saint Lucia …and basically, not just to make a name for ourselves locally, but hopefully regionally and internationally as well.
In a nutshell, what is the primary function of the Solar Tours & Travel company?
"We sell tourism services," declared Xavier. "I operate a multi-faceted business, so I sell tours, and attractions, meet with clients when they get to the airport …and take care of them from arrival to departure."
The company caters to a wide range of clients, globally and "represents operator companies from overseas and we also represent some of the bigger names".
Added Xavier: "I consider myself a leader …because I am focused on service, I am focused on leading my team and I have set a platform for my employees to follow.
"I have trained many people …and I'm working at the hotels and different attractions, so I have been doing quite a bit."
Xavier is optimistic about the company moving into the new era of sustainability and embracing this developing tourism concept. Foremost, she wants her employees to emulate her drive and passion for catering to the clients and making their stay on the island, a comfortable, memorable, and enjoyable experience.
[R.A].