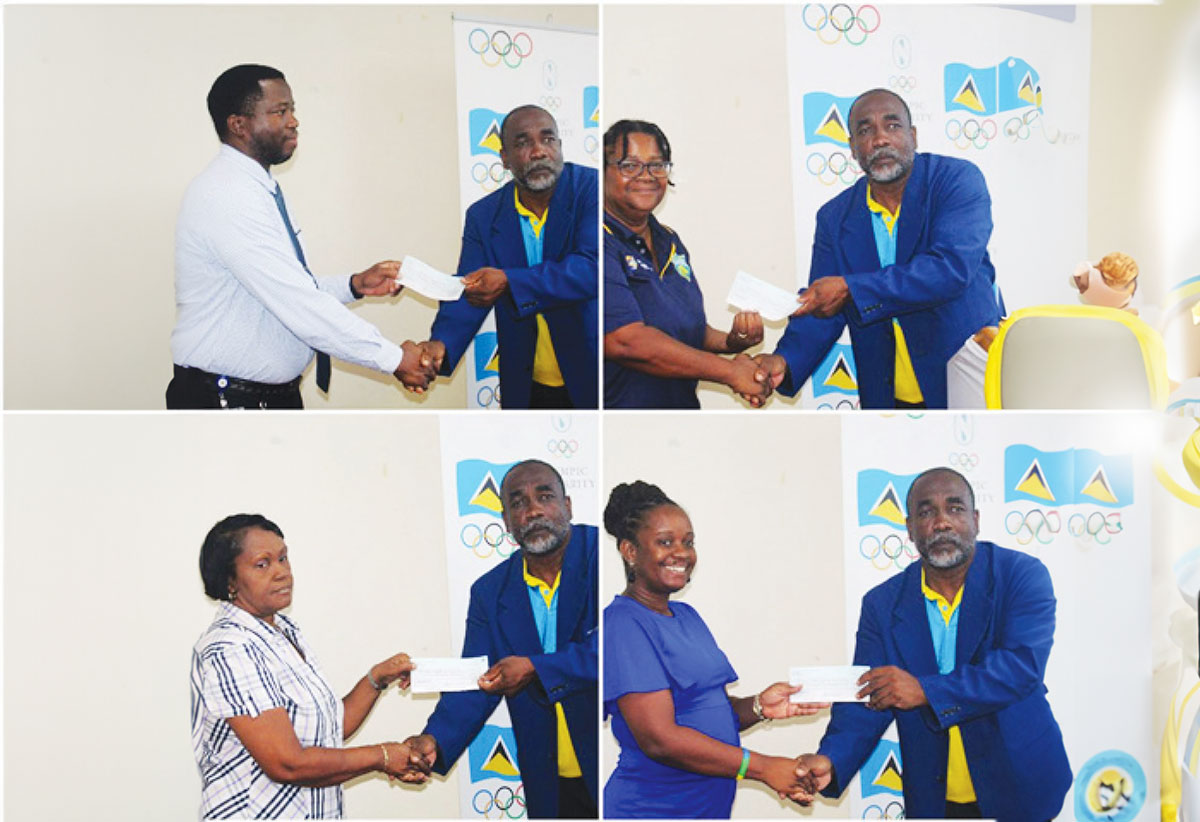 THE St. Lucia Olympic Committee (SLOC) Inc. last Tuesday morning handed over cheques totaling nearly EC$25,000.00 to four-member associations.
Alfred Emmanuel, President of SLOC Inc., made the presentations to the following representatives in attendance who received cheques on their associations' behalf:
• Cornelius Breen of the St. Lucia Athletics Association received their administrative grant of EC$5,000.00.
• Jacqueline Trim of the St. Lucia Bodybuilding and Fitness Association received EC$9,500.00 for participation in an upcoming championship.
• Paula James of the St. Lucia Aquatic Association received EC$6,000.00 for her participation in the recent FINA Youth Championships.
• Kimbaly Francis of the St. Lucia National Table Tennis Association received EC$4,402.00 for airfare for De Andre Calderon's return to training in Europe.
Emmanuel said that, including participation in the various Games plus total direct assistance to affiliates, the SLOC Inc. has spent in excess of EC$2.5 million to date.
"The St. Lucia Olympic Committee Inc. is not a revenue-generating organization," Emmanuel said. "We depend on the goodwill of funding agencies who have made certain demands of us. We would want people to fully understand that we would not want the SLOC to be used like their ATM or as a last resort. We have asked associations from the ending of last year to provide us with their calendars and to indicate the areas in which they would want us to assist. But, lo and behold, the year is unfolding and every day we're seeing a new request which was never there before."
Emmanuel said that not only are some of these requests unexpected, but they sometimes don't correlate with the goals that SLOC Inc. is trying to achieve.
"For request upon request to come out of the blue, we will have to take a tough line as it relates to providing assistance, especially when some of those requests don't marry well with our end objective of providing qualifiers for the Paris Games," he explained.
Nevertheless, Emmanuel thanked members for their continued working collaboration with the SLOC Inc., noting that the next eight months will be solely dedicated to increasing the number of qualifiers for the Paris Olympic Games.
"We are at a juncture with less than a year to go before the Paris 2024 Games," said Emmanuel. "As an organization, we wasted no time: we provided lots of assistance over the last two and a half years, with the ultimate goal that persons will do what it takes to qualify for Paris come July 2024."
Emmanuel added: "To date, we're seeing progress in some areas, and we're hoping that we would have seen much more progress in other areas. That said, our efforts, come January 2024 up until the Olympic Games, will be dedicated to those qualifiers and those who are on the verge of qualifying.
"The members who we assisted over the past two and a half years, who, after we have made our analysis, we have no doubt cannot provide qualifiers for the Paris Games, their level of assistance will be reduced dramatically, while those that have qualified and on the verge of qualifying will get that extra effort albeit to attain the qualifying standards."
Emmanuel also reminded members that they need to work harder with their programmes and athletes to produce natural qualifiers for next summer's Olympic Games.
"Come 2024, no non-qualifiers will be joining the party in Paris," he stated. "Athletes will have to earn their right as a natural qualifier to be in Paris. That is why as an organization we have adopted those measures for the next ten months going forward.
"We have had at least four different Games ahead of Paris: Commonwealth Games, CAC Games, Commonwealth Youth Games, and Caribbean Games, and not too long from now, the Pan American Games. So there were lots of opportunities for persons to work towards that Paris goal."