OCTOBER is Creole month, a time when all things creole (kweyol), as it relates to Saint Lucia, will be on display. Members of the Beauty and Fashion Cluster of the St. Lucia Industrial and Small Business Association (SLISBA), in a bid to attract customers, this week Tuesday gave a glimpse of what they will put on display when October comes around.
The members, 27 of them, are top level fashion designers, seamstresses, tailors, hair and beauty professionals as well as producers of amazing creole products and accessories. The activity they hosted was aimed at creating greater awareness of the island's creole heritage.
The activity, known as pop-up sales shops, was held outside the SLISBA office at La Pansee, Castries and consisted of trays loaded with locally produced Kweyol outfits, accessories and products as well as beautiful hair and nail designs depicting the island's Creole heritage.
This pop-up sales feature will take place all over Saint Lucia in the month of October with the hope that Saint Lucians and members of the business community will take the opportunity to support those members of SLISBA who are taking their locally made creole outfits to every corner of Saint Lucia.
The Pop-Up will be held in various malls and outside of large supermarkets all over St. Lucia.  There will also be pop ups in Constitution Park, at the waterfront and in various schools around the island.  A wide array of products will be available in all of the pop-up locations and patrons can also have their measurements taken on site, for production of various styles of creole outfits which will be on display.  Patrons can also make appointments for special hair and nail designs in keeping with the creole styles.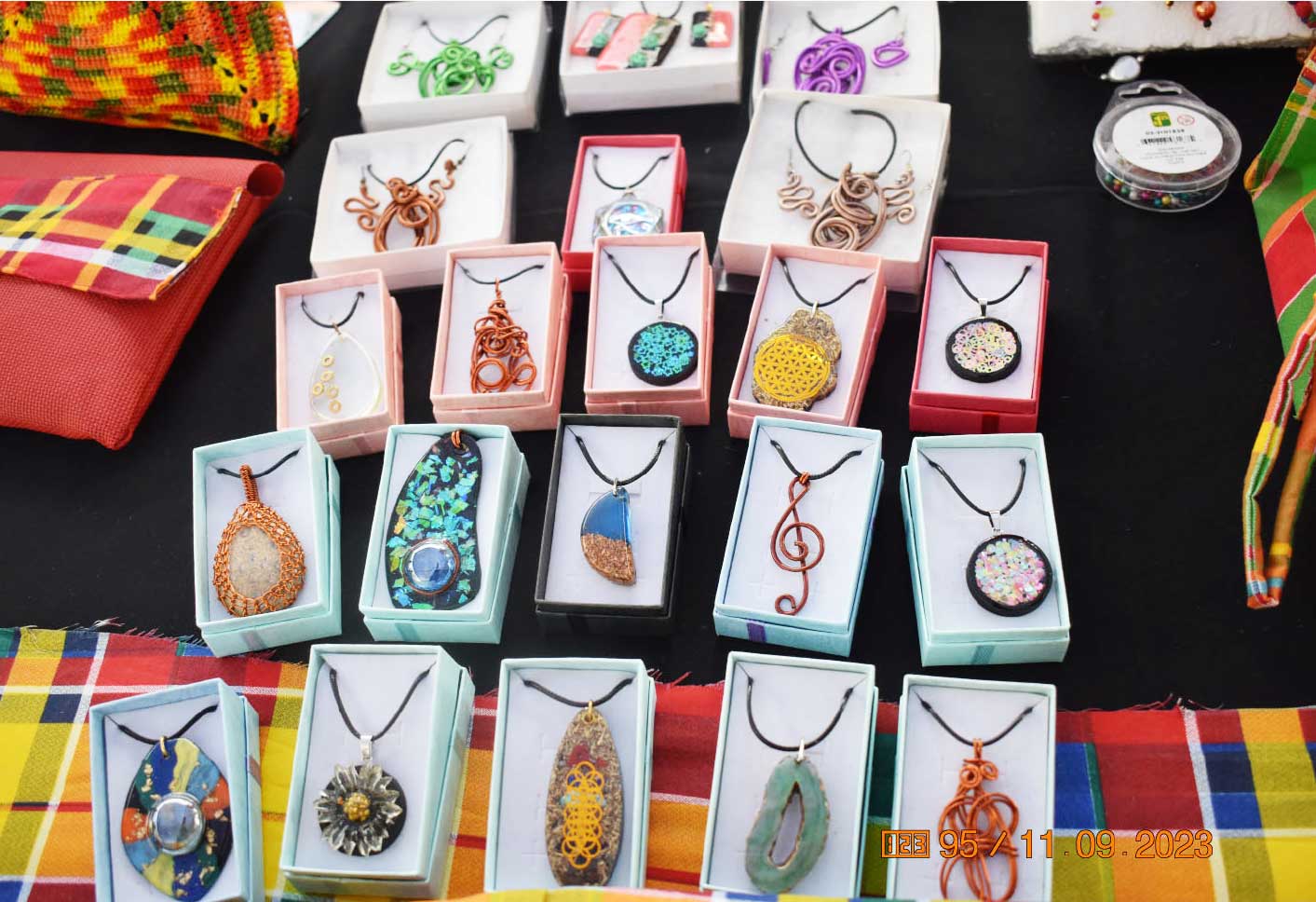 Ms. Lucianna Louis, Vice President of SLISBA, who was on hand for the Tuesday session, encouraged the public to support the local designers and to plan early to get their outfits and accessories in time for Creole Month.  Tuesday's display was a snapshot into the amazing array of outstanding creole designs which will be available through this special initiative.  There were matching outfits for men and women, creole hats and visors, creole belts, ties and scarfs, as well as an amazing array of creole themed jewellery to match the many outfits on display.
For the young at heart, there were also some beautiful creole short pants and matching tops.  Some SLISBA members also had a display of locally produced creole soaps, nicely packed in creole bags and pouches, which can serve as excellent gift items for creole lovers.  Some members will also be displaying traditional creole concoctions for those who love local traditional herbal remedies.  Mrs. Lucina St. Ville of Vieux Fort, one of the very impressive designers, had a very outstanding array of creole clutch bags, necklaces and accessories to match.  She said she is very proud to be a member of SLISBA and to be given those opportunities to expand her sales.
Chairperson of SLISBA's Beauty and Fashion Cluster, Ms. Samantha Alexander also encouraged St. Lucians to support SLISBA's fashion designers and creatives.  Louis also took the opportunity to remind all who will be supporting next month's venture, that Saint Lucians traditional Kweyol clothing, accessories and beauty products play a fundamental role in expressing their cultural identity and helps to build recognition and appreciation for what is uniquely St. Lucian.
The schedule of pop=up locations and activities will be posted on the SLISBA facebook page (slisba slu) and also on the SLISBA website (www.slisba.org.  Further information can also be obtained by calling the SLISBA Secretariat at 452-7616.