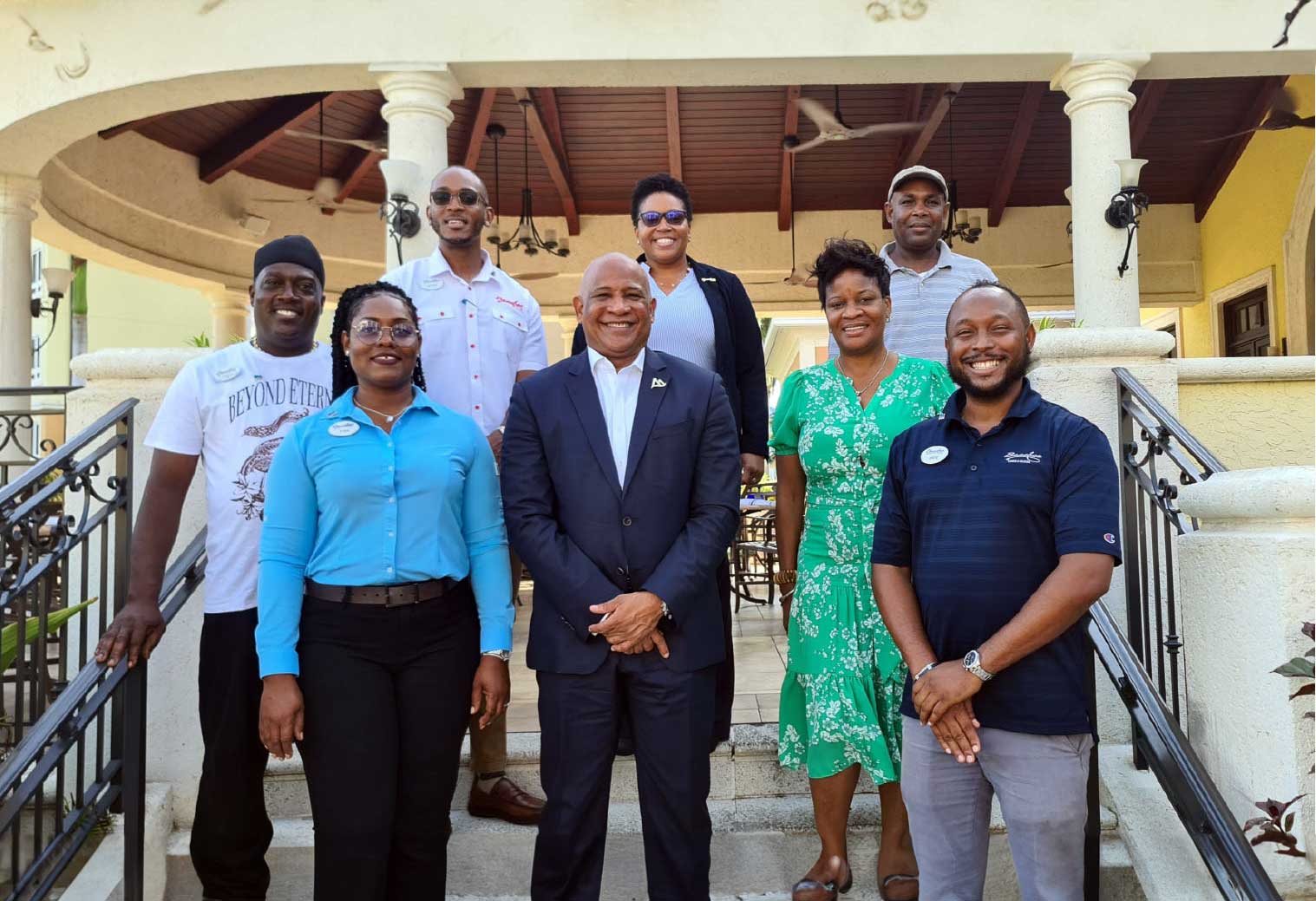 SEVERAL Saint Lucians who work at Beaches Turks and Caicos, the family arm of Sandals Resorts, recently had the opportunity to meet with Deputy Prime Minister and Minister of Tourism Dr. Ernest Hilaire in Providenciales. Dr. Hilaire was in the Turks and Caicos for the 2023 Caribbean Showcase of the American Society of Travel Advisors (ASTA).
Dr. Hilaire, along with CEO of the Saint Lucia Tourism Authority (SLTA) Lorine Charles-St. Jules, hosted a breakfast meeting for a number of Saint Lucian nationals currently holding key leadership positons at the resort. The Minister and CEO heard about how the Sandals training and development programme helped expose Saint Lucians to the wider Caribbean, allowing them to find success in other parts of the region.
After the meeting Minister Hilaire said, "I have very, very high regard for Sandals. Most people would see Sandals in terms of the resorts and the experiences you get there, but I have a lot of regard and respect for Sandals for the amount of resources and effort their put into training their staff. You can see the high level of training, you can see the professionalism, it really speaks a lot about the Sandals product and the emphasis they put on human resource development through their training programme."
Dr. Hilaire later posted, "So often we hear criticisms of Sandals for bringing 'foreigners' to work in Saint Lucia and taking our jobs. But do you know how many Saint Lucians are working in various Sandals and Beaches properties around the region? Well, there is a total of 93 St Lucians outside of St Lucia – 33 senior managers; 13 middle managers; 47 line staff including butlers! Well done!!
Ella Charles Martin who holds the position of Financial Controller at Beaches TCI, the single largest resort in the Sandals chain, said she was very excited to meet with Minister Hilaire. Ella, who is originally from Monchy, has been in the Turks and Caicos for close to 15 years. She started her Sandals journey at Sandals Grande Saint Lucia, before being given the opportunity to explore opportunities all over the region. "It's been an absolute pleasure being with the company, especially the exposure we have gotten, and I say we meaning the Saint Lucians who are here. It has been a very good journey, and exciting one, both professionally and personally as well." Ella also commended Sandals for helping her break the glass ceiling in an area previously dominated by men. "It is a huge position that I hold and I am quite proud of it, to be the F.C. for the largest property in the group. When I joined there were a lot of men who were F.C.s and now it has shifted quite a bit."
Jamie Dolcy from Union is in charge of retail revenue, and manages all the resort shops at Beaches TCI. He was also happy to share his journey with Minister Hilaire, assuring him that Saint Lucians were doing well throughout the region, "Let me tell you we are doing great and I am so happy to have met him and the CEO of the SLTA as well, and it was quite fruitful and we fully enjoyed it, because we don't really get to meet too many of our leaders coming out here."
The head baker at Beaches TCI Anthony Charles hails from Vieux Fort, and not only has he been working in the Turks and Caicos for the last 16 years, he's now married with a kid. Christopher Joseph who is from La Croix Maingot started at Sandals Regency La Toc as a steward, and has now risen to the level of a grade one cook at Beaches TCI. Also at the breakfast were Assistant Properties Manager Tyra Edwards-Singh, Boat Captain Christopher Alexander and Butler Petal Isidore, as well as Kervin Daniel, originally from Sunbilt.
Kervin heads all photo and media operations at Beaches TCI. He pointed out that his journey has taken him to several other islands as well, "I got to experience Barbados and its culture, I got to experience Antigua and its culture, I got to experience the Bahamas and now I am in Turks and Caicos. It's an eye-opener when you visit these other countries where Sandals and Beaches have resorts to see the number of other Saint Lucians that are in those countries. It is a wonderful experience, the opportunities are endless for us Saint Lucians. We are in management and leadership positions."
Sandals' commitment to training and developing nationals from throughout the region was also lauded by Barbados' Tourism Minister Ian Gooding Edghill, who had the opportunity to meet with nationals from his country as well, who left home to further their careers in the Turks and Caicos, "We were absolutely delighted to meet them. It says a lot about Sandals human resource strategy and how they bring together and put together a collection of Caribbean people not only on this resort, but across all resorts. We also got to meet nationals from other islands, and the Sandals' strategy seems to be paying significant dividends. The fact that you have people from Saint Lucia, Saint Vincent, Grenada and all the other Caribbean islands says a lot. It helps to grow and develop tourism, and that's what we are all about."