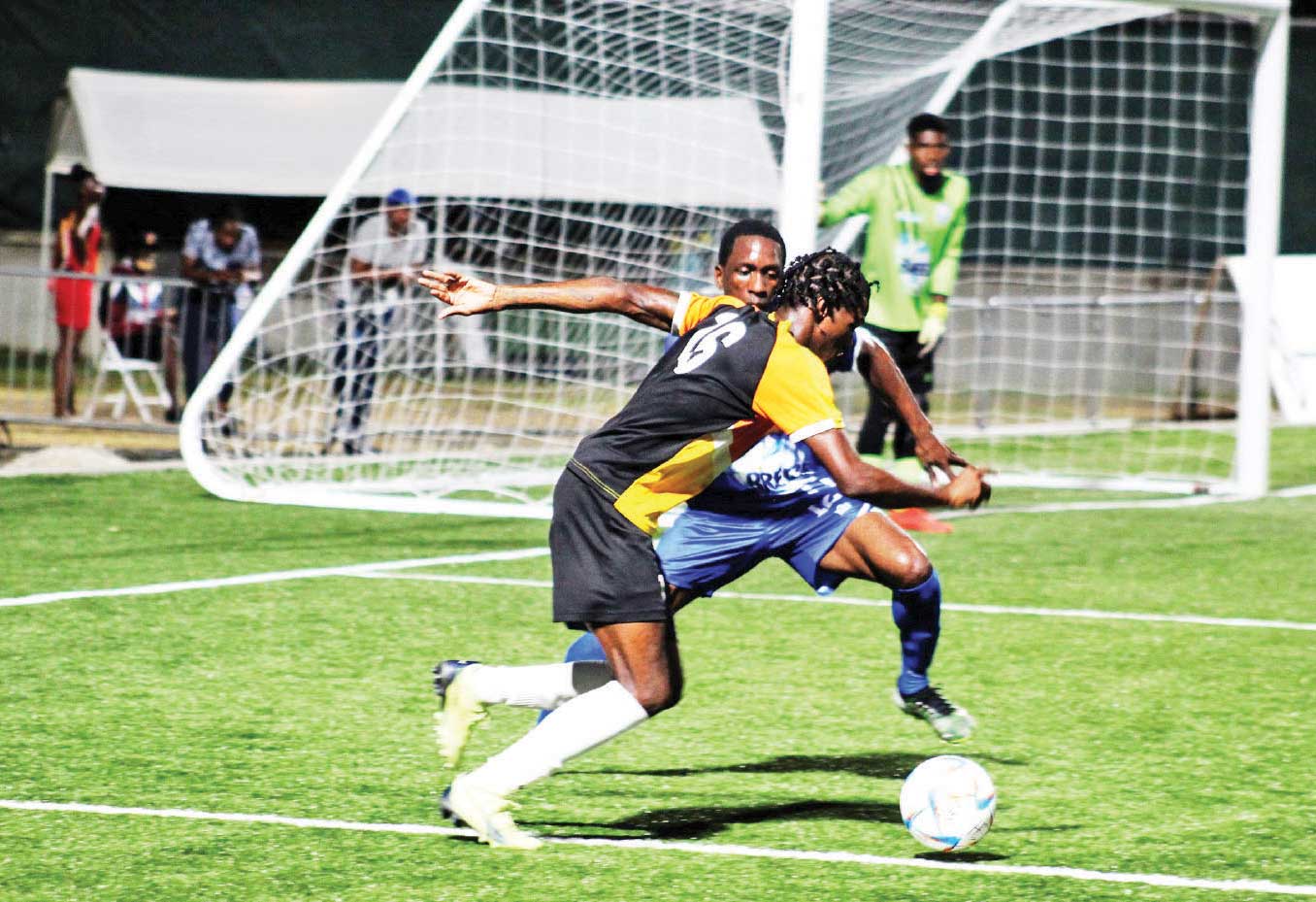 TODAY (Saturday), this season's Blackheart Knockout Football Tournament moves to the western coastal town of Soufriere for more pulsating action in the popular off-season soccer challenge, now into its 21st anniversary year.
A double-header at the Soufriere Mini-Stadium will feature:
– Marchand vs. Canaries – 6.00 p.m.
– Soufriere vs. Babonneau – 8.00 p.m.
On Wednesday, Vieux Fort South beat Micoud 2-1, playing before their home fans at the Phillip Marcellin Grounds [PMG].
The highly anticipated matchup between the two southern districts lived up to the hype and opposing fans were thoroughly thrilled with the encounter.
In an earlier game, Desruisseaux got past Roseau 4-1 to also book a spot in the next round of the BKF challenge.
Other teams qualifying for the next round, include; La Clery, Mabouya Valley, Gros Islet, and Dennery. It will be a tight and grueling affair when these teams meet in the qualifiers, with some former BKF champions in the mix, all set for a shot at the championship trophy and title prize.
Next Wednesday, the action returns to the PMG, for another exciting round of matches, before heading to the Daren Sammy Cricket Ground [DSCG], on September,23 for the semi-finals.
On the heels of the escalating crime situation that erupted in Vieux Fort, last year, and the ensuing controversy that prompted the organisers to strike out the southern town from the match roster, Blackheart Productions CEO David "Shakes" Christopher says he is pleased with the return of the BKF challenge to Vieux Fort.
Said Christopher: "Some said we won't come back, others said we can't and or shouldn't go back… we showed the world the true Vieux Fort. Thank you very much for showcasing your vibrancy, talent, and positivity. Thank you, Vieux Fort – last night was a joy! Blackheart shall never forget Vieux Fort – this is our Town. One love."
Patrons are in for a block-buster 'total package' treat on September, 30 to culminate the BKF season with the grand finals and a star-studded Peace & Unity Concert, which will feature an array of international and local artistes.
BKF organisers and supporting partners, such as the Saint Lucia Football Association [SLFA] Inc. and other interests have stuck to the message, of uniting communities through sports with the tagline: "Shoot Goals not Bullets".
The match venues have been spruced up and amenities put in place to cater to patrons, players, technical staff, and officials; while the resounding selections of 'conscious music' have been highlighted.