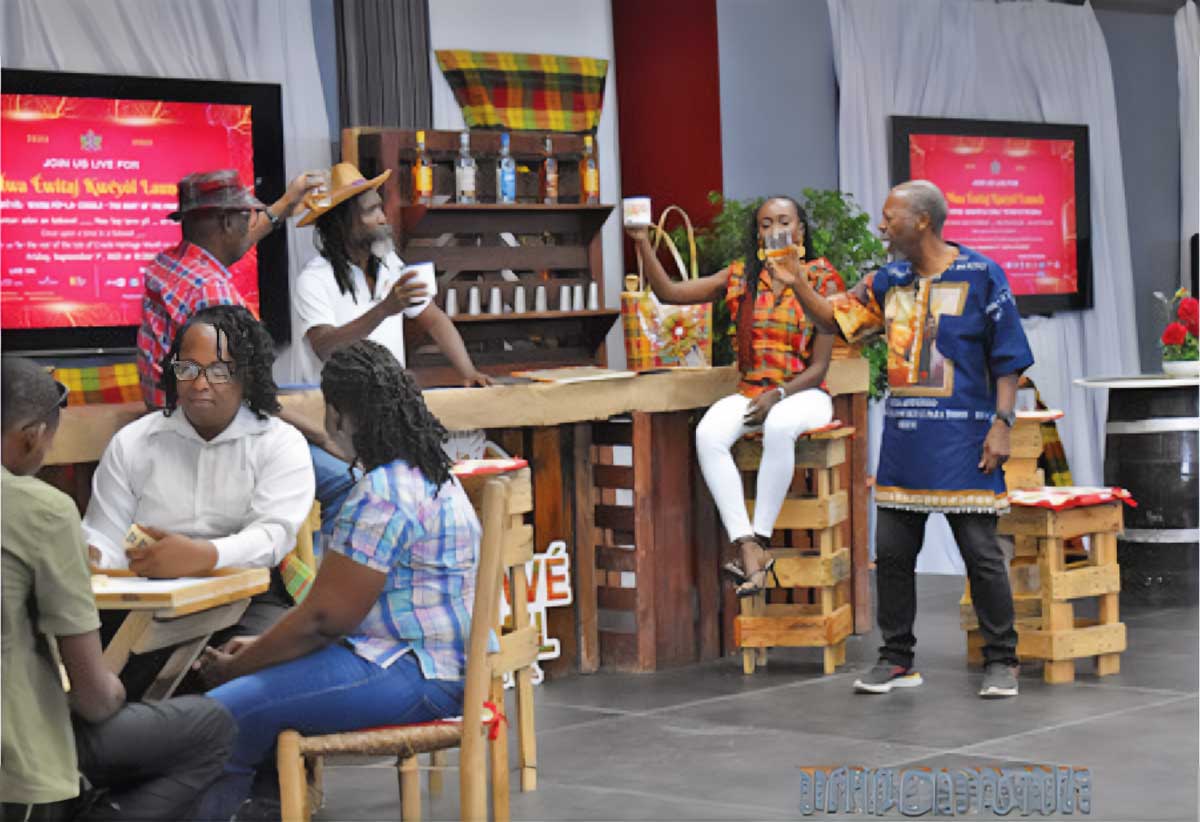 ACTIVITIES to celebrate this year's Creole Heritage Month and other culturally related activities are expected to be a grand event with a dynamic infusion of cultural traditions, drama, dance, songs, poetry, and storytelling to woo both locals and visitors to the various presentations.
That much was evident, on Friday, as the organisers held an unprecedented media launch with an innovative and interactive session to coincide with the 50th-anniversary observation of the Msgr. Patrick Anthony Folk Research Centre [FRC].
Headed by the Events Company of Saint Lucia [ECSL] and with input from FRC, Saint Lucia Tourism Authority [SLTA], the Cultural Development Foundation [CDF], government personnel, and other cultural exponents from various communities, the stage is set for an enthralling experience.
Set in a traditional setting of a Kabawe (rum shop), at 'Kabawe Boots', the initial cast featuring cultural activist and actor Kennedy "Boots" Samuel, FRC's Executive Director Rhyesa Joseph, and Creole media practitioner Michael Gaspard set the scene for the different skits to follow.
"This year, we have big plans for the Creole Festival …we will be bigger than Saint Lucia Jazz, bigger than carnival …and initially, we will honour persons that have been promoting the Creole language," declared Joseph.
This year's Jounen Kwéyòl Day will be hosted in Canaries, Soufriere, and Mabouya Valley, with other communities participating and promoting traditional cultural expressions.
The theme for this year's Creole Heritage Month (CHM) 2023 is "Creole: The Root of the People" or "Wasin Pep-la."
For this year's Creole Media Awards, persons who have made a "huge contribution" to the development and promotion of the Creole culture will be duly recognised, and includes the likes of Msgr. Patrick "Paba" Anthony, Dame Pearlette Louisy, Primus Hutchinson, Sam "Juke Bois" Flood, Marcellus "Man" Millar, Michael Gaspard, Embert Charles, and other persons.
On October 6, The Rooftop at Belle Vue, Vieux Fort will feature a Culture Awards Evening in honour of Creole media broadcasters who have contributed to the development of Saint Lucia's Creole language and rich Creole culture in television, radio, music, poetry, theatre, and other art forms… The FRC will make the presentation in celebration of Creole Excellence.
CDF's events coordinator Drenia Frederick resplendently dressed in 'La Marguerite Royal' attire, a female Creole vocalist, and a drum and congos ensemble all added to a lively and entertaining production that was streamlined live to highlight the upcoming activities.
Monsignor Anthony, founder of the FRC and a pioneer and avid proponent for promoting the Creole culture and language, Parliamentary Secretary in the Minister of Creative Industries Guibon Ferdinand, cultural promoter Jason "Bachelor" Joseph, and representatives from the host communities all added valuable input to Friday's presentation.
Emphasizing the significance of the Creole traditions, Fr. Anthony declared: "Culture is the belly (embryo) of a country …and if you don't know about your culture, if you don't know about your language, your history, your traditions, and if you don't know about your roots you will not stand (thrive)."