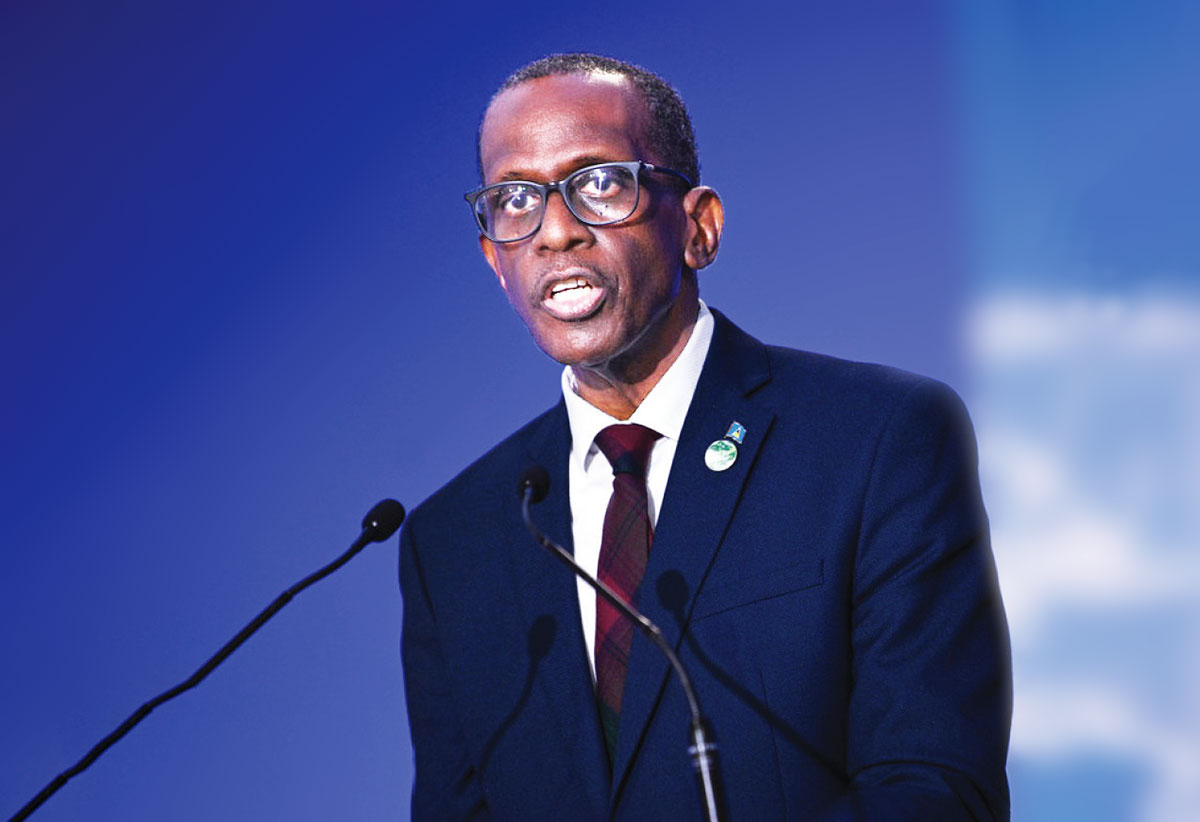 Parliament this week approved Prime Minister Philip J Pierre's budget for the Financial Year 2023/2024, in which he indicated areas his administration will tackle.
The $1.8 billion budget, or what is known as the Appropriations Bill, highlighted Housing, National Security, Economy Security and other areas Pierre's administration aims to deal with in the coming months.
Noting that the wealth of the citizenry is a major priority, government plans to tackle this issue head on in an effort to restore law and order in the country.
Another focal point of the government's policy will entail making adequate provisions for the welfare of the underprivileged.
"Our first responsibility is to ensure the safety of our people and their access to quality and affordable health care. The growth of a nation can only be powered by its people, who must be in good health if they are to be productive citizens," PM Pierre told legislators, Tuesday.
And as the authorities grapple to curb the incessant violent crimes plaguing the country, the prime minister stressed that the matter needs to be dealt with "swiftly and decisively".
"We have and will continue to empower law-enforcement with tough legislation in the battle against crime," said PM Pierre, "As a society, we need to do more to discourage the glorification of crime and to help our people develop respect for human life."
He added, "Crime must not be allowed to find fertile ground in our homes, places of business, and recreational spaces. We must be of one mind in the fight against crime otherwise it will, before long, destroy all of us."
In the wider context, the government's economic policy seeks to address key issues pertaining to sustainable economic growth, reducing poverty and inequality, and promoting social welfare programs. The prime minister also underlined the significance of investing in human capital and education, improving infrastructure and sourcing out investments.
The government's policies also aim to improve access to healthcare, education, and affordable housing. Other factors in focus, include measures to reduce the cost of living, and to strengthen the country's tourism industry.
Overall, the policies will entail prioritizing economic growth and social welfare, while also seeking to create an environment that is conducive to private sector investment and economic development.
Prime Minister Pierre says his administration is adamant on providing adequate healthcare to the citizenry, despite the numerous debacles that have beset the development of the island's health and wellness services.
"Our primary and secondary health care systems will all be improved over time," declared the prime minister. "High on the government's agenda is the completion of St. Jude Hospital and improvements to the operations and provisioning of OKEU Hospital. Our success in pursuing these strategic choices will require sound and prudent management of the country's financial resources and contributions from everyone."
Assessing the economic status of the country, Pierre said, the country appears to be on a "growth trajectory" and there will be continuity.
He said, at this juncture 18 months later after having survived the health, social and economic distresses of the Covid-19 pandemic and grappling to come to grips with other external factors, such as, the global effects of the Ukraine War, giving rise to inflation, and supply chain issues "we are experiencing a well-spring of economic growth, unemployment is trending in the right direction and there is a renewed feeling of hope in the country".
Added Pierre: "We cannot, now, allow this renewal to be dampened by threats to our citizens' security; we must, therefore, fight to keep our country on track and continue with the transformation that has begun.
"We have the people to do it. This budget will seek to reinforce those pillars for the continued renewal and transformation of our country."
With a mandate aimed at protecting the rights of workers, the prime minister said, it is critical to "continue to build a society where free enterprise can flourish".
He added, "We must build a society where meritocracy and inclusion are valued and embraced as basic principles for progress and development."
PM Pierre notes that in an effort "to ensure equality and fairness", the recently formulated Minimum & Equal Wage Commission is undertaking the task of developing a livable wage for workers in Saint Lucia. "All sectors including the private sector will be consulted, and an appropriate announcement will be made soon," he said.
Recalling the gains of government over the past year of operations, the prime minister listed the following accomplishments;
– Paid Facilities Fees for 24,000 primary and secondary school students;
– Procured 10,000 electronic devices for students under the one-laptop per-child program;
– Made available 1200 MIFI devices to households to assist students with distributed learning;
– Paid CXC Maths and English fees for all secondary students;
– Secure low-cost ICT services for income households at $20.00 per month, for 5000 households;
– Provided bachelor's degrees scholarships in keeping with the policy of one university graduate per household;
– Allocated $7 million to the Home Care Programme to secure care for the elderly;
– Provided an additional $10 Million to the Ministry of Equity, to provide social assistance to the needy;
– Subsidies on the price of fuel, flour, and rice;
– Paid $18.3 million in back-pay to public servants during the fiscal year.
– Paid severance of $4.4 Million to 47 former employees of LIAT (1974) LTD;
– Paid long outstanding termination benefits to 196 former employees of Majestic Industries LTD ($10,000 each)
– Paid Government pensioners a one-off payment of $500 each last year;
– Effective January 01, 2023, all workers earning up to $25,000 annually pay no income tax. Over 10,000 workers pay no tax on their income;
– A 4.2% increase for NIC pensioners;
– Paid $800,000 in flood relief to households affected by the November 6 weather event;
– Launch the MSME Loan-Grant Facility of $10 million in grants and loans to micro, small, and medium businesses.
– Launch of the Youth Economy to provide training, marketing, finance, and mentorship to youth entrepreneurs;
– Provided $1Million to re-instate the Distress Fund.
Taking a wider outlook of the global economy, Pierre noted, on the regional front and in comparison to the bigger countries, "The CARICOM region experienced a more vibrant pace of economic recovery from the COVID-19 pandemic.
"Estimates show that most CARICOM territories recorded positive economic growth rates in 2022 driven by strong performances in Guyana's emerging energy sector and the continued rebound in tourist arrivals in tourism-dependent economies since the lifting of COVID-19 restrictions."
He asserted: "Guyana, Saint Lucia, and Barbados recorded the highest growth rates, and Saint Lucia recorded the second-highest growth rate after Guyana."