Innocent Edwin has a wonderful sense of humour. Although he's blind, he laughs endlessly and wholeheartedly and according to him, he's simply grateful to be alive. He reminds me of my beloved grandfather, Clauzel Jean, who is affectionately known as "daddy". My granddad who is also blind, laughs just as much as Edwin and when he laughs, he laughs from the soul. 
Edwin lost his vision at the age of 10. His mother's "mistake" changed his life forever, but he doesn't blame her.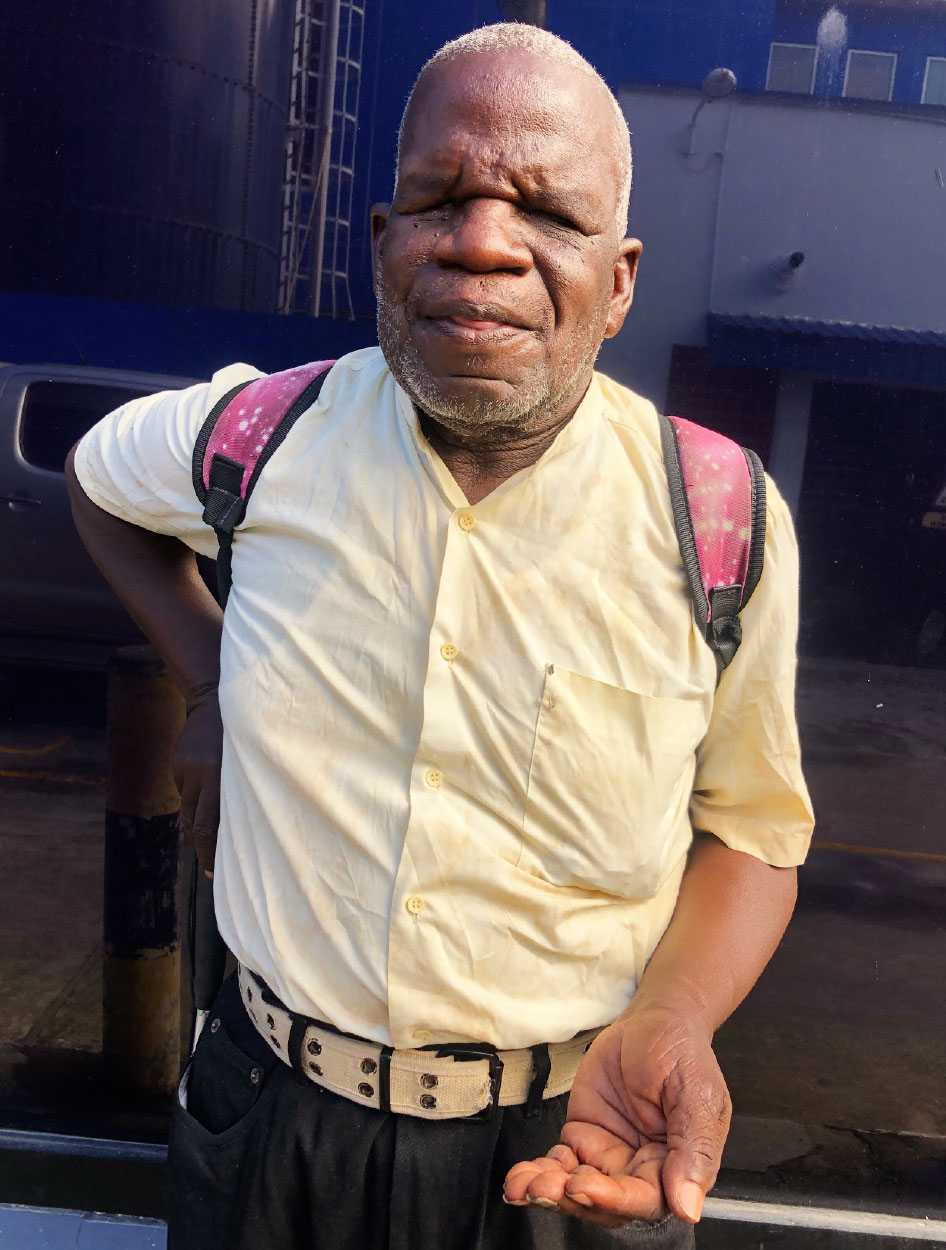 "I had a head cold and my mother gave me medication. She placed it in my eyes but she didn't use it the right way and it spoiled my eyes," he revealed.
"In those days, people did not know too many things so I don't hold it against her. Now, it's different, people know much more. Thank God I am alive. I grew up a blind man walking all over the place. If I have to go to a shop by the road, I can go by myself, I don't need anybody to drop me there," Edwin added.
The latter is certainly a blessing and he's grateful for it. After all, some persons would give anything to be in his shoes.
"I live on my own, I have my own house. I cook my food—I used to cook when I was younger so I can still do it now. I cannot wash, however, it's the only thing I cannot do. When I'm home, I listen to my radio and you know the first girlfriend a blind man ever has is his radio," he said with a grin.
Still, life is not easy for the 68-year-old. One dollar alone can make a world of difference for Edwin. Being blind alone is a challenge and of course, being blind and being a poor man at the same time is a struggle.
"I was working at the Blind Welfare Association but sadly I'm no longer there because they said they have no money. When I joined the association, I was about 18 years old. They showed me how to make baskets and mops and that's how I made my money, I worked on commission," he explained.
"Now I go by the street to beg for a little dollar because I don't have anything to do. It's not what I want to do, I prefer working at the association and getting my money at the end of the month like everybody else, but I don't have a choice. I have to eat and drink and do other things so by all means I have to try and do something," Edwin added.
He's praying for a breakthrough and also hopes that the government will do more for persons like him. He would certainly appreciate it.
"When the government gives you $215.00, sometimes you pay your bills on that and by the time you close your eyes, you don't have anything again. In some countries they also give groceries to persons who are blind if they don't give them much money. They don't do that here," he said.
"When I worked at the Blind Welfare Association I saved a little but things got tough so I had to spend all what I had," Edwin stated.
Life, perhaps, would have been different for Edwin if he never lost his sight. At the end of the day, however, he's learned to live with it and according to him, not being able to see the world the way others do does not bother him one bit.
"I always say that when the time is right God will give me my sight back," he said calmly.
From a boy who once dreamed of being a carpenter and a priest (he gave up on the latter when he discovered priests couldn't get married) to a beggar on the streets, Edwin believes that even then, persons should trust God "because when I listen to the bible and the messages that are being preached, I realize that's the best way to go."
Edwin is not ashamed of what he does either. According to him, "if I was stealing, I would be ashamed of myself, but I'm not stealing, I'm begging; I'm asking for what I don't have."
A number of persons believe that he's simply pretending to be blind but Edwin scoffed at the thought.
"Because I can go from place to place by myself, and because of the way I act, some people believe I can see, but if you look at me, you will see that both of my eyes are closed. I cannot understand why people would say something like that. When people tell me I can see, I tell them to borrow me their eyes," he stated.
"People should ask questions. When they ask questions blind people will explain to them how they got blind and how they should treat them. For example, people don't even stop their vehicles when blind people lift their canes so that they can cross the street. People should treat us the same way they want to be treated," he stressed.
"People should have respect for blind people—not only the blind, but people on wheelchairs and elderly people also. Some people ridicule elderly people. If they're walking on the road for example, they'll mistreat them instead of helping them. That needs to change, the younger generation should have more respect for these people," Edwin added.
Although he never attended school, he's thankful for how far he's come and is grateful for those who assisted him along the way. As for his plans for the future? He just wants a deeper relationship with God and believes that when the time is right, God will change his life.
Edwin is truly a delight and I'm grateful for all the laughs I shared with him. I pray for nothing but the best for this dear man and hope he continues to bless others with his songs. The father of one plays the harmonica and according to him, the music comes from within.