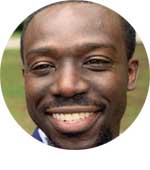 Imagine receiving a call from your manager of five years who communicates that you've been selected for a promotion that's packaged with new responsibilities and an enviable pay increase. Your manager then explains why you were selected from amongst the pool of candidates for the new role. You rise from your comfortable recliner to take a stand in front of the open curtain which allows you to view the blue cloudless sky as you ponder your manager's offer. Emotions of excitement, joy and deep satisfaction flood your entire body. And then, a hint of doubt, fear and anxiety makes its presence known. You begin to question if you're really qualified and whether or not you're equipped to do the task. Though hesitant, you accept the opportunity trusting that your manager's knowledge of your abilities is enough to silence all doubt.
In Luke 1:26-35 the story is told of a woman named Mary who received a message from an angel that she would give birth to the Son of God, the Savior of the world! Verses 30 & 31 says: "You have found favour with God and will conceive in your womb and give birth to a Son whose name will be Jesus." We can imagine that quite naturally Mary felt an overflow of joy.  Being knowledgeable of the prophecies, she probably thought about what Moses, Isaiah and Micah wrote concerning the coming of the Savior and could hardly contain herself as she realized that she would be used for such a great work. Then again, meditating on the prophecies of Zechariah and the writings of the Psalms she may have felt deep grief as she remembered how the Saviour was to follow a lonely road which ended in betrayal and death. Who knows exactly what Mary went through? Nevertheless, she willingly and gladly submitted to the plan of God to use her for this great work and there is much for us to learn from her experience. In verse 38 we're told that her response was "I am the Lord's servant, may your word to me be fulfilled."
It's important for us to note that God is always looking for people who are willing to co-labour with Him in the work of salvation here on earth. Ezekiel 22:30 says that God "…sought for a man to stand in the gap…" which helps explain that there are tasks here on earth that only people can do versus God doing them Himself. Consider the following:
He used Adam to till the ground. Genesis 2:5
He used Noah to build an arch. Genesis 6:14
He used John the Baptist to be baptized. Matthew 3:14
Mary chose to obey (co-labour) but it was not without risk. Mary was prepared to be married to Joseph when she received this news. By saying 'yes' to God, she risked losing her relationship with Joseph along with her vision of being married and raising a family because if she would have been thought to have been dishonest in her relations she would've become a social pariah at least. As he considered the puzzling situation, Joseph received a confirming message from an angel who assured him that Mary was indeed impregnated by the Lord and he moved forward with his agreement to love, protect and cherish her as his wife. The risks we take when honouring God always pale in comparison to the rewards that follow.
Some think that Mary was chosen because she was sinless but this is not true. According to Romans 3:23 "…all have sinned and fall short of the glory of God" and this includes Mary. In a sense, when Mary was carrying Jesus she was carrying her own salvation. Jesus was quoted in Mark 2:17 as saying: "It is not the healthy who need a doctor but the sick and I came for the sinners not the righteous." Oftentimes we disqualify ourselves through unbelief because of the knowledge of our own weaknesses and frailties. 'Golden repair' is the Japanese art of repairing broken pottery by mending the areas of breakage with powdered gold, silver and platinum leaving the pottery more attractive than it was before it was broken. God mends the broken pieces in us through the experiential knowledge of His character, His kingdom and His presence. As I heard it once said by a minister: 'God doesn't call the qualified; He qualifies the called.' The truth is, when God chose Mary He chose a woman who was willing to give perfect trust to Him and not herself. We're each being summoned to the Master's office for a promotion because, through Christ, we're the perfect people for the job of serving where we are with what we have.