With the release of his latest CDs –Eugene Cline aka "Yonachak" is intent on working his way back into the musical arena. 
Yonachak has had quite a flamboyant career as a musician, despite having to put up with the ravages of life and means whereby he can eke out a livelihood.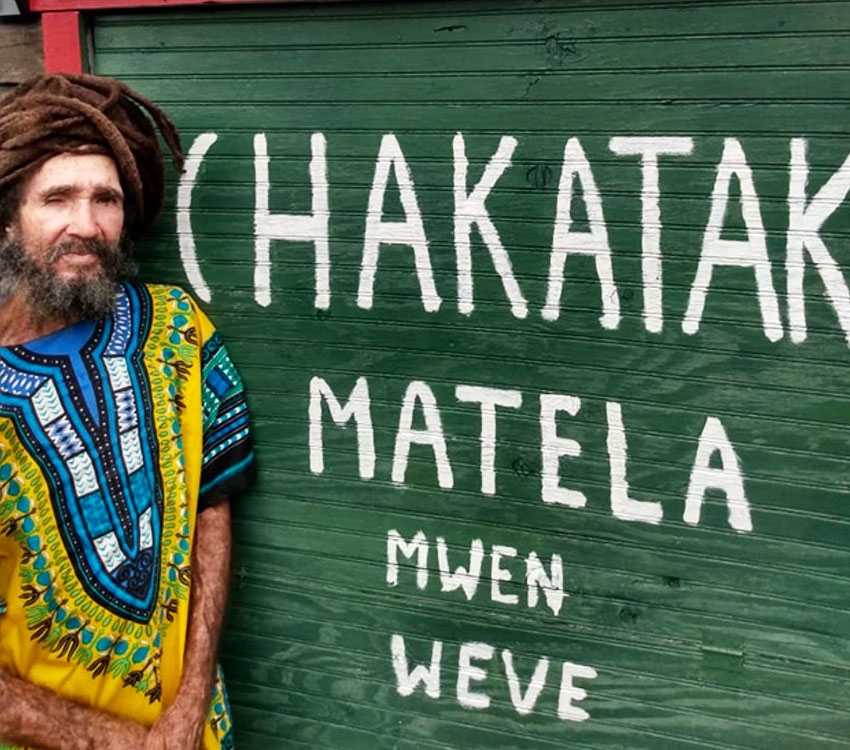 His diminutive size underscores the vibrancy of the artiste who comes across as an affable character –full of experience in the game and always confident about the moves that has sustained him over the years.
Yonachak launched into his musical journey from an early age, but after jamming with some local bands from the late 70s to 80s and into the 90s period, he decided to make a break in an effort to seek better fortunes overseas.
"Generally, I have been involved in the music business form youth …listening to all kinds of music, especially Cadence music and when I turned Rasta, I started 'feeling up' with the Reggae vibes," recalls Yonachak, on his musical upbringing.
He has played with bands like 'Hawaiian Sunsetters' from his native Canaries village, Merry Makers and later Magic Circle Express making the rounds to perform at dances, concerts and talent shows.
In 1979, Yonachak was affiliated with the band – Itation that he had formed some three years or so, before. It was at that time they recorded the song 'Morne Gimmie', which he says, was inspired by the bass-man 'Yasheen' who was involved in a domestic issue when the police mounted a 'drug bust' on a Rastafarian plantation atop Mt. Gimmie, in the inner region of Jacmel, Roseau. The song garnered popular acclaim and was widely featured on the local airwaves and at local entertainment events.
The veteran artiste, now past his mid-60s is back again with two  separate CDs – a 5-track Reggae compilation – Calling Ethiopia; and a 5-track Zouk release.
The dreadlocks Rastafarian artiste says in earlier times he began playing music in tune with the Cadence and Zouk rhythms, but later on got engrossed into Reggae music to bring out a message of consciousness in the delivery.
Focusing on the spiritual consciousness in the music, Yonachak declared: "From the time we 'dread up' we started seeing things differently than how we were raised. We identified with more righteousness, more respect and issues like equality and justice, so we started thinking really differently."
His latest reggae compilation feature tunes like, Calling Ethiopia, High Grade, Lavie Rasta, King Selassie and St Lecie Doo. On the title track – Calling Ethiopia, is a smooth reggae- dub groove with heavy bass overtones, chanting:  "People of the world are striving for liberty …Calling Ethiopia, Black man redemption has come."
The other tunes also reverberate with pulsating reggae beat and conscious lyrics in flow, jamming some hearty 'rooticalvibes'.
The Zouk track includes;  YoAllez, Rasta Lamoi, Paradise Country , Pas VleNomm, and Ti Bet enBois.
The reggae track was recorded locally at Wallis Studios; while the Zouk tracks was recorded at Joe Studios in Canada.
With an assertive projection for future performances and recordings, Yonachak says, he is looking for more social media and online exposure to aid with the promotion of his music.
But what sort of spotlight is the artiste aspiring for and what niche market does he really want to reach out to?
Yonachak explains: "As an elder man I still have my vibes to form a band …and I'm still willing to get together with some guys (musicians) and feature my talents and what I can really do."
A Sagittarian by birth (born December, 7) the versatile musician says he keeps in tune with the vibes and spends time fine tuning his music. "It's been a while that I haven't been playing with bands, as I always have my own band and create my own originals," he said. "Especially now and in these times, mostly I compose on my computer, program my music and go out there and play gigs."
Yonachak says since his return to the island, he has been sourcing out performance venues to play at. He said he is available to perform at social events like "weddings, parties and anything to act on …and I'm ready to perform and show my talent and to show the youth and them what I can really do with the music."
Like several other local artists, he laments that though the COVID-19 crisis has put a damper on musical performances, he is not too perturbed but rather optimistic that soon as the 'vibes get back to normal' he will be ready to perform.
According to Yonachak, he has recorded songs with Itation and Magic Circle and this latest works is likened to a revival of his musical competence. However, he appeals for more support of local music on the local airwaves in comparison to the amount of airplay given to foreign music.
Referencing the exploits of yesteryear, he says, there was an influx of local bands on the scene with as many as 20 bands at one time.
Yonachak says the number of bands on island has diminished, in part, due to a lack of corporate sponsorship. He feels that currently there needs to be more bonding among local musicians to offset this dilemma, since "Lucia is a foreign mind thing …and they 'diss' their local music."
While admitting that Caribbean music has burst out 'big time' on the regional and global scene, he too, wants to export his music further afield. He said: "Right now, I would like my music to reach out to Martinique and Guadeloupe …I speak Creole and I have a lot of Creole music, reggae creole, Zouk creole. I would love for the outside (audience) to hear my music, because sometimes most places that I perform the people love it."
Two years ago he performed in Martinique and "they love it, they love the Morne Gimmie vibes …and I know my vibes as a versatile artiste and people love my performance."
Commenting on the content of more recent musical genres, Yonachak says he would like to hear more conscious lyrics and less of the 'smutty' stuff. "I respect the young musicians but I don't respect some of the things they say because some of the lyrics they feature is very vague and wild and cause the nation to go out of sync," he added.
He calls for more creativity in the music, while stating: "I rate all musicians and I respect all musicians, but some musicians I don't class as musicians because a lot of musicians play to the beat and they don't create the beat .The music must be more uplifting with more originality."
NB: Yonachak's latest CDs are available at $10 per copy and he can be contacted at tel. #722-1207 /WhatsApp. His music is also featured on YouTube – at Yonachak music.