THE debate and hard talk continues over the removal of natural grass over its replacement -astro turf/ artificial grass, which is what has been taking place at some of Saint Lucia's premiere sporting facilities within the out districts. In recent times studies have shown most athletes prefer playing on quality natural grass fields.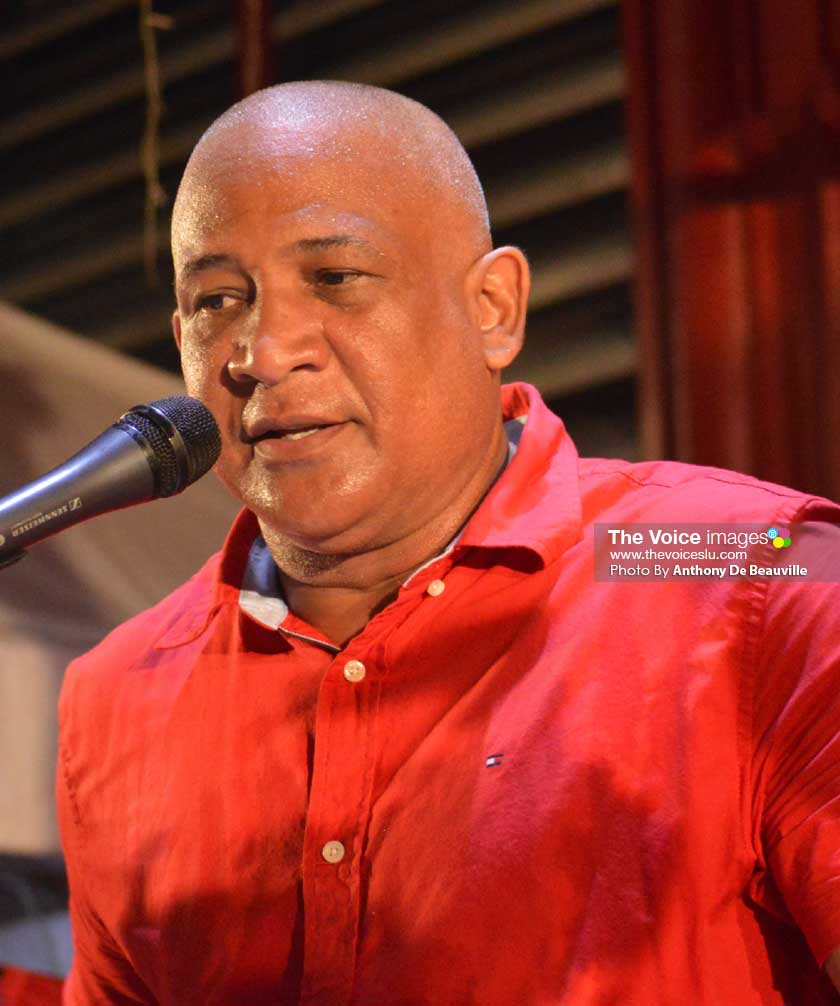 Parliamentary representative for Castries South, Dr. Ernest Hilaire, during the Saint Lucia Labour Party's, protest march on Sunday 4th October 2020, spoke to THE VOICE not only about the replacement of the natural grass to astro turf/ artificial grass, but also about the maintenance of playing facilities across the island.
Dr. Hilaire is a former Permanent Secretary in the Ministry for Youth and Sports and former CEO of West Indies Cricket Board of Control. This is what he said.
"I was a permanent secretary in the Ministry for Youth and Sports and during my time we built the National Stadium in Vieux Fort (George Odlum Stadium) and the Beausejour Cricket Ground (BCG) in Gros Islet now the Daren Sammy Cricket Ground (DSCG). I feel offended by what's happening now, I feel we as a country could have done a lot better, the concept of replacing natural turf with synthetic grass is an absurdity; I said so in parliament and also in public".
According to Dr. Hilaire, "Anyone who supported that plan was totally misconceived; it cannot be the best thing for Saint Lucia, it being shown now: there you have in Soufriere a facility where you wouldn't be able to play cricket on, likewise you cannot even have field events on it".
He continued, "So how can you boast you have a mini stadium and you cannot have (Javelin, Discuss and Shot Put) on it, come on let's get serious. Who could have believed that was the best thing for Saint Lucia. Soufriere had one of the best playing surfaces in Saint Lucia, next to it is a river that can provide irrigation, and replace it with what they doing right now and they are going to do the same in Micoud, that's absurdity".
Dr. Hilaire said, "In excess of $30 million dollars to be spent on those facilities when they could have done so much better to upgrade some of the other playing fields, continue the programme that Shawn Edward started when he was Minister responsible for Youth Development and Sports".
"Look at under Shawn Edward, how playing fields were being maintained in this country and compare it to what we have now," he said.
Interestingly, in August of 2018, in a question and answer segment at the Ministry of Youth Development and Sports, consultant Donald Lockerbie, in his Master Plan for Saint Lucia, said that they had to make a judgement call when it came to cricket being played at the Soufriere Mini Stadium.
Lockerbie said "We met with the cricket association (at the time the president, Julian Charles) and the local folks and came to the agreement that a new cricket venue will be built and we have been looking at the Ruby Estate/ Banana Plantation, just several hundred meters away from the Mini Stadium".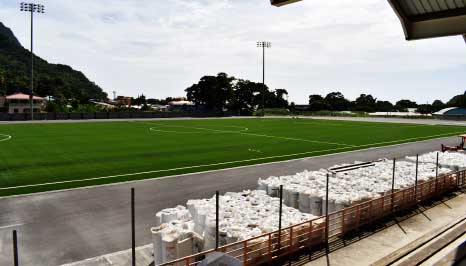 Lockerbie disclosed, "We also have been taking a serious look at the old and now no longer operable Copra Factory, particularly a very large indoor warehouse that we think would be a wonderful place to put a synthetic surface of some kind for indoor sports, but also for entertainment".
According to Lockerbie at the time, this would give Soufriere, which we know to be a large Tourism destination, an indoor facility for international football, athletics and domestic league cricket.
It was only last week, the Parliamentary representative for Micoud North, Dr. Gale Rigobert during her address to launch the Dr. Gale Rigobert T10 Cricket Tournament said, "With respect to the development of the physical infrastructure on island among others, the Lockerbies will continue with the work that they started pre COVID-19 so the experts, with respect to the laying of the astro turf and other aspects of the facility, these experts are here on island".
She disclosed, "We have engaged the umbrella consultant who would have out-sourced certain aspects of the wider consultancy and as I can tell from the engineers on ground in Micoud South those I meet certainly appear to be experts in laying of astro turf".
Meanwhile, the most notable and public disdain for artificial turf comes from the US Women's National Soccer Team. Shortly after their victory in the 2015 World Cup, the team cancelled a match at Aloha Stadium in Hawaii due to large rips and holes in the field.
Fast forward, the 2022 Women's World Cup will only take place exclusively on natural grass fields. This was celebrated by many players and fans alike.
Their aversion of competing on artificial turf has only been reinforced by a recent study released in the America Journal of Sports Medicine. According to the study, playing on artificial turf made an athlete three times likely to suffer a posterior cruciate ligament (PCL).
The study leveraged 10 years of data on college football injuries from the NCAA Injury Surveillance System, which collects information from Division I, II and III athletic programmes.
That data set included over three million athlete exposures times when an athlete participated in a practice or game and 2,460 knee injuries, making it one of the most robust data samplings to date for comparing natural grass to artificial turf.
The study did not only focus on football, but it joins a number of other studies that reinforce the reasons why athletes (general) prefer natural grass fields.