The Saint Lucia National Lottery (SNL) yesterday added a brand new game to those it already has saying that the game will multiply prizes.
This new game, called 'Pick 2' was launched at SNL Gablewoods branch and according to the company's Regional Sales and Marketing Manager, Mary Springer the launch was part of the company's "relentless quest to keep bringing in new exciting rewarding games."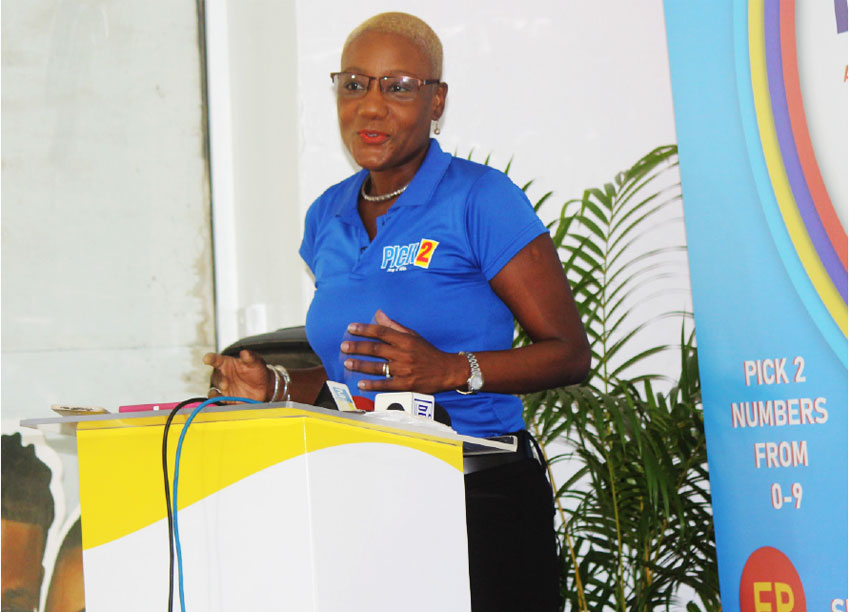 "Pick 2 is a 2 digit game with numbers from 0-9 to choose from and it has all the similar bet types as Big 4 and Lucky 3. So what's the difference apart from the selection of two digits? Optional to this game is a multiplier called Multi X, a feature which is new to our traditional lottery games," Springer said.
"A player who bets on Pick 2 with a base amount of $1.00 can spend an additional $1.00 on Multi X for a chance to multiply his winnings; that is the difference we believe will attract new players and satisfy our existing core players," she added.
Players can look forward to big earnings as Multi X provides the opportunity to multiply winnings up to five times and they can also look out for a free play ball. There's one thing they should remember however—equal amounts must be spent on Pick 2 and Multi X.
"Pick 2 can be bought on its own or a player can choose to multiply his winnings and ask for the addition of the Multi X to his bets. (However) Multi X only serves as a multiplier; this means it cannot be purchased as a separate game," Springer told the audience.
She continued: "There is no doubt that this new game will multiply prizes to players, commissions to agents and contributions to youth and sports developments. Last year players won in total $22,000,000 agents earned $2,700,000 and contribution to youth and sports development equaled $7,200,000."
"We're not just about games, social responsibility is paramount to us. Our unquestionable support for numerous causes is well documented and it is evident by our recent donation of 250 tablets to 43 schools island-wide and to other institutions such as the Boys Training Centre, the Holy Family Children's Home and the Upton Garden Girls Centre. We continue to positively impact many lives throughout the years and we will continue to do so way into the future," she added.