Local darts players will have to be at their very best if they are to challenge for the top prizes available this evening (Saturday 12th September 2020) when the Saint Lucia Darts Association (SLDA) in collaboration with Prio's Bar and Grill in Corinth will host its inaugural men and women's single's Classic.
The event will serve off from 4.00 p.m.
Tournament coordinator, Melissa John, a national player who has decided to sit out in this opening round spoke to the VOICE about this evening's showpiece.  She said, "Local tournaments have been dormant for a very long time, a new executive was put in place last year and following on the heels of a successful staging of the virtual Caribbean Kings and Queens tournament held recently at the same venue, where team Saint Lucia gave a good performance, the SLDA and the proprietor of Prio's Bar and Grill decided to host this one off event to revamp the sport on the island".
For the first time, Saint Lucia participated in the Caribbean Kings and Queens tournament in years; Jamaica was supposed to host, but due to the effects of Covid -19 and travelling restrictions, the organizers were forced to innovate, hence the virtual tournament was organized and matches were played via WhatsApp etc.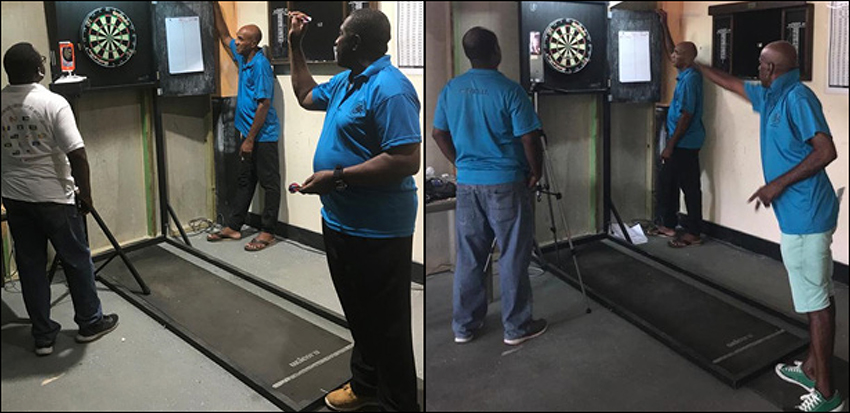 This evening's showpiece has attracted the following teams, Untouchables A & B, Branford Darters, Vieux Fort Darters and Amazon.
According to John, "There are a number of veterans to look out for – Henrickson Joseph, Lambert Charles, Trevor John, William Roschild, Cuthbert Tony, Thomas Labadie, Haig Louis and Peter Lionel; also on show will be Victor Simeina and Nerville Labadie".
The women, they too, will be in the thick of things; leading the charge are two out of the three women who made it to the knockout round of the historical virtual Caribbean Kings and Queens tournament, Patricia Edmund and Leona Augustin; also in action are Delta John and Andrea Leon.
For the many Darts enthusiasts coming for the action, John said, "This event has attracted a number of outstanding players of the past and one expects a very high standard of play throughout the evening".
John took the time out on behalf of the SLDA to thank the many sponsors who came on board in this difficult time to assist in making this singles classic a reality. Prior's Bar and Grill; Philgence Transport and Equipment Services; Transports and Handling Services Ltd; J. H. Larcher Electrics Ltd; Windward Island Gases; Lewis Industries; Blue Waters; Haris Paints; T.J Ultramart; Here To There Services; The Mayor of Castries – Petersen Francis.
Saint Lucia Darts Association, Public Relations Officer, Lambert Charles also spoke to the VOICE and this is what he had to say.
"It's a great boost for the resurgence of the game of darts locally. Darts has transitioned internationally with several innovative additions including online play".
Lambert added, "This tournament will assist in the promotion of the sport as well provide a competitive avenue for our local players"