PHILIP J Pierre's announcement of the person to contest the Anse la Raye/Canaries seat under the Saint Lucia Labour Party's (SLP) banner brought a temporary halt to the speech he was delivering at the party's Conference of Delegates (open session) Sunday night at the Jon Stanley Odlum Secondary School in Marigot.
The hall erupted in cheers when Wayne Girard was called. Supporters danced and waved their arms in the air many giving him hugs too numerous to count as he made his way on stage to get the full endorsement of the party's executive and delegates.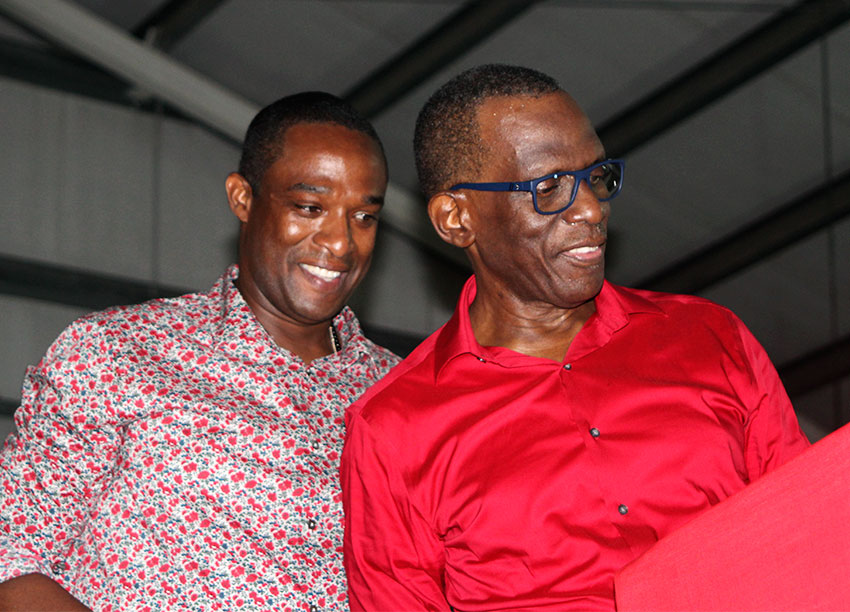 The moment marked the commencement of the party's campaign for the next election, due within the next two years.
Underscoring that point was Pierre himself who said that his party's constituency groups have been mandated to start the search for candidates in the 11 constituencies lost to the United Workers Party in 2016.
"I have a practical and ambitious plan to have all our 17 candidates by early next year," Pierre prophesised, presenting Girard as the first in a list of new members to the team that will form the next government whenever general elections are called.
"In the movement to victory we need passionate, honest, disciplined, hardworking and dedicated individuals to represent our party as candidates at the next general elections," Pierre said.
With regards to Girard, Pierre said he embodied the future of the SLP. Wayne was born in Jacmel, said to be the heart of the constituency he will be contesting, which is presently held in parliament by Dominique Fedee of the United Workers Party.
According to Pierre, the new candidate is a family man who is humble, disciplined and loves people.
"I urge the people of Anse la Raye to embrace and support Wayne as I am sure he will be well supported by our party," Pierre said.