THE learning environment at the Millet Primary School has received a facelift and learning tools which have been touted as "timely" and "guaranteed to enrich the learning experience" by Teacher Pearl Regis. The full makeover, compliments CIBC FirstCaribbean under its flagship community initiative – Adopt-A-Cause, includes the construction and painting five lunch tables, painted educational and positive affirmations on the playground and the receipt of eight Samsung tablets to enhance the teaching of Social Studies.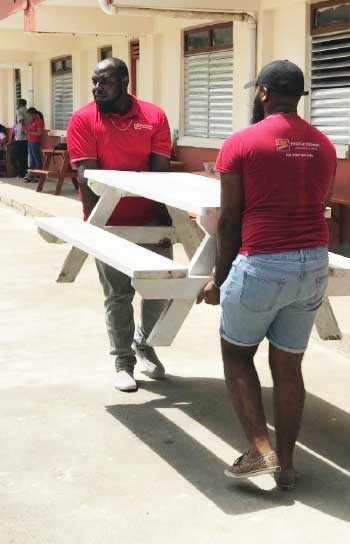 The donation of the tablets falls under the "Augtual Reality" Project being developed via the OECS to bring countries national symbols to life.
The aim of the project is to promote feelings of engagement and connection and to contribute to a positive learning environment explained CIBC FirstCaribbean Country Manager, Ladesa James-Williams. "The learning environment plays a big role in the extent to which children engage and participate. The burden of stimulating children's minds and imaginations starts with their surroundings and is aided by the tools and teaching aids at their disposal", Mrs. Williams remarked, adding that a better environment and tools also "supports the considerable efforts of teachers." Teacher Pearl Regis echoed these sentiments, adding that "this transformation will go a long way in assisting our students and helping them perform even better."
The Millet Primary School project is being completed over the course of two weekends from Saturday October 19th to Saturday October 26th, by a team of thirty team members of CIBC FirstCaribbean as the bank's 2019 Adopt-A-Cause community undertaking. It brings the number of school enhancement projects under Adopt-A-Cause to eleven to date.
Adopt-A-Cause projects are researched, selected and undertaken entirely by the employees of the bank.