Peruvians could not ask for a better beginning to the 2019 Pan American Games taking place in Lima, Peru, from July 26th to August 11th.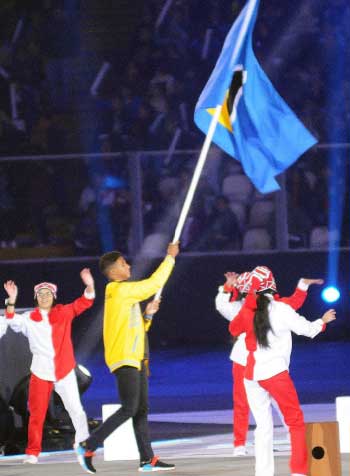 Following Friday's dramatic Opening Ceremony, the next day the host nation captured two gold medals in grand style in the men's and women's marathon. Renowned Peruvian runner Gladys Tejeda placed first, covering the 42km distance in a record time of 2:30.55. Compatriot Cristhian Pacheco captured his gold medal in the men's marathon, after covering the 42km distance in a record breaking time of 2:09.55.
For all intents and purposes the Games officially got underway on July 24th, a few days prior to the Opening Ceremony. In all there were 39 sports and 61 disciplines featuring 6,680 athletes from all over the world.
All 41 nations who are members of the Pan American Sports Organization including St Lucia, proudly displayed their nations flags and athletes during a colorful and lively march pass.
The Opening Ceremony touched on just about every aspect of Peruvian culture and some on display were the country's past and present in which nature and culture intertwined.
Spokesperson Carlos Manuel Lazarte described the Opening Ceremony as "spectacular."
In his estimation there were more than 30,000 spectators at the National Stadium and 400 million viewers around the world.
As expected the United States made their presence felt at the Opening Ceremony numbering 643 athletes. Next was the host country with 592. The packed National Stadium erupted when the country was introduced. The celebratory wave was in motion but in this case a tidal wave seemed a more appropriate description.
While it's true there is strength in numbers, for countries like Dominica (two athletes) Saint Kitts and Nevis (four), Belize (6) and Saint Lucia (7), keep hopes alive for quantity is not always best quality.
Saint Lucia's flag bearer at the Opening Ceremony was sailor Luc Chevrier. Many would have expected that honor to be bestowed on high jumper and reigning Sportswoman of the Year and a former gold medalist at the Games, Levern Spencer. However, Spencer is not expected to arrive in Lima until Sunday 4th August.
Turns out Chevrier was the only Saint Lucian athlete (coaches included) in Peru, in time for the Opening Ceremonies. No doubt, it was a privilege and honor for him to proudly display the Saint  Lucia flag.
With the rest of the Saint Lucian athletes not yet in Lima for the Opening Ceremony, those of you who viewed the march pass which was televised saw some unfamiliar faces accompanying Chef de Mission David "Shakes" Christopher, his Assistant Velica Augustin and our flag bearer Chevrier.
Truth be told, the ever creative and quick thinking Christopher, acknowledged and rewarded some of the hardworking volunteers who assisted him by including them in the march pass.
True to form Christopher was the life of the party. During the march pass, he greeted costume clad volunteers with high five's and danced along the way.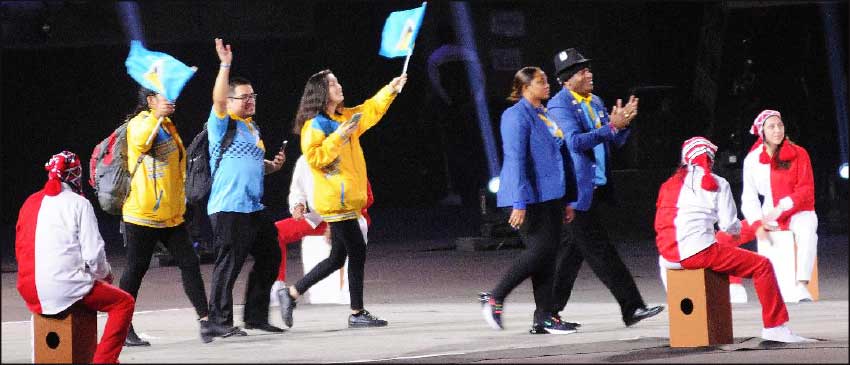 It should be noted that Minister of Youth Development and Sports, Edmund Estephane; Senator Fortuna Belrorse who is also President of the Saint Lucia Olympic Committee; and IOC member and former President of the SLOC, Richard Peterkin attended the Opening Ceremony
Of course high ranking officials like Pan American Sports President, Neven Llic; and the President of Peru, Martin Vizcarra, were in attendance and delivered brief remarks, praising the organizing committee for staging a terrific Opening Ceremony.
When interviewed Monday, Belrose gave her views on the Opening Ceremony:
"It was a fantastic event. Perhaps from what we saw, it was one of the best organized of the games we have ever witnessed and really symbolized the essence of excellence. The Peruvians went all out to really display their culture during that ceremony," she said
Commenting on Saint Lucia's delegation Be;rose remarked, "At the time of the Opening Ceremony we only had one athlete in. As you know at major games like this one, the athletes prefer to stay as long as they possibly can at their training centres. In our case our policy is that within five days of the event they are supposed to be here and so most of our athletes will be arriving at least five days prior to the actual competition."
Besides, Chevrier and Spencer, the other athletes competing for St Lucia are JeanelleScheper (high jump), Sandisha Antoine (triple jump), Albert Reynolds (javelin), Jean Luc Zephir (swimming) and Stephanie Devaux-Lovell (sailing) who arrived in Lima on Tuesday.
Saint Lucia's contingent also includes Coaches Henry Bailey and Robert Hemming who also were not present at the Opening Ceremony. However, they are all expected to arrive in Lima sometime this week.
Chevrier and Devaux-Lovell will compete Saturday August 3rd. Zephir is in action Tuesday 6th August .For Spencer, Scheper and Reynolds, Athletics is on the following dates August 7th, 8th, 9th, 10th. Their competing dates and time has not yet been finalized.