NIC Toastmasters Club celebrated its 20th Anniversary on 1st July 2019 and hosted a week of activities from 30th June 2019 until 6th July 2019 to commemorate this milestone under the theme "Twenty Years Strong: A Fusion of Vision & Self-Actualization". The theme signifies the vision that first started the non-profit organization and the dedication and commitment the club members maintained to achieve their educational and leadership development over the years.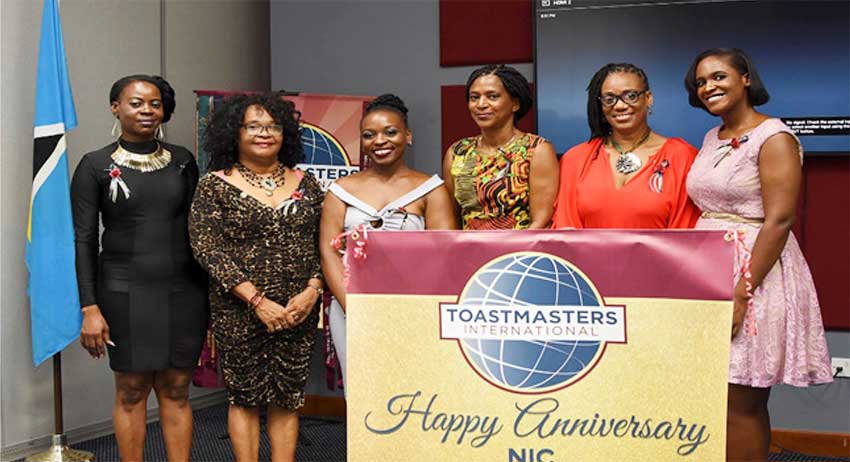 The week of activities commenced with a Church Service and Brunch and culminated in grand style with an Installation and Awards Ceremony. The week's activities were geared towards bringing the club's members and guests together in thanksgiving, fun and excitement, as well as to inform the public of the benefits that Toastmasters has to offer. The public was engaged through a radio interview facilitated by Vybe Radio, a television interview facilitated by Choice TV, testimonials of the club's members published in the media, and a Demonstration Meeting/Open House with the staff of the Bank of Saint Lucia, Bridge Street, which were all well received.
The Church Service and Brunch, held at Tranquility Getaway on 30th June 2019, joined members and guests in thanksgiving and fellowship as recognition was given to God for a successful Toastmasters Year and blessings and guidance were sought for the incoming Toastmasters Year. The speaker at the Church Service was Pastor Rod Rene.
The Installation and Awards Ceremony, held at the Finance Administrative Centre on 6th July 2019, was the first of its kind for the club and had the triple effect of culminating the club's Anniversary Week of activities, closing the curtains on the Toastmasters Year 2018/2019 and welcoming the new Toastmasters Year 2019/2020. The event was well supported by members and guests.
Addresses were given by the club's Immediate Past President, Toastmaster Danielia Chambers who recapped the club's journey in the past Toastmasters Year; the Director of Division C (of which Saint Lucia is a part), Toastmaster Jason Cassius, who shared inspirational thoughts; as well as the Club President for the Toastmasters Year 2019/2020, Toastmaster Debora Pamphile-McLean, who presented her plans for the new Toastmasters year with enthusiasm and passion. The Keynote Address was presented by Distinguished Toastmasters Kit-Juelle Frank-Amoroso, Immediate Past Director of Division C, who charged the new executive and provided encouragement to the general membership.
The outstanding club members were also recognized for their exceptional service, hard work and dedication throughout the Toastmasters Year 2018/2019. The Awardees are as follows:
Club Awards
Most Manual Speeches – TM Tris-Ann Richards
Most Leadership Roles – TM Andre Marquis &  TM Rodney Maxius
Most Table Topics Winner – TM Nateisha Campbell
Pathways Trailblazer – TM Rodney Maxius
Accomplished Excellence –  TM Caren Kennedy
Most Helpful Toastmaster –    TM Andre Marquis
Spirit Award – TM Nadia Jules
President's Awards:
Appreciation Award – TM Methodius Plante
Resident Timer –   TM Andre Marquis
Team Player of the Year – TM Nadia Jules
Outstanding Toastmaster –  TM Tris-ann Richards
Toastmaster of the Year – TM Nadia Jules
The NIC Toastmasters Club extends a heartfelt thank-you to everyone who attended the activities as well as those who made each event a vision actualized. The NIC Toastmasters Club also extends its sincerest gratitude to Tranquility Getaway for helping us to have an enjoyable Church Service and Brunch, the management of Bank of Saint Lucia for hosting the Demonstration Meeting/Open House, as well as to all media houses who facilitated the club's presentations and helped shed light on its celebrations. Immediate Past President, Toastmaster Chambers says that "the Anniversary Week of Events was a success because of everyone who believed in the club and in its vision. Thank you."