The Government of Saint Lucia and the Republic of China (Taiwan) Thursday launched Phase Two of the island-wide GINet Wi-Fi project.
A ceremony marking the occasion was held at Constitution Park during a state visit to Saint Lucia by the President of the Republic of China (Taiwan), H.E. Tsai, Ing-Wen. The Taiwanese President was accompanied by a large entourage of dignitaries from Taiwan as well as members of the Taiwanese press.
The GINet Wi-Fi Project was established under the Information and Communication Technology Cooperation Agreement between Saint Lucia and the Republic of China (Taiwan). Present at the ceremony were President Tsai, Ing-Wen; Prime Minister Allen Chastanet; Minister with Responsibility for External Affairs Sarah Flood-Beaubrun; Deputy Permanent Secretary of the Department of the Public Service, Mrs. Sheila Imbert and invited guests.
According to Mrs. Imbert, who made the opening remarks, "The GINet Project aims to help develop a wireless local area network in public areas around Saint Lucia in order to provide residents, tourists and persons conducting business with free and or low-cost internet access."
Under phase one of the GINet project, a total of seventy wireless access points were installed. Eighteen of these access points were established in Castries, 11 in Micoud, 16 in Vieux Fort, 19 in Dennery and six in Canaries. The communities which will benefit under the second phase of the project are Anse La Raye, Micoud South, Choiseul, Gros Islet and Pigeon Island, Castries South East and Babonneau.
Tsai, Ing-Wen in her address stated that Taiwan and Saint Lucia have been working together since 2016 on the first phase of the GINet Project. She announced that 63 public Wi-Fi hotspots were installed in 33 locations. She said that Taiwan, which places a heavy focus on digital infrastructure, is more than willing to share their technologies and experience with Saint Lucia.
"We will continue to expand GINet's coverage across the entire island and work with you to foster Saint Lucia's digital development," She remarked, adding that it was an honour to launch the second phase of GINet with the Prime Minister of Saint Lucia.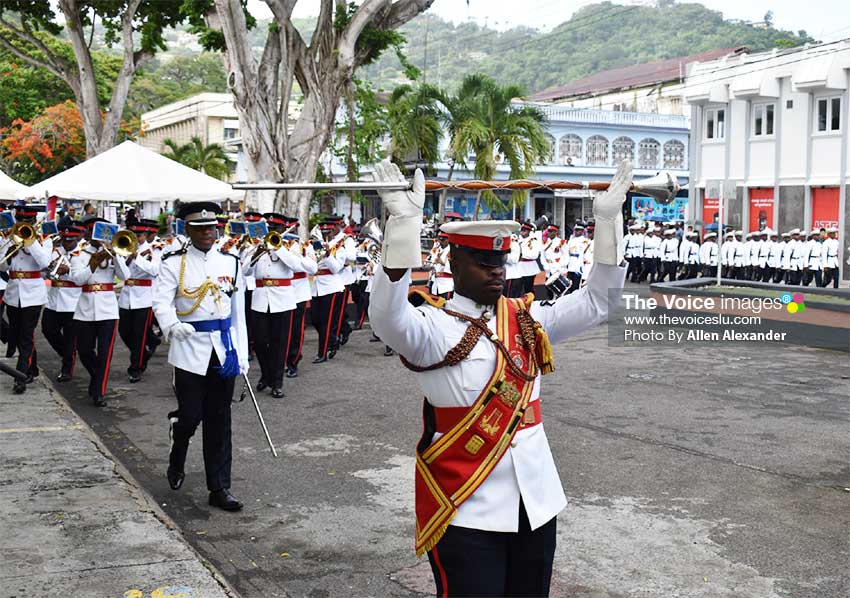 Abigail Francis, Student of the Vieux Fort Comprehensive Secondary School, presented a testimonial in which she expressed the benefits which she and fellow students have enjoyed since the implementation of GINet. According to Abigail, "Some students do not have internet access at home, and their parents or guardians may not have the financial means to enrol them in online classes, after-school programs or tutorials. Therefore, with the introduction of GINet, these students can now enrol in online classes, learn a new language and do research online."
Abigail stated that the opportunities presented by GINet are endless, and the contribution it makes toward the growth of students is immense. Amidst her commendation for GINet, Abigail however acknowledged the dangers such as cybercrime which arise from misuse of the internet. It was on this note that she thanked the Royal St. Lucia Police Force for teaming up with GINet for providing students with training in cybercrime prevention.
Prime Minister Chastanet, in his address stated that GINet has the potential to enhance internet penetration on the island. He mentioned that people from the rural areas have complained for years about not being part of certain aspects of national development which take place in the urban communities. GINet, according to Chastanet, "ensures that all our people will now be on equal footing as far as internet accessibility is concerned." He emphasised that GINetWI-Fi should be seen as a tool for research, education, and for the sharing of vital information.
GINet, according to Chastanet, has huge growth potential which will enhance Saint Lucia's social and economic progress. Chastanet also announced that the Government of Saint Lucia will be introducing e-books into the school curriculum this coming September. He stated that the e-book will be introduced at the form-three level. He noted that software programs will be provided to assist teachers and to enhance their communication with students. Chastanet further added, "One of the pet-peeves of mine is that the amount of money that families are having to spend on an annual basis to buy new books will very soon be a thing of the past as all these books will be downloaded for a substantially less fee than they are currently paying for their book'."
The Prime Minister stressed that Saint Lucia was fortunate to have Taiwan as a partner on the GINet Wi-Fi project. The Prime Minister commended the Republic of China (Taiwan) for providing all of the requisite equipment, technology and management expertise for the project.