Legendary sprinter and Olympic gold medallist Usain Bolt along with Daren Sammy and Dwayne Bravo met a number of Saint Lucia's young sportsmen and women at a special function organized by Sandals on Thursday morning; the event took place at the Sandals Grande Saint Lucian Beach Resort & Spa on Pigeon Island.
The event which was scheduled to start from 9.00 a.m. did not get going until 10.15 a.m. after Sandals representatives made two apologies.

Bolt finally arrived, accompanied by his management team as well as former ICC World T20 and West Indies captain Daren Sammy and former West Indies allrounder Dwayne Bravo.
Daren Sammy who welcomed the young sportsmen and women and legendary sprinter Usain Bolt said, "We all have our dreams and aspirations, there is no greater example than Usain.  He came from humble beginnings from Jamaica, worked very hard and if you haven't seen the documentary on Usain you should go and watch it, to witness what hard work and perseverance can do for you."
He reiterated to the young ones that they were "in the presence of greatness", and they should cherish the opportunity and not be afraid to ask Bolt questions as to what made him so great.
Former West Indies all-rounder Dwayne Bravo who also had the opportunity to address the gathering said, "At age five my dream was to play cricket; you know in the Caribbean, cricket is the number one sport, and very early I wanted to represent the Caribbean on the West Indies cricket team. Whether you want to play cricket, football, basketball, or be a part of a track and field team, whatever you want to do in life start thinking about it from now; don't wait and think you have time on your hands, and don't wait until you get older."
Bravo urged the young sports men and women to be disciplined and committed, and to listen to their coaches, parents, and fellow teammates.

"If you are involved in sports, you have to be supportive of your fellow teammates," he said. "Be passionate about what they do and what they want in life. There will be people at some point in time who will want to take you down the wrong road. There is a good road and a bad road, there is success and there is failure, when you fail don't take it as if it's the end of the world."
He added, "Be determined, be hungry, know what you want in life, and don't let anyone say you cannot achieve. Be prepared to prove people wrong. Ne prepared to be criticized, but keep working hard."
After that, it was time for the world's fastest man to address the gathering which also included, Sandals Managing Director, Winston Anderson who welcomed Bolt to the podium. Also present were Chris Elliott, Sunil Ramdeen, Rhonda Giraudy, Judy Deterville (all of Sandals) and a few parents who'd accompanied their children.
Bolt expressed that he'd always been a massive cricket fan. He was a supporter of the Pakistan team as a young child until he realized his allegiance should be to the West Indies.
He added, "I have been through injuries throughout my whole career. If I had given up, I would never have become the fastest man in the world."
He also mentioned that he had scoliosis which had always caused problems but still, he'd always wanted to be great.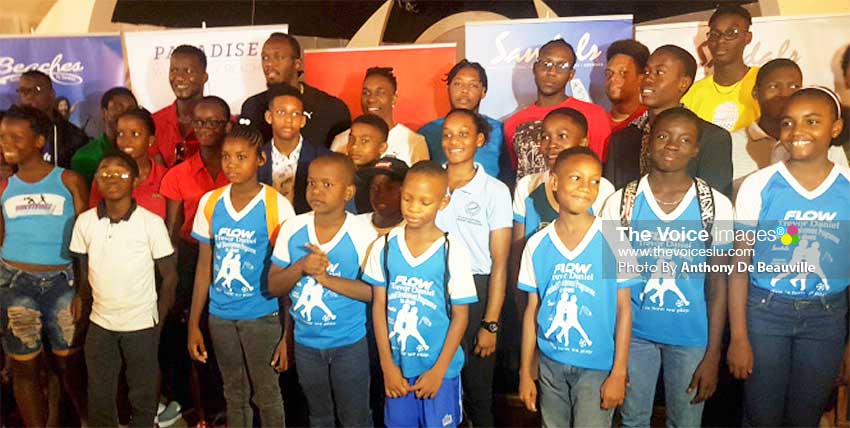 "I wanted to be the best in the world so I continued pushing myself throughout failures. I really wanted to be at my best," noted Bolt.
He said, "During one of my first meetings with my coach he said, 'Everybody on the circuit has talent, it is he who works harder at their talent who will become one of the best.' "
Unfortunately, the young ones were never given an opportunity to ask Bolt questions, but instead took a group photo with the trio, Usain Bolt, Dwayne Bravo and Daren Sammy, owing to Bolt's busy schedule.
Some of the athletes present were Smanaze Paul, Michael Joseph, Milan Mitchell, Khailan Vitalis, Brianna James, Ken Smith, Makeba Alcide, Zadia James, Kimani Melius, Simeon Gerson, Menissa Jules, Devante Alfonso, Andris Alphonse, and Sanjay Hayle.
Throughout his career, Bolt won a number of medals representing Jamaica – Olympic Games  medals (8 gold); World Championships (11 gold, 2 silver, 1 bronze); World Relays (1 silver), CAC Championships (1 gold); Commonwealth Games (1 gold); World Junior Championships (1 gold, 2 silver); World Youth Championships (1 gold), just to name a few.