A  Job and Career Readiness Fair which was organized by the Office of the Parliamentary Representative of Micoud North generated immense interest among the multitude of participants, who described the event as educational, informative and entertaining.
The theme of the initiative rolled out at the Mon Repos Combined School on Wednesday, was "Navigating the Pathways of Opportunities."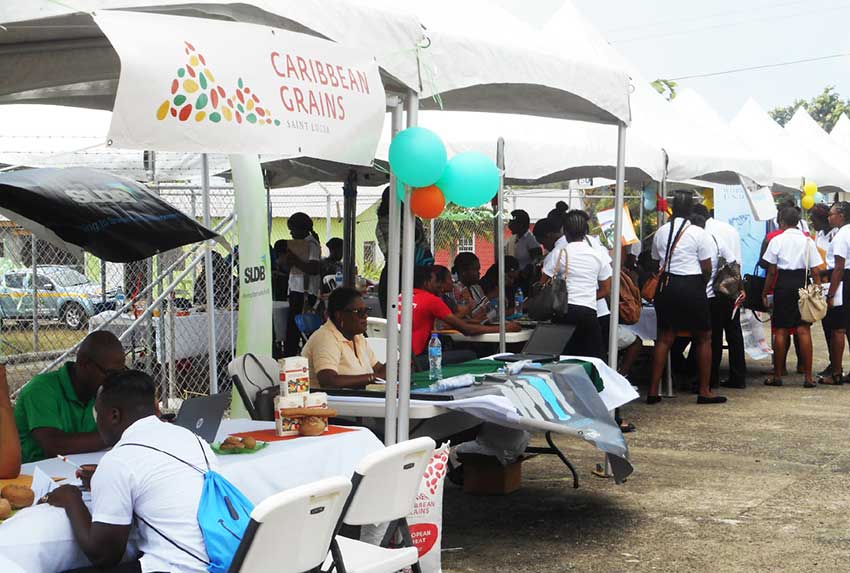 Forty entities from both the private and public sectors took part in the Fair which attracted a large number of students. In addition to equipping them with skills that would help them in the pursuit of their careers of choice, the event afforded students the opportunity to obtain full time employment, bursaries and internships from various agencies in attendance.
In addressing the gathering, Parliamentary Representative of Micoud North, and Minster of Education, Dr. Gale Rigobert called on adults to assist the young people in whatever way they could so as to ensure that they are prepared for the job market.
"We are here so we can do for the next generation and the young people of this country what others have done for us," she said. "As good citizens we have a responsibility to groom another generation… and we must do so wholeheartedly and generously," Dr. Rigobert said.
She showered the various agencies who participated in the event with praises for playing their roles in making the event a reality.
The gathering was also addressed by Ajani Lebourne, 2nd Vice President of the Saint Lucia National Youth Council and Vice Chair of the Students' Commonwealth Association, who in an inspiring speech called on the students to set SMART (Specific, Measurable, Achievable, Realistic and Time-bound) goals. He added that in some cases it might be necessary for them to change their physical environments to achieve their goals, due to the characteristics of the individuals around them.
"Life is like a road, it is indeed a journey…" Lebourne told the students, exhorting them to think ahead.
Lebourne, who is also the interim president of the Micoud Youth and Sports Council, urged the students to celebrate their successes, no matter how small.
In an interview with this reporter, the various entities and students at the fair spoke about the event in glowing terms.
Speaking at the event, Althea Emmanuel of the Human Resource Department of the Ministry of Education said many students had come to her to seek information about scholarship opportunities.
"The students showed much interest in the scholarships and expressed interest in applying for some," Emmanuel said.
Dailla Justin, a student of Monroe College said she learnt a lot from the fair, which will be of much assistance to her in the future.
"It was educational and enlightening…." Justin, whose ambition is to become a Human Resource Manager said.