The atmosphere at the Rodney Heights Aquatic Centre was upbeat despite persistent rain on the final day of competition (Sunday 23rd June 2019) when Seajays Swim Club (SJSC) hosted the 5th Annual Karen Beaubrun Swim Meet with support from a number of corporate sponsors.  
The meet was organized to honour Coach Karen Beaubrun for her commitment to swimming and as a founding member of the club. Not only was she a Seajays coach; Karen taught values such as fair play, respect, dedication to team and sport, honesty and leadership, values which are still being taught to swimmers to this day.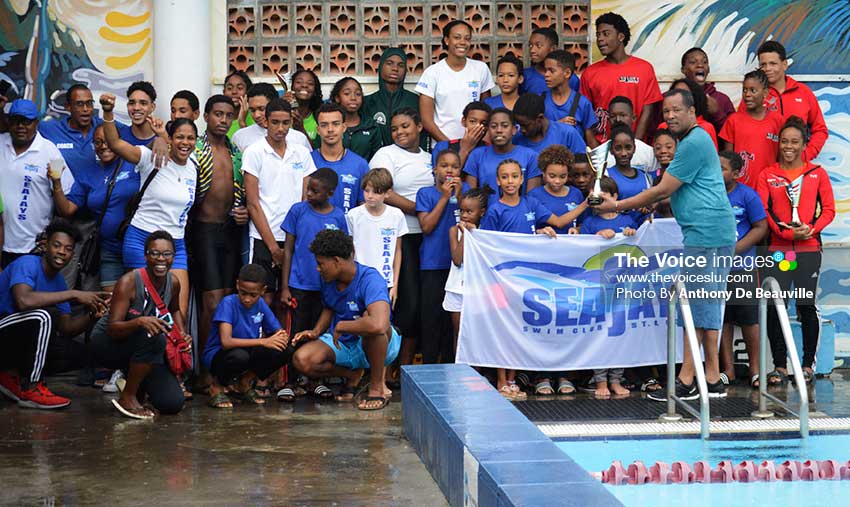 Close to 165 swimmers represented the following participating teams – Sharks, Lightning Aquatics, RR Aquatics, Southern Flying Fish, RHAC, and Unattached.
The highlight of the meet saw Seajays winning the championship for the third consecutive year. Terrel Monplaisir from the Seajays set a new age group record in the boys 15 and over 200 Breast stroke in a time of 2 minutes 34.46 seconds and Mikaela Casimir of the Sharks set a new age group record in the Girls 15 and over 50 Butterfly in a time of 30.23 seconds. Terrel's time was also a national record.
Like previous years, one swimmer from each club was awarded the Karen Beaubrun Award for upholding the values and standard and showcasing dedication to the sport of swimming and to their respective club. The recipients were Hannah Christopher – RR Aquatics; Gelanie Augier – Lightning Aquatics; Allandre Cross – Sharks Swim Club; Omar Alexander – Seajays Swim Club and Rashawn Francis – Southern Flying Fish.
When the dust settled and the final announcement made, Seajays was declared the 2019 champions, their third consecutive win with 1272.50 points. Second place went to Sharks Swim Club with 741 points, third place – Lightening Aquatics 703 points, fourth place – RR Aquatic Swim Club 365 points, fifth place – Southern Flying Fish 335 points, sixth place – Unattached 93 points and 7th RHAC Swim Club 57.50 points.

Points winners – 6 and Under 1st place girl, Isabel Anius 54 points Southern Flying Fish, 2nd place Aniyah George Seajays 40 points. First place boy Jeshawn Yard 52 points RR Aquatic, and second, Nathan Lewis 43 points.
In the 7-8 Girls, 1st place Zaina Brathwaite 48 points Sharks, 2nd place Helen Kabiye, Sharks 45 points. 1st place boy James Sylvester 52 points Seajays, 2nd place Noah Dorville Seajays Swim Club 48 points.
In the 9-10 Girls 1st place Mila Festini Cromer 52 points Seajays, and 2nd place Alexandra Bristol 45 points Lightning Aquatics. Boys 1st place Leo Gillmor 46 points Sharks, 2nd place Omar Gabriel 43 points, Seajays.
In the 13-14 Girls 1st place Naima Hazell 52 points Lightning Aquatic, 2 place Naekeisha Louis 48 points, Lightning Aquatic. Boys 1st place D'Andre Blanchard 54 points Seajays, 2nd place Ethan Hazell 41 points, Lightning Aquatics.

In the 11-12 Girls 1st place Caitlin Polius 54 points Seajays, Jasmine Stiede 44 points, Sharks. Boys 1st place Tristan Dorville 54 points Seajays, 2nd Lorenzo Festini Cromer 49 points, Seajays.
In the Girls 15 and Over 1st place Mikaela Casimir 52 points Sharks, 2nd place Marisa Louisy 34 points, Seajays. Boys 1st place JayhanOdlum Smith 52 points Seajays, Terrel Monplaisir 46 points, Seajays.
Meanwhile, Seajays took the time out to thank Dr. Diane Worrell and the Rodney Heights Aquatic Centre for their dedication to this meet and to swimming on a whole.  Special mention was made of Dr. Beaubrun and family for their continued support of the Seajays Legends Swim Club.
Seajays also thanked Cox and Company, lane sponsors LUCELEC, BOSIL Bank, Digicel, Subway and TOGS, and event sponsors, Caribbean Metals Limited, Sandals, F.I.C.S, Crystal Clear Water, Windward and Leeward Brewery Limited, JJ's Paradise, Royal Bank of Canada, Saint Lucia Distillers Limited and The Balcony Restaurant for making this year's event a success.