Just before members of Parliament sat down to this week's House session, an unexpected news story sprung up right outside the House of Parliament. It started with a regular pre session interview with a politician, and ended with that same politician, a government minister, labelling a popular journalist and talk show host as a "politician".
Since the time of the incident, reports have been aired on various news stations including HTS and MBC Prime, but the story begun long before what transpired outside the House of Parliament on Tuesday.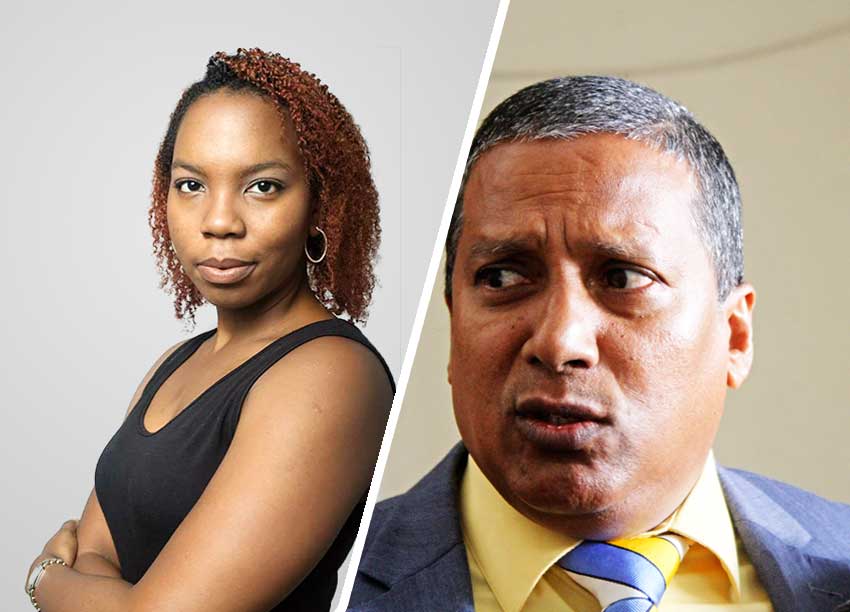 On Sunday, June 9 at a United Workers Party (UWP) public meeting, Economic Development Minister Guy Joseph had thrown some now controversial words into his spiel, which by his own account, he felt compelled to share because he'd felt the "push" to do so.
"That's a place where I don't like to go, and sometimes they push me there, and I have to go there," he said to the crowd of yellow-clad supporters. "How can a man, who marries a foreigner, accuse people of affiliating with foreigners, when a foreigner is in your bed every night?"
Minister Guy Joseph later said that the issue that he was highlighting was the hypocrisy that existed within the ranks of the Saint Lucia Labour Party.
"Conveniently they attack people," he elaborated in a media interview ahead of this week's sitting of Parliament. "They say all kinds of things about people, but when you put out the truth, in relation to their own position on matters, then you hear a different story being sung."
He added, "Do you know how many times my wife has been attacked in parliament? Do you know how many statements have been made, both publically, and in parliament? So some people's wives are gold and other people's wives, people can take liberty to say what they want, when they want, how they want?"
During the interview, Janeka Simon, Choice News Editor questioned the minister further on the matter, "Did you not think that was an attack on Dr. Anthony's family, you're complaining that people are attacking your wife?"
Hers was a follow up question to one previously posed by another reporter on the same topic.  Just as soon as the words were out of her mouth, Joseph declared that he had no intention of answering any questions she asked because, 'if you want to be a politician be a politician, and then we will deal with it from a political perspective.'
Saint Lucia Media Association President Miguel Fevrier challenged the minister straight away, defending the journalist who has no record of making any public pronouncements regarding her interest in a political career now, or in the future.
"Are you calling my colleague a politician, posing as a reporter?" the Media Association President asked, to which Joseph smiled and responded, "I've said what I have to say."