Passiflora House Publishing Inc. is pleased to announce the release of its landmark publication to be launched on Wednesday 3rd July, 2019: St Mary's College, Saint Lucia, West Indies The Caribbean's Nobel Laureate School Celebrating 130 Years of Human Development.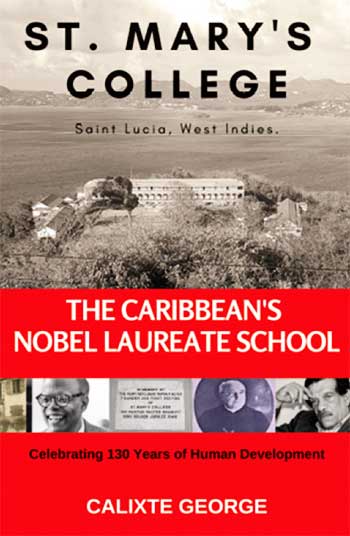 This monumental book is the culmination of four years of dedicated research and composition by its author, Mr Calixte George, C.M.G., on his alma mater, St Mary's College, Saint Lucia, West Indies. While St Mary's College is synonymous in Saint Lucia with striving for success and excellence, the institution's contribution to the island, the Caribbean and the world, has never been chronicled in its totality. This publication is thus seminal, ground-breaking and the first of its kind. The dissertation's generous use of quotes gives it a diary-like feel as it dives extensively into the historical birth, formative years and maturing of a national institution, now nearing one hundred and thirty years since being founded by Rev. Fr. Louis Tapon.
While focusing on the College, the book captures a wide range of broader socio-cultural and political subjects which were relevant to the College's formation. It analyses the regional and local context within which St Mary's emerged and the state of education at the time. One can see the emergence of Saint Lucian society, capturing decade after decade of history, personalities, controversies and successes. It also reveals the inter-connected nature of the West Indies and the influences of other Caribbean islands. This meticulous log has caused for a mammoth print: over 800 pages, 196 sections, across 6 chapters. In its preparation, extensive research was undertaken of primary sources including old school magazines, board minutes, official gazettes, newspaper articles, genealogical sources and personal accounts, with contributors as far away as the United Kingdom, Canada, Ghana and the Falklands.
From the early pupils, their performances, examinations, the establishment of the Island Scholarship, battles between Church and state, language issues, long forgotten education schemes and commissions, coping with the rising demand for education, physical expansion and relocation, school finances, sport and House rivalry, inter-schools tournaments, school culture, teaching staff, head masters, student protests, to 'Mum's' canteen – there is little that this book does not touch on. Though, as the name suggests, there is a special chapter dedicated to the School's most famous Samarians, Sir William Arthur Lewis and Sir Derek Walcott, there is also a chapter which celebrates hundreds of other notable Alumni.
St Mary's College: The Caribbean's Nobel Laureate School is a 'must-have' collector's item for those interested in Saint Lucia, the Caribbean and its human development. It is a reference book for students, teachers, educators, and alumni interesting in discovering the rich past and foundation of St Mary's College. However, it makes for intriguing reading for those who have an interest in history, education and social development.
The book's Official Launch will be held on Wednesday 3rd July, 2019, at the Bougainvillea Room of the Bay Gardens Hotel, Rodney Bay, Gros Islet. Further details will be announced subsequently, as well as information of other events to be held throughout the year targeted at various audiences including St Mary's Alumni.