FOR the second consecutive year, three athletes from the same community (Babonneau) copped top awards at the Annual Sports Awards. Leading the charge is thirty-four-year-old world ranked high jumper, Levern Spencer (Babonneau). Spencer won her 15th Sportswoman of the Year title on Saturday night, extending her record of winning the title stretching back to 2000 when she first won the senior category.
The three-time Olympian and senior Commonwealth Games gold medalist' (2018) latest win came at the expense of compatriots Qiana Joseph (Cricket) and Ellisha Marquis (Football).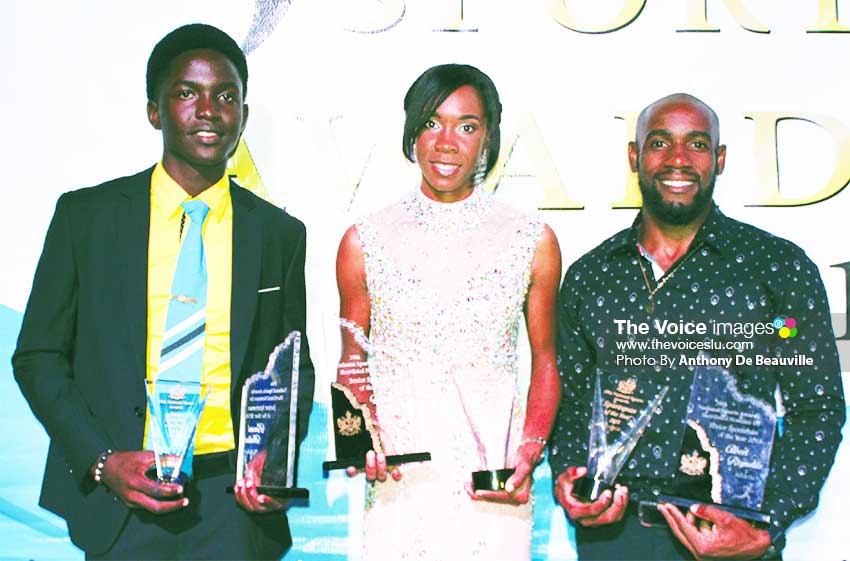 Having won the award in 2018, Kimani Melius (Babonneau) picked up another Junior Sportsman of the Year award; the West Indies Under -19 World Cup opening batsman copped the award ahead of Shelton St. Rose (Athletics), D'Andre Calderon (Table Tennis), and Jayhan Odlum – Smith (Swimming).
In the Junior category, the Sportswoman of the Year was silver medallist at the 2018 Youth Olympics Games in Buenos Aries, Argentina, Julien Alfred (Athletics) who held off stiff challenges from Katie Kyle (Swimming) and Maggan William (Tennis).
Javelin thrower Albert Reynolds (Babonneau) had something to smile about as he retained the award for Senior Sportsman for the Year for second consecutive time. Reynolds defeated Lyndell Marcellin (Boxing) and Larry Edwards (Cricket) in what appeared to be a close call.
Other awards presented were Administrator of the Year, Yasmin Tyson (Swimming); Coaches – Renata Fredrick (Rugby), Peter James (Swimming), Christopher Wells (Table Tennis) and Emmanuel Bellase (Football); Technical Official, Hilroy Emmanus (Swimming) and Chantal John (Rugby).
Community Award – went to Zadie St. Louis (student).
Special Recognition – Club of the Year, Lightning Aquatic Swim Club; Special Olympian Benvick Joseph; and a number of Media Awards.
Presentation to Champion Teams – Senior Women Volleyball, National Under-15 and Under -19 cricket teams, Organization of Eastern Caribbean States (OECS) Under-23 Netball Team and Rugby 7's Women National team.
Posthumous award – Spar St. Helen; while the Lifetime Achievement award went to former national cricket and tennis player, Hollis Bristol. Bristol was also recognized for ensuring the Under -19 secondary school Massy United Insurance tournament remains despite trying circumstances.

This time around, the Minister of Youth Development and Sports Award went to Jane and Dunstan Du Boulay for their 33 years of unbroken sponsorship to the Coca Cola ITF Junior Tennis Championship.
In addressing the gathering, Saint Lucia's Minister for Youth Development and Sports Edmund Estaphane saluted the nominees stating, "It is with an appreciative heart, honour, pride and tremendous joy that I salute tonight our nation's sports heroes for their outstanding achievements throughout 2018. Tonight's awards serve as a clear demonstration of Saint Lucia's highest honour and respect to our sporting champions and legends."
Estaphane said, it also indicates government's total passion and commitment to the advancement and growth of sports and recreation. "This government recognizes sports and recreation as a medium for developing healthy lifestyles, creating opportunities for rewarding careers, employment as well as fostering national pride," he said. "As a government we recognise that sport serves a key role in encouraging a cultural team work, cooperation and discourages antisocial behaviour. It is with this key objective in mind that we pledge to take sports development to new and rewarding heights of excellence."
Estaphane left no stone unturned when he personally pledged his government's commitment. "Tonight I recommit to the pledge and encouragement and support of our Prime Minister, Allen Chastanet and my Cabinet colleagues to build our nation by empowering our youth through sports," he noted.