PRESS RELEASE – NOW in its fifth year, DASH –the most colourful event on Saint Lucia's independence calendar –has officially kicked off events leading up to its February 24, 2019 staging.
Welcoming over 2000 DASHers in 2018, DASH has literally positioned itself as one that brings together generations of Saint Lucians echoing the true embodiment of nationhood and growth.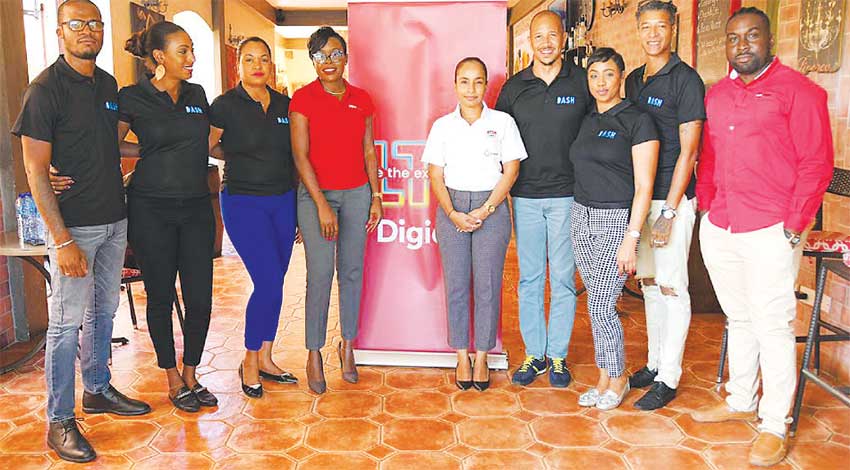 The charity event continues to stand behind its sole beneficiary, the Child Development and Guidance Center (CDGC), and maintains a consistent backing of dedicated sponsors and supporters.
DASH Inc. officials have coined this year's activities as an "exciting time for the DASH team, where a milestone of five meets a landmark of 40 with colour, health and energy."
The group said, "this is a period of nostalgia for us all and we are so excited to execute another sensational year of DASH."
Curtains are officially drawn on the 2019 event on Saturday January 26, 2019 with the first of its signature "pop-ups" at its resident location Baywalk Mall clock tower, over 20 volunteers will greet supporters in a Digicel-branded event that will see discounted registrations, giveaways and absolute fun.
A circa of more than $20,000 has, to date, been provided to the CDGC along with donations, whether cash or kind, from DASH sponsors and the event's aim for 2019 is to exceed its 2018 contribution.
The CDGC is the only multi-disciplinary developmental assessment centre in Saint Lucia and the centre continues to express gratitude to the donating public who help to keep the spirit of the organisation and, most importantly, its patients alive.
"The Child Development and Guidance Centre is pleased to partner with DASH for the 5th Colour Run. Over the last 5 years that CDGC has partnered with the DASH family, we have benefited from increased public awareness of Paediatric disability particularly from the inclusion of children with disabilities in the fun event. It has also allowed for additional support for children in some Special Education schools and preschools," said Centre Director Dr. Kim Gardener. "We wish the organisers a successful event and look forward to a fun, safe time on the road."
Just over 40 percent of the CDGC's budget is covered by a governmental subvention so donations from the public and other organisations like DASH are paramount to its continuous provision of the much-needed service to the island.
Partners for 2019 include: Digicel; Yello Media Group; KFC/ Real Foods Limited; LUCELEC; LumNat Distributors; Tropical Shipping; and Hobie Clothing.
Other sponsors are: 123 Digital; Hashtag Limited; Blue Waters; Caribbean Tents; BayWalk Mall; ECCO; Shoe Rehab/ The Foot Spa, The Cell and Events Company Saint Lucia.
"DASH ~ The Independence Colour Run" is an 5km, un-timed race in which participants, or "DASHERS", move through powder zones of St. Lucia's national colours of Cerulean Blue and Light Chrome Yellow.
With only four rules for the participants, the idea is easy to follow: 1. Register for the fun run; 2. Wear the official white t-shirt at the starting line; 3. Enjoy powder and music, walk run or chip!; and 4. Finish plastered in colour!
The fun run/walk begins at the Choc Estate roundabout at 6:00a.m. with warm ups and powder/paraphernalia distributions. Gun start will be between 6:30a.m.-7:00a.m. Clad in the white DASH t-shirts and the expected funky accoutrements, participants will become a moving canvas as they pass through three colour zones representing colours of the national flag; Cerulean Blue and light Chrome Yellow. Our DASHERS complete the race with an unforgettable "Independence Village" between the Baywalk Mall and JQ Rodney Bay Mall. This larger than life party will be equipped with concessionaires, music, dancing and massive colour throws which create a vivid kaleidoscope of colours and will seek to highlight all things saint Lucian.
The cost for adults is $40 and $25 for children under 12, which will include a DASH T-shirt, race bib and a packet of powder and other branded paraphernalia. In addition to celebrating our independence, DASH – Independence Colour Run aims to raise funds for the Child Development and Guidance Centre.
CDGC is a registered non-profit organisation, located in La Clery, Castries and is led by Dr. Kim Gardner, Paediatrician. This somewhat underrated facility provides Comprehensive Developmental Assessments, Early Intervention and Therapeutic Services for children. CDGC's aim is to ensure that children from birth to the age of sixteen receive all the necessary support and help that is required. This will enable them to achieve their full potential and become contributing members of society. We have chosen an organisation that works solely with the nation's future and best assets, the Child Development & Guidance Centre (CDGC) – http://childdevelopmentstlucia.org/