THE curtains came down on the 2018 Gros Islet Football League/Aurelien Soles Under- 18 Football Tournament this past weekend held at the Corinth playing field and by all indication the tournament lived up to all its expectations as a total of nine clubs participated as did last year with Valley Soccer participating for the first time.
On the opening day 1 games were played and a total of 25 goals being scored.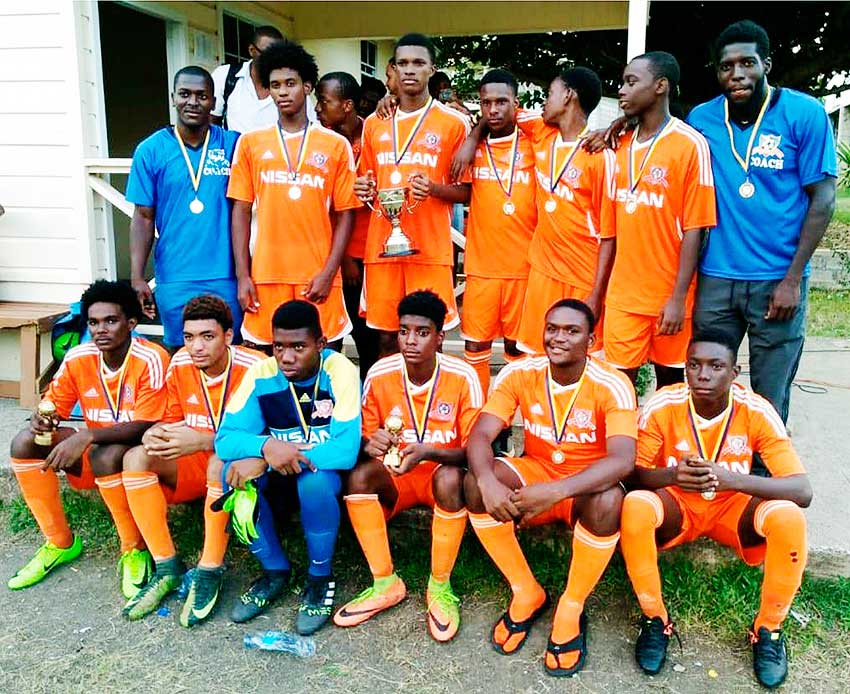 According to Charde Desir, Tournament Director, a further five games were played during the week. Eight clubs made it to the quarter-final round of the tournament with Ti Valley the only team not surviving the group stage of the tournament after losing all four games.
In quarter final action, Northern United defeated Reduit FC 3-0; Valley Soccer FC had the better of Pioneers FC 2-0; defending champions Big Players FC defeated GMC United FC 3-0 and VSADC had an upset win over favourites New Generation 1-0.
In semifinal showdown, Northern United FC defeated defending champions Big Players 2-0 and Valley Soccer FC out classed VSADC to reach the grand final.
For the third place silverware, Big Players FC defeated rivals VSADC 1-0.
The grand final between Northern United FC and Valley Soccer FC started with Northern United prolific striker TurjardStava heading a ball in the far top right of the goal from a beautiful free-kick taken by captain Samuel Lawrence.
Valley Soccer FC replied five minutes later with an own goal scored by DelanCenac after Darren Donai had made three saves, but this time around he just could not prevent this one from entering.
Halftime score 1-1.
On the resumption, both teams gave nothing to chance as they came out firing at each in an attacking mood in search for that winning goal.
Northern United Striker Gabriel Biscette made it 2-1, but with 45 seconds left to play Valley Soccer pulled one back off a free kick due to some poor defending.
Final score 2-2.
In the penalty shootout, Valley Soccer FC emerged champions with a 5-3 victory to emerged champions of the GIFL/ Aurelien Soles Under-18 tournament after Rio Longville made two wonderful saves between the upright.
In awards presented – Most goals: Rio Longville, TurjardStava and Gabriel Biscette.
Best Goal Keeper: Nicholas Marius (Big Players FC)
Most Valuable Player: Aazah Zayne Daniel (Valley Soccer FC).