PRESS RELEASE – For the children from the Castries East and Micoud North Constituencies, Summer Camp 2018 provided an opportunity to explore, learn new things and make new friends.
The Camp was spearheaded by the Ministry of Equity, Social Justice, Empowerment Youth Development, Sports Culture and Local Government and was hosted at the Mon Repos Primary School in the South and Marchand Human Resource Centre (HRDC) in the North.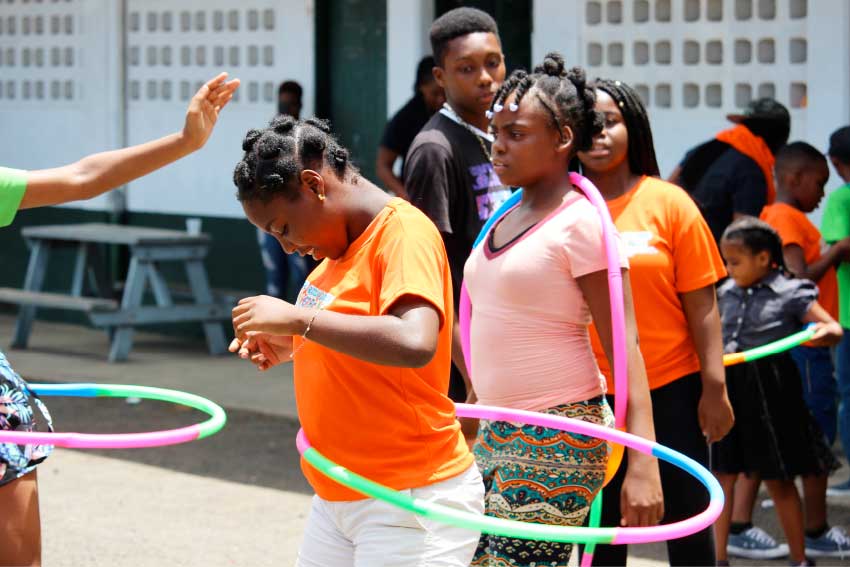 Facilitator of the Summer Camp in the North Ms. Nola Desir welcomed the initiative, saying: "The Camp is a huge success with the high rates of registration than previous years.
"They create unique arts and crafts, play cooperative games, all combined with strong positive message of cultural pride.
"All this makes our Summer Camp one of the most enjoyable and unique camp."
The children at the North Camp were engaged in arts and craft, whereas in the South the emphasis was on sports and games that promote positive cultural messages.
Ms. Elvinet Wilson is the Mon Repos Camp leader. She said, "My passion is working with children.
"At the camp children were taught life skills, character and team building techniques through sports. Our main focus this year is empathy and teaching the children how to create that team spirit."
Deputy Director in the Community Development Department Mr. Jim Xavier stated that the programme is similar to the Community After School Programme (CASP), but the difference is that it is geared at being fun.
He explained, "The programme has a lot of similarities with the Community After School Programme (CASP). However, it is more geared towards fun and it gives the children an opportunity to do just that, in a safe environment."
He continued, "At the Camp there is less focus on academics and more focus on fun."
Play is an essential part of every child's life and is vital for the enjoyment of childhood as well as social, emotional, intellectual and physical development.
The Summer Camp ended on Wednesday (August 22).