TRIBUTES continue to pour in for former MP for Micoud South, Arsene James.
James, also a former Leader of the Opposition and a former school principal, died in Martinique Sunday.
James was flown to Martinique Saturday after having been hospitalised here last week.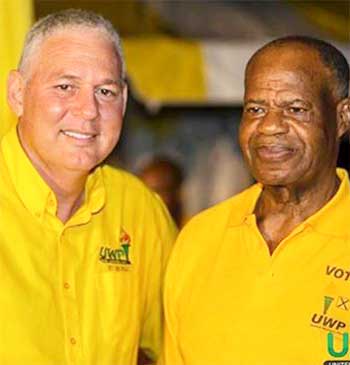 The former MP, who vacated his 'safe' Micoud South seat to facilitate the candidacy of United Workers Party (UWP) Leader Allen Chastanet in the 2016 general elections, served several years as MP and as Education Minister.
Mr James served as MP for Micoud South for 15 years and spent a full 60 years in public service.
UWP: He epitomized 'service'
The ruling UWP, in a post on the UWP Facebook page, said:
"We regret the loss of Hon Arsene James who has departed from this life. Mr. James distinguished himself as a statesman of extraordinary ilk. His life epitomized 'service' – as a community leader, teacher, principal, parliamentarian and government Minister,"
"Let us pray for his family and friends, that God will comfort them during this difficult time. May his soul rest in peace."
PM: Devoted, Kind and Compassionate
Prime Minister Allen Chastanet described the late Arsene James as a devoted, kind and compassionate soul.
"We are immensely saddened by the news of the passing of stalwart member and former parliamentary representative for Micoud South, Mr. Arsene James. At this very difficult time our thoughts and prayers are with his family,"
PM Chastanet wrote on his Facebook page.
He noted that the former minister was born on October 30, 1944.
"Mr. Arsene Vigil James was a servant of his community and Saint Lucia. He was an exemplary and distinguished local educator having had years of service as a teacher and principal. "
"Mr. James went on to oversee the development of education in Saint Lucia when he served as Minister of Education from 2006 to 2011.
"Mr. James also previously served as Leader of the Opposition in 2003.
"He was a loyal member of the United Workers Party and continued to play a leading role in the development of the Micoud community."
Chastanet recalled that in 2017, Arsene James was awarded the Saint Lucia Cross as part of the 38th Independence Awards.
"We send our deepest condolences to all his family, his friends, to the people of Micoud, members of the United Workers Party and the People of Saint Lucia.
"We have lost a compassionate, kind and devoted soul. May he rest in perfect peace," the Facebook post said.
Minister for Education: Elder Statesman and Father Figure
Minister of Education, Innovation, Gender Relations and Sustainable Development, Doctor Gale Rigobert expressed deep sadness on hearing of the demise of one of her predecessors in that post and fellow party colleague.
Rigobert described her late colleague as an elder statesman and father figure in the party.
She recalled his quiet and unassuming disposition.
"He was never one to allow himself to be consumed by emotion. He was firm and principled. We valued his opinion. He was a true gentleman and a stalwart," Rigobert stated.
"Mr. James devoted his life to service. His dedicated commitment to education spanned decades -as a teacher, principal and Minister of Education. He gave selflessly of his time and talent. He served with honour and fairness. He was truly a gentleman," she observed.
" On behalf of the team at the Ministry of Education and the Constituency of Micoud North, I wish to extend sincere condolences to his family and friends.
"Please know that you are in our thoughts and prayers."
Tributes Pouring in…
Tributes continue to pour in for the late ex-Eduction minister, including a sterling statement by another former Education Minister, Dr Robert Lewis.
Dr Lewis and Mr James often sparred across the parliamentary chamber on education issues, but as two former teachers, they both tended (at times) more to agree than disagree.
Funeral arrangements have not yet been announced, but it is to be expected that the late parliamentarian's body will be laid in state in the House of Assembly ahead of his official funeral ceremony.