SEAJAYS TO DEFEND CHAMPIONSHIP THIS WEEKEND
Rodney Height Aquatic Centre in Gros Islet will come alive as the Seajays Swim Club stages its 4th Annual Karen Beaubrun Swim Meet June 30th and July 1st, commencing at 9.15am on each day.
Last year's champion, the Seajays swim club, is set to defend their title, but they will be hard- pressed as a combined 150 swimmers representing the Lightning Aquatic, Romain Roosevelt Swim Club, Sharks Swim Club, Southern Flying Fish, Sports Academy will be coming all out to do battle in a series of events in six age categories: 6 and under, 7 to 8, 9 to 10, 11 to 12, 13 to 14 and 15-and-over. Also in the mix are a number of unattached swimmers.
Missing out of this year's championship are: Jamaar Archibald, D' Andre Blanchard, Devin Boodha, Jayhan Odlum-Smith (Seajays), Naima Hazell, Nakeisha Louis (Lightning Aquatic), Mikaili Charlemange and Katie Kyle (Sharks) – all being swimmers currently in Aruba representing Saint Lucia at the Central American and Caribbean Swimming Championships.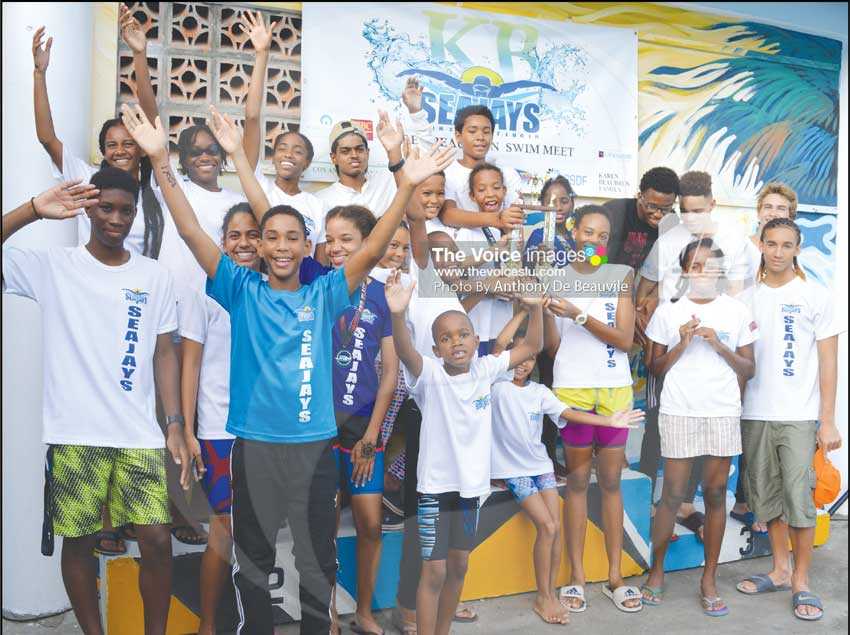 Like previous years, the Karen Beaubrun championship is sanctioned by the Saint Lucia Amateur Swimming Association and Fina Approved.
According to Sue Monplaisir, SLASA Public Relation Officer, the Karen Beaubrun championship "will continue to provide an opportunity for swimmers to make their best times for selection on the National team to represent Saint Lucia at the upcoming Goodwill Swim Championship scheduled for Barbados in August."
Monplaisir said, "This year, the Seajays Swim club promises to continue the legacy of their beloved coach Karen Beaubrun, who passed away in 2011 and will continue to emphasize "Coach Aunty Karen" philosophy of hard work, dedication and character development throughout the sport of Swimming."
Heidi Emmanuel, Club President, said: "I expect a very competitive meet highlighting the results of the hard training the swimmers have been putting in over the past few days.
"The Executive continues to be grateful to Cox and Company since the inception of the event and looks forward to their continued support."
Next on the swimming calendar for 2018, The Seajays Swim Club, in collaboration with Saint Lucia Channel Swim, will host the inaugural open-water events with swimmers competing in 1, 3 and 5 Kilometer Races.
The event will be held at Reduit Beach (adjacent to the Saint Lucia Yacht Club) and is open to the general public.
The One-kilometre race is open to all swimmers age 9 and over, while 3 and 5 Kilometre races are open to competent swimmers age 14 and over.
Culminating the weekend of the Open Water events, Seajays Swim Club invites all to its Fund Raising BBQ immediately after.
Meanwhile, just before press time on Wednesday, the Seajays Swim Club and the swimming fraternity were mourning the passing of one of its members, Debbie 'Barley' Mathurin, who passed away yesterday.
She was the mother of Reggie Mathurin, a young aspiring swimmer and wife of Anslem Mathurin, Marketing Director of the National Tennis Centre.