PLATINUM FC is the new champion of the Saint Lucia Football Association Division 1 Football Cup, earning the bragging rights to represent Saint Lucia at next year's CONCACAF Club Championship.
It all happened as the curtains came down on Wednesday evening at the Phillip Marcellin Grounds in Vieux Fort.
Platinum FC, decked in their blue and white attire, left nothing to chance as they drubbed bottom of the table RV Juniors of Roseau 8 – 0.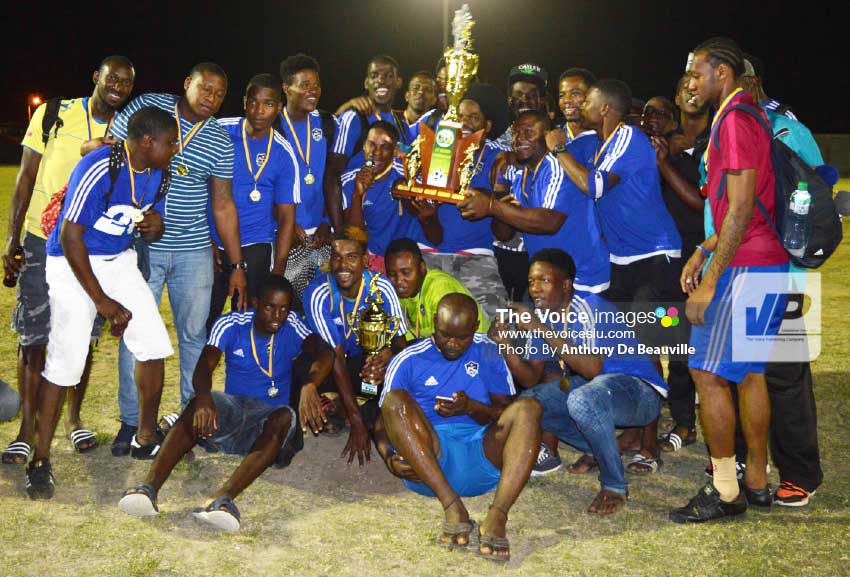 Delon Neptune opened the floodgates for Platinum in the 23rd minute, while RV Juniors Lunych Gilbert made it 2 – 0, scoring an own goal in the 40th minute. Mid-fielder Gregson President made it 3 – 0 in the 40th (his third in the tournament) to lead his team to the dressing room with the half-time advantage.
On the resumption, it was all Platinum FC: Delon Neptune made it 4 – 0 with a well-taken right foot shot that eluded the RV Juniors custodian to his right in the 46th minute. Neptune kept the fourth official busy in terms of keeping up with the score line, as he made it 5 – 0 — and in the process scored his hat-trick in the 58th minute.
Antonious Mayers came to the party with two quick strikes in the 81st and 85th minutes of play to make it 7 – 0, while Delon Neptune scored his career best, beaver-trick in the 87th minute to make it 8 – 0.
This result also means that the team from the Roseau Valley Football League finished the tournament without a win.
In the second game that evening, Uptown Rebels (Vieux Fort) and Big Players FC (Marchand) played to a goal-less draw.
On Wednesday evening VSADC also recorded victory in the competition. The 2017 Central Castries champion defeated former champ Northern United 3 – 2 at the Anse la Raye playing field.
The goal scorers for VSADC were Zackeria Leriche, Jervise Valcin and Baggio Lewis.
VSADC finished level on points with Platinum FC. However, Platinum finished with an impressive goal difference of +15.
In the second encounter, Ti Rocher FC (Micoud) defeated Allez FC (Anse la Raye) 3 -1.

So, Platinum will represent Saint Lucia at the 2019 CONCACAF Club Championships at a venue to be announced soon. For their outstanding performance throughout, Platinum FC will receive $10,000, the championship trophy and goal medals from the Saint Lucia Football Association. Platinum FC will also receive $25,000 from the SLFA towards their trip overseas in February 2019.
Meanwhile, Platinum FC Head Coach Emmanuel Belasse spoke to the Voice following his team victory.
He said, "It was a tremendous victory for Platinum FC, as the players had the intention to score as many goals as we wanted, because we were not sure what would have happened between VSADC and Northern United in Anse la Raye.
"But, having scored eight goals, it would be difficult for me to think we have not won the tournament. All credit has to go to the entire team. They worked hard and we need to applaud them."
What does it mean for Platinum FC to represent Saint Lucia at the CONCACAF Club Championship next year?
Belasse said, "This victory is not just a Platinum FC or a Vieux Fort victory, it's more of a Saint Lucia victory. When we go out there, we are not going to represent Platinum FC or Vieux Fort, we are going to be representing Saint Lucia.
"I am hoping we are going to get the support from the community, the SLFA and the nation by extension, to make sure we perform creditably when we get onto the regional scene".
Final points table: Platinum 15, VSADC 15, TiRocher 10, Upton Rebels 10, Big Players FC 10, Northern United 8, Allez 4 and RV Juniors 1.
The lead goal scorers: Randolph Peltier – 6 (Northern United FC), Lincoln Phillip – 6 (Big Players FC), Delon Neptune – 5 (Platinum FC), Verneil Montoute – 5 (Allez FC), Alvin Williams – 4 (VSADC), Javid Joseph – 4 (Platinum FC), Gregson President – 3 (Platinum FC), MoliceLubrin – 3 (TiRocher), Antonius Mayers – 3 (Platinum FC) and Nicky Henry – 3 (RV Juniors).