(Christmas Message 2017 From Most Rev. Robert Rivas O.P., Archbishop Of Castries)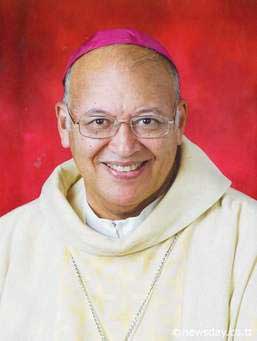 CHRISTMAS is a time for giving. I would like to thank you for all the giving and sharing that came from Saint Lucia to help our suffering sisters and brothers in the various hurricane-stricken islands in our region this year. Our Church collection reached EC$150,000. This is an historical landmark. In the hardest of times, Catholics dug deep and gave the most that has ever been collected for any cause in the Archdiocese of Castries. The work of CARITAS, Living Water Community and other agencies continues to bring relief to those in need.
From across the Caribbean, there was widespread sharing and generosity. Church communities mobilized their congregations in inspiring ways to reach out to their neighbours. This Christmas, we need to keep our devastated islands wrapped in swaddling clothes and close to our hearts just as Mary and Joseph wrapped the Infant Saviour in swaddling clothes when they had to improvise for their accommodation in Bethlehem and there was no room at the inn.
We cannot end our caring with our first response. The road to recovery for Dominica, Tortola, St. Maarten and all the places that experienced disaster is going to be a long road. We now need to exhibit a spirit of solidarity and take our caring to another level that will help our sisters and brothers to rebuild their lives and their countries. We were blessed and kept safe by Divine Providence so that we could be of service and help to those whose hopes have been shattered after hurricanes Irma and Maria.
One of the best gifts we could give to our sisters and brothers in their need this Christmas is hope. They need the assurance that they will not be abandoned. When we share in the Eucharist, let us remember the many churches that were so badly damaged that the communities need to gather somewhere else for Mass this Christmas without poinsettias and Christmas trees. When we sit for our Christmas meal, let us remember the many families that have been separated as result of the hurricane disasters and the uncertainties of many about the future. Let us also remember our own poor and needy this Christmas.
I would like to continue sharing with you by reflecting on the gift of Christmas. If Christ is the gift of Christmas, then we need to welcome the gift. We need to cherish the gift. Indeed, we need to share the gift.
At Christmastime, there is a great deal of gift giving. Children get toys. The poor receive hampers. People of all ages give and receive gifts. Often, much thought and care go into the choosing of gifts. The packaging and wrapping are also important. Every effort is made to ensure that the gift looks attractive and that it says something about the giver. Christmas has influenced our secular culture in the act of gift giving and in eliciting care, concern and thoughtfulness for others.
The things we give as gifts at Christmas often wear out, get too small or become outdated. If it is food, it is consumed. In a real sense, our Christmas gifts don't last for too long or they become mantle pieces that may conjure up good memories at a later time.
Christmas is first and foremost the celebration of the birth of Christ. He is the Saviour who brings salvation to the world. That is his gift. He is the Father's gift to us. He is Mary's gift to us. Indeed, he is the gift of Christmas. Without Christ, there is no Christmas. At Christmas, we celebrate the gift of the Christ-Child who brings peace and salvation to the world. The true gift of Christmas can never wear out or become outdated. The true gift of Christmas is Christ who is alive and offers us a share in his life which never ends.
How do we welcome the gift? How do we cherish the gift? How do we share the gift? In the hurricane season this year, we saw the sharing of the gift in action. Our region excelled in charity and giving in the true spirit of the Gospel and love of neighbour.
I would like to share a story with you. There was a rich man called Zacchaeus who was corrupt, dishonest and cheated others. One day, he met Jesus and Jesus asked to stay at his home. Zacchaeus didn't know what to say or what to do. He then opened his heart and welcomed Christ, literally rolling out the red carpet for him.
In welcoming Christ, he experienced a powerful grace of conversion. His joy was overwhelming, and he began to share out his wealth. To those he had cheated, he offered to pay back four times the amount and to the poor, he was ready to give away half of all he owned.
From his encounter with Christ, Zacchaeus made restitution and became a generous steward of all he possessed. He had found his true treasure in Christ and was able to share the gift of Christ with others. Up to today, the Gospel of Luke continues to tell the story of a rich man called Zacchaeus who found Christ, changed his life, shared his wealth and heard the Good News from the Master's mouth: "Today, salvation has come to this house…for the Son of Man has come to seek out and save what was lost." (Lk 19: 9-10).
Indeed, this is our Stewardship story for Christmas 2017. Zacchaeus continues to share his gift and treasure with us today. It was the greatest discovery of his life that changed him radically from greed and selfishness. From Zacchaeus, we learn that if we don't have the gift, we can't share it with others.
When Christ becomes the centre of our lives, our gifts of time, talent and treasure are put at the service of others. We develop an attitude of gratitude towards all that we have because we recognize that all we have is gift from God. As stewards of the graces we have received, the best gift we could give to others this Christmas is Christ. Whatever you wrap to give, remember that Christ came unwrapped. His swaddling clothes represent the love, care, tenderness and welcome he received from Mary and Joseph. Placed in the manger, he offers himself as our divine sustenance. This foreshadows the Eucharist, the gift of himself to us.
Give Christ to others this Christmas. He is the best gift of all. MERRY CHRISTMAS.Bon fete, Noel.