COCONUT Bay Beach Resort and Spa's football team, "C Bay Hard Nuts", recently completed their second consecutive year of dominance when they demolished St. James Morgan Bay to win the 2017 Saint Lucia Hotel and Tourism Association Football Championship in the finals held at the Soufriere Mini Stadium.
The C Bay Hard Nuts trounced St. James Club Morgan Bay 5-1. The goal scorers were Michael Descartes (1) and two each from Deland Neptune and Adrian Henry. This was the third championship win for Coconut Bay Beach Resort and Spa in the five years of the tournament.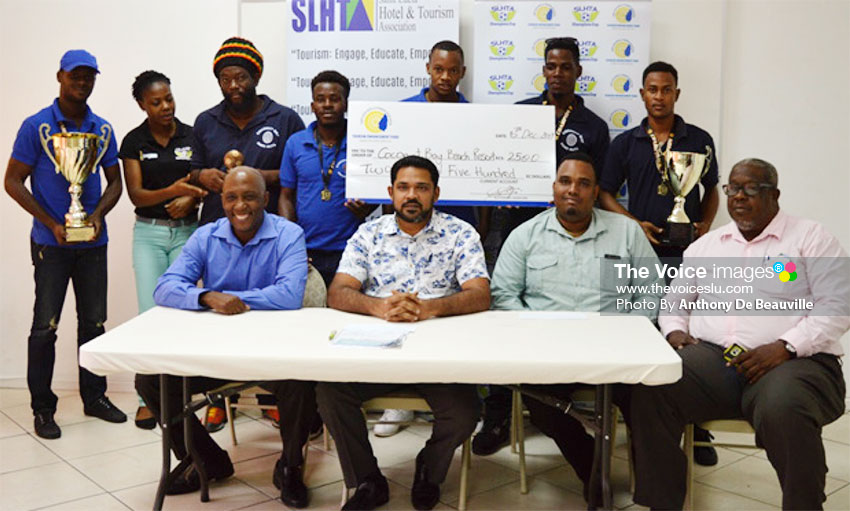 The top three teams, at a brief prize-giving ceremony held on Tuesday at SLHTA's office at Rodney Heights, were rewarded for their outstanding run in this year's tournament.
For their championship victory, Coconut Bay Beach Resort and Spa received $2500; second place St. James Morgan Bay $1500, and Body Holiday and Spa $1000 for their third place finish.
SLHTA's Chief Executive Officer, NooraniAzeez, said, "For those of you who were present when we started this journey a few months ago, we indicated that this year's competition had to be better than it ever was before. We are going to continue to lean on you for advice over the coming months as we start to prepare for next year's competition."
He added: "The SLHTA highly commends and applauds the quality of camaraderie and sportsmanship exhibited. We are happy we were able to put some exciting cash prizes for the winners. I was very impressed with the number of sponsors who came on board this year. Things seem to be pointing in the right direction."
According to Azeez, the SLHTA is looking at how it can put the tournament on the national stage next year.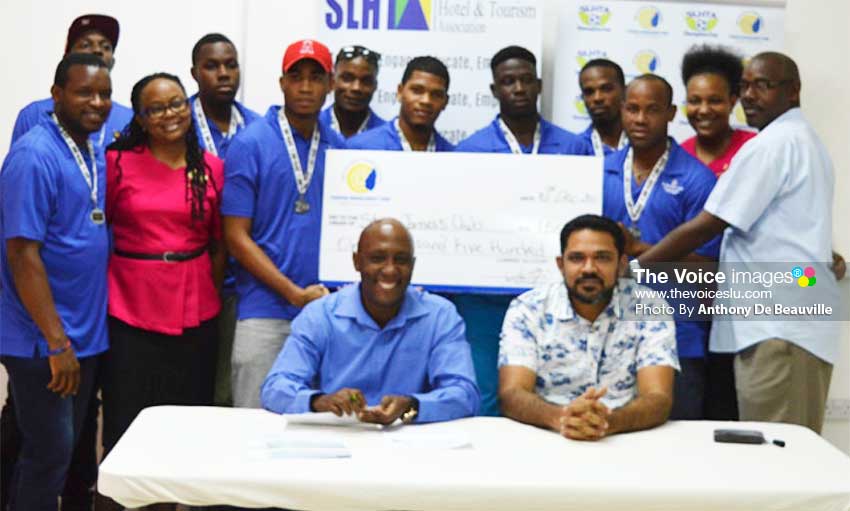 He congratulated the top three teams, but singled out Coconut Bay, in particular: "I have not seen a team which has taken this tournament that seriously as you do. I am not sure what encourages you to participate; it must be coming from the heart. This is the second consecutive championship (you've won). I guess next year the other teams will be coming hard at you."
Meanwhile, Ted Bernard, team manager for Coconut Bay Beach Resort and Spa, said, "It was indeed an honour to win the tournament for the second consecutive year. We played unbeaten throughout."
Bernard thanked the management and the sports and social club at Coconut Bay Beach Resort and Spa for their sponsorship and support on behalf of the entire team.
He said, "In terms of the finals, it was a top quality encounter against St. James Morgan Bay. It was one of the toughest finals we have ever played, so kudos to them for giving us a run, despite the 5-1 margin. We played thirteen games and won them all."
According to Bernard, the level of competition was very high, and the quality of play by the participating teams in the tournament went up a few notches.
"Next year, we are looking to hype up our inter-department football competition, and we would like to see cricket make a comeback on the agenda. In 2008-2009, we came second in the SLHTA cricket tournament," he said.