AFTER clocking 32 minutes and 59.13 seconds to win the 10K event on Saturday afternoon, France's Jean Habarurema fought with a serious leg pain on Sunday, which saw him failing to retain his marathon title in the climax of the 2017 Cave Shepherd Run Barbados Marathon Weekend.
After leading for quite a bit of the over 26-mile run, Habarurema was overtaken by first-timer Dane, Paul Schmidt, who crossed the line in 2 hours, 36 minutes and13 seconds.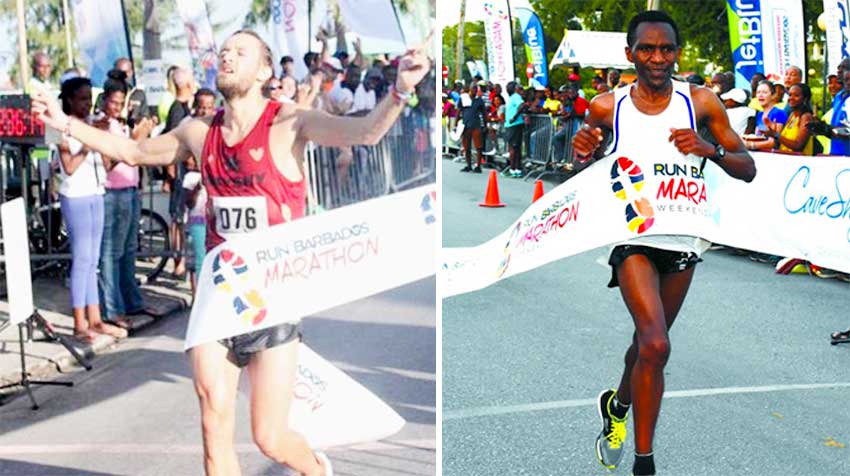 The Frenchman hobbled over the line a few minutes later, determined to finish and still good for second place with 2 hours, 43 minutes and 22 seconds. His effort, despite his injury, was so immense that the next nearest runner was David Major of England who was over ten minutes behind (2:58.59 hours).
Felix Fanja of Martinique was the first woman to cross the line and she did so in 3 hours, 3 minutes and 46 seconds. She was followed by England's Tracey West in 3 hours, 20 minutes and 14 seconds and Canada's Carolyn Murray with 3 hours, 30 minutes and 14 seconds. Fifty-seven-year-old Andrew Brathwaite was the first Barbadian home over the distance.
The 32-year-old Schmidt, who said the day was very hot, also said that he was extremely happy with the win, going on to say that he had a great experience as he was cheered on by spectators and fellow competitors. Schmidt added that he kept Habarurema in his sights.
"In the beginning, he went really hard, but I don't know how fit he is because he won the 10K on Saturday, but I saw he didn't drink so much. So when he moved out so fast, I just tried to get through by myself. It was so hot and I concentrated on drinking and cooling and then I realised he was not able to get far away. So I tried to keep up my pace," he said.
Noting that he had to employ a specific tactic on the hills, he said it changed when he realised that he caught up to Habarurema when his leg injury kicked in.
"I tried not to keep too hot a pace, but as I saw him, I really felt better and I tried to keep up, but not too fast. After two-thirds, he was one minute (ahead) and then within two or three kilometres, I saw him but I still tried not to move too fast because it is very dangerous if you are going too fast for one or two miles, you're done," Schmidt said.
The Half-Marathon was done in under half the time and Columbia's Zerda Santiago was the first man back home. He clocked 1 hour, 9 minutes and 45 seconds to lead Jamaica's Kirk Brown (1:13.44) and local triathlete Jason Wilson (1:14.47). Wilson's time was good to see him named first Barbadian over the line while Joshua Hunte (1:30.07) and Richard Lewis (1:32.48) closed out the top-three.
Over the Half Marathon, Sacha Gottish and Sarah Ingles of Canada came in together with a shared time of 1 hour, 22 minutes and 48 seconds. Tonya Nero of Trinidad and Tobago was just behind on 1 hour, 23 minutes and 23 seconds. The local women were led home by Carlie Pipe with 1 hour, 37 minutes and 46 seconds, while MarloHunte (1:48.15) and Christina Hassell 1:50.59 also took podium finishes.