PRESS RELEASE – IN his famous play, Twelfth Night, William Shakespeare writes: "If music be the food of love, play on." It has indeed been that and so much more for students, past and present, of the Corinth Secondary School.
Felicite Maraj, Music Teacher at the Corinth Secondary School since 1983, proudly proclaims that "Our school is number one on the island for music. Our marching band is renowned and performs all over — during sporting events and at official functions as well."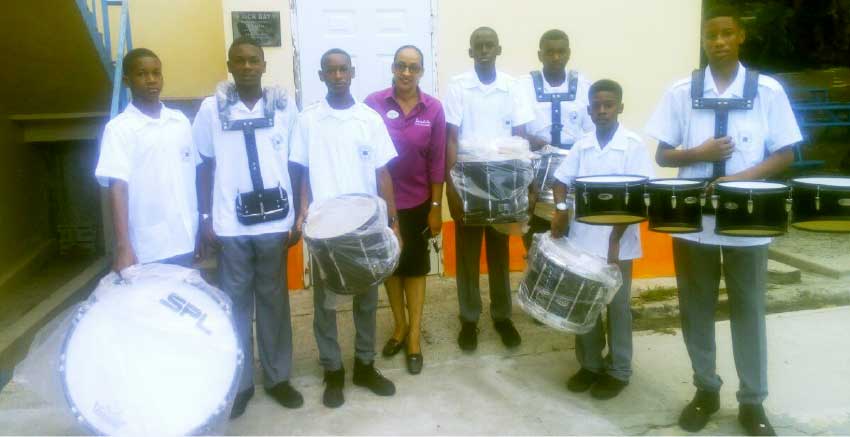 However, the school has been severely hampered by the lack of instruments for its marching band ensemble, which has threatened to jeopardise that proud record.
Sandals Resorts International (SRI) was, therefore, happy and proud to step in and help out by providing the school with over $4,000 to purchase new equipment for its band.
Before the contribution from Sandals, Maraj said she was constantly lobbying for equipment for her marching band.
"We had forged a relationship with the Royal Saint Lucia Police Band and the Saint Lucia Cadet Corps. They trusted us with their equipment when we did not have our own. Now we are so happy. Our students have finally received state-of-the-art equipment and our music programme can go far," Maraj said.
The start that they get right here in Saint Lucia is so important, she said, and there are students who have gone on to perform on the big stage in the U.S.
"Kerlin Nowikas performs in the Opera in the U.S. We have Kevin Spencer in the U.S; and Kerian Piper in Canada. Locally, we have many who play in the Police Band — like Martin James and Mr. Mondesir. Many of our students are arrangers, composers and producers of their own music. There is also Mr. Chunyoung Jeon, who now teaches at the Gros Islet Secondary School and Vern Alexander, who is a female drummer on a cruise ship," she added.
The arrival of the new ensemble equipment this week was a landmark moment for the school. Principal Mr. Willard Andrew shared his students excitement and urged them to "take care of the drums and to beat them with love."
"Sandals Resorts International and the Sandals Foundation take very seriously our role as stakeholders in Saint Lucia and we have always been keen to invest projects that add value to the lives of those in the communities that we call home," insisted Regional Public Relations Manager Sunil Ramdeen. "We wish the students and staff of Corinth the very best and hope that our modest contribution may help lay the foundation for the next great Saint Lucian composer and performer."