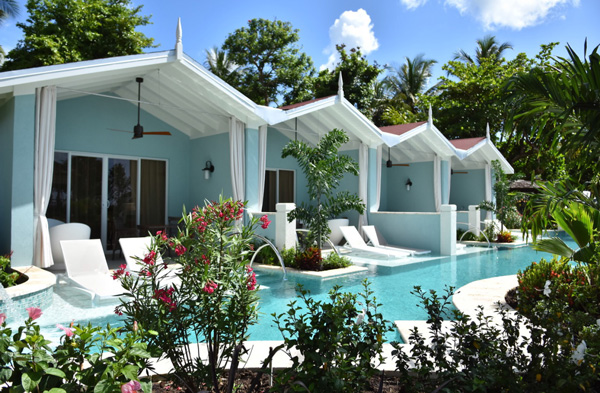 IN keeping with Sandals Resorts International's commitment to continuously develop and deepen its investment in Saint Lucia, Sandals Halcyon Beach Resort debuted its new Beachfront Crystal Lagoon suites, available from Tuesday, August 29.
These romantic suites are just steps away from one of Saint Lucia's finest beaches, with convenient swim-up access from the Crystal Lagoon pool.
This is the latest offering in an ongoing overhaul and modernization campaign at Sandals Halcyon, which is itself part of a group-wide development initiative that is redefining the all-inclusive vacation concept.
Over EC$13.5 million has been invested in Halcyon alone over the past 12 months.
The new rooms offer gorgeous views of the Caribbean Sea and the lush tropical landscape surrounding the beach.
Each patio offers a tranquility soaking tub, around which guests can draw privacy curtains for maximum romance.
General Manager for Sandals Halcyon, Christopher Elliott, said the company was pleased to invest considerably in the Halcyon resort, the second to be acquired in Saint Lucia in the early 1990s.
"Sandals Halcyon is a special resort within the Sandals group for both our guests and our chairman. Its size and landscape allow for ultimate relaxation and tranquility. We have improved the quality of the Halcyon offerings without affecting the feel of the resort. She remains the number one boutique resort in the Eastern Caribbean," Elliott said.
The new look and amplified energy on the resort has extended to the operational management and has certainly enhanced the guest experience.
"We are looking forward to quite an exciting season ahead, especially with our returning guests coming home to enjoy improved facilities," Elliott added.
Inside the new Butler Elite escapes, guests will find an airy master bedroom with contemporary hardwood furnishings, a plush king-sized bed and a large HD Smart TV.
The lavish spa-style bathrooms include a soaking tub, oversized walk-in showers, dual back-lit mirrors, his-and-hers sinks and mosaic tile accents.
Recently, the resort undertook a complete EC$1 million overhaul of its signature Kelly's Dockside Restaurant, which is set for completion in the coming weeks.