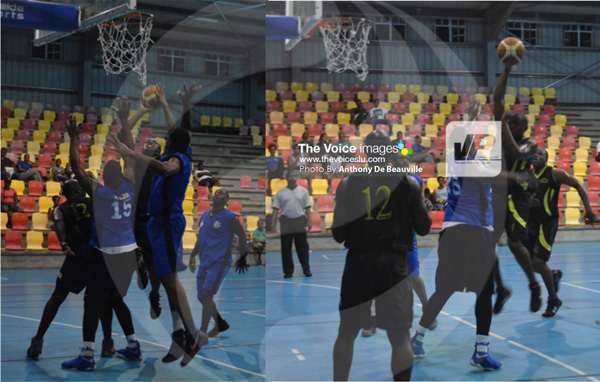 THE excitement, loud shouts, horns blowing and camaraderie continue in the 2017 Chamber of Commerce/Saint Lucia Basketball Federation-sponsored KFC Commercial Basketball League tomorrow evening with a doubleheader at the Indoor Practice Facility at Beausejour.
From 7:00 p.m., CSA will take on Teachers Union while Sandals — coming fresh from their 1-point victory against Digicel last week Friday — will play Financial Services.
On Saturday evening at the same venue, from 6:00 p.m., defending champions PCD/GGSL play WASCO.
Having Come from an impressive opening game against Police (54-40), the Saint Lucia Fire Service is expected to pull all stops when they play Media Ballers at 8:00 p.m. Last evening, in the only match on the card, Lewis Industries took on defending champions PCD/Goddard Group.
Last weekend, Sandals edged out Digicel 61-60.
The KFC Player of the Game went to Keiron Walcott, who finished with 20 points and 23 rebounds. Fabian Florton and Carlos Solomon contributed 20 and 23 points respectively for Digicel.
In game two, the Saint Lucia Fire Service and Police Combined Forces match-up ended with the Fire Service – runners-up in last year's tournament — defeating their opponents 54-40.
SLFS led the quarters by 16-1, 28-25, 38-26 and 54-40.
The KFC Player of the Game, Jean-Michel Eloise (SLFS), finished with 7 points, 10 rebounds and 6 steals. Marcian Calderon led the SLFS with 19 points and 18 rebounds. Durocher Antoine was the only RSLPF player in double figures, scoring 16 points.
On Saturday evening, WASCO had the better of Lewis Industries winning 70-58. Tristan James led WASCO's point spree with 33 points, 16 rebounds and 5 steals. Craig Fontellio was also good on the night, contributing 19 points and 13 rebounds.
Darnvi St. Marthe led Lewis Industries with 24 points and 8 rebounds.
The weekend was capped off with an epic comeback by the Media Ballers, who trailed by as many as 15 points, but rallied at the break to overcome the deficit, giving them a 59-58 victory over the Teachers' Union.
Paul Hippolyte led the Media team with 20 points and 14 rebounds, Arthur Tisson contributed 14 points and 14 rebounds and Elijah Williams also had a double-double with 12 points and 11 rebounds.
Simeon Hippolyte led the Teachers Union's effort with 18 points while Nigel Francis added 14 points and 6 steals.