THE Republic of China (Taiwan) is emerging as St. Lucia's biggest benefactor in the field of education as far as scholarships for overseas study is concerned. And those who are benefiting from it are full of praise for the programme, which is equipping them with the tools for greater involvement in their island's future development.
In years gone by, St. Lucian students received a range of scholarships awarded by foreign governments, mainly from Europe and North America. In more recent times, however, the donors have been mainly St. Lucia's newfound friends, like Taiwan.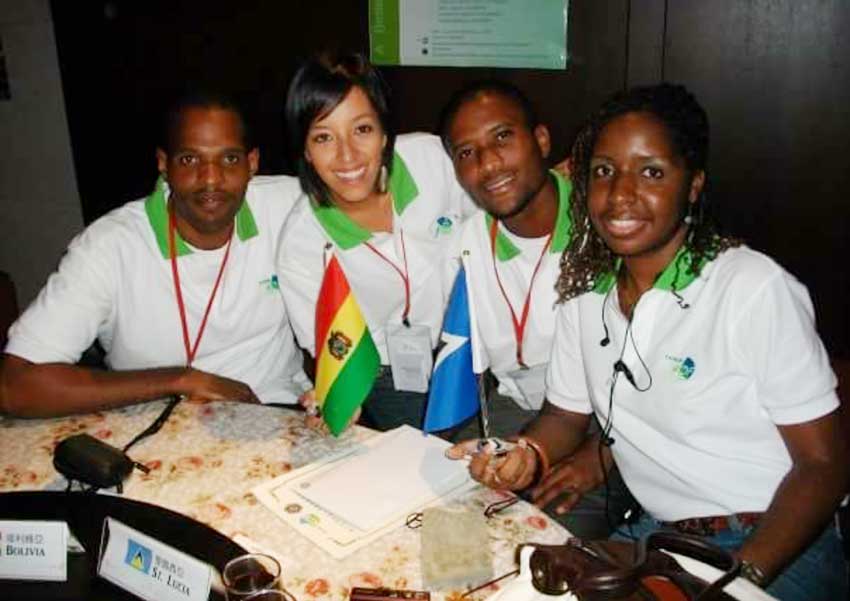 Since the re-establishment of diplomatic relations between Taiwan and St. Lucia in 2007, more than 1,100 young St. Lucian students have applied for various scholarships offered by Government of the Republic of China (Taiwan). Over the past decade, 134 have been granted scholarships to pursue studies in various subjects like Business Administration, Tropical Agriculture, Public Health, Medicine, Mass Communication, Civil, Mechanical, Electronic and Environment Engineering and Architecture.
So far, half of the awardees have completed their studies in Taiwan and have returned home qualified and equipped to contribute their newly-acquired expertise.
Vina Frederick, Human Resource Manager with the J.E. Bergasse Group of Companies, did a four-year course in Journalism and Mass Communication at Ming Chuan University, leading to a Bachelor of Arts Degree. Like other students going to Taiwan, she also had the good fortune of an additional year studying Mandarin Chinese at the Fu Jen Catholic University.
Frederick, who recently branched out to earn a Master's in Business Administration from the Australian Institute of Business, credits her four years in Taiwan for preparing her for her new job.
She said: "I think my studies in communications provided me with a solid foundation for being effective in my role as an HR Manager."
But there were other benefits as well. Frederick spoke of the "culture shock" that she experienced in Taiwan because of the differences in language and culture but conceded that to truly appreciate the country and its people one had to immerse oneself in the culture.
"I did so through my volunteer efforts with a shelter called Harmony Home, which cared for children living with and people affected by HIV/AIDS, and also volunteering at the Taipei Prison. Through my socialization with people at those two facilities, I was able to get a better perspective of the Taiwanese way of life, of thinking. I was better able to identify with the people. In fact, that was the highlight of my stay in Taiwan," she said.
The popularity of the Taiwanese scholarship programme in St. Lucia is obvious from the high number of applicants. This year, the Embassy of the Republic of China (Taiwan) received 184 applications, among them 107 for Taiwan Scholarships, 68 for the International Cooperation and Development Fund (ICDF) scholarships and 9 for School of Medicine for International Students I-Shou University medical scholarships.
These are the three categories of scholarships being offered by Government of Taiwan. Some are of two years' duration, others four years. The average cost to the Taiwanese Government for each student doing these courses ranges from EC$87,000 to EC$200,000, meaning that the overall cost of the programme to date runs into millions of dollars.
Elsa Mathurin, a Mathematics teacher at the Vieux Fort Comprehensive Secondary School, spent two years in Taiwan qualifying for a Master of Arts Degree in Agricultural Economics, with emphasis on Agricultural Policy Development and Management.
Although she is now teaching, Mathurin's heart really lies in agriculture. She said: "I am hoping to be able to play a role in the Ministry of Agriculture assisting with research and policy development. However, I would like to further my studies in the area of food security."
For her, studying in Taiwan was just great. She said: "At first, with the culture shock, it was quite intimidating. At one point, I was even second-guessing my choice, but I was determined to immerse myself in the culture, the language and the food. And that I did, so much so that I still miss the cuisine and night market limes."
Taiwan offered so much to do and experience — education, travel and adventure, sports, shopping, food— that there was never a dull moment, Mathurin said, adding that, "It truly was a rich and wonderful experience. Taiwan was a home away from home for me. It is a very safe place with a lot of order (unspoken rules about which side to climb up or descend steps, and CCTV everywhere). The streets are clean and transportation is regular and reliable. The people are very friendly and warm. Everyone seems very considerate of each other."
With his scholarship, Shervon Alfred went on to do a four-year Bachelor's Degree course in Journalism and Mass Communication at Ming Chuan University. He is now the Public Relations and Communications Officer for St. Jude Hospital in Vieux Fort.
Alfred spoke glowingly of his time in Taiwan: "I got the chance of a world-class education in an international environment, surrounded by students from around the world. I often remark to those who ask that the opportunity to live and study in Asia was more educational for me than actually sitting in a classroom. I was able to learn and experience a new culture and interact with a diverse range of people."
While his initial impression of Taiwan (before moving to the country) was influenced by television — a poor Chinese nation with people carrying goods on the back of bicycles — this changed the moment he landed.
"I realized that Taiwan was a modern metropolitan society with all the trappings of any other industrialized country around of the world. Its people are very warm and friendly and treat everyone with great respect," Alfred said.
Alfred hopes that he can use the skills acquired in Taiwan to get organizations in St. Lucia to develop a greater appreciation for communication.
Melanie Griffith is currently in her second year of a four-year Medical Degree course at I-Shou University. She already has a Bachelor of Science Degree in Biochemistry (Minor-Chemistry) from the University of the West Indies, Barbados.
Comparing health care in Taiwan with what obtains in her own country, Griffith quickly observed the differences: "Taiwan continues to impress me. The specialist doctors combine their knowledge to reach accurate diagnoses and devise the best way forward for treatment. Of course, the availability of recently-developed medical technology further improves the level of service. But I quickly realized that for St. Lucia to reach its true potential, we have a few lessons to learn from our friend, Taiwan. Even with our financial drawbacks, the room for improvement is immeasurable."
After achieving her Medical Degree in 2019, Griffith plans for a year of internship in St. Lucia before doing further training by specializing in Internal Medicine.
"I believe that St. Lucia needs more specialists in the medical field. I have plans to make a contribution towards transforming St. Lucia's health system as we know it," she said.
Being in Taiwan has taught this aspiring doctor about the importance of humanitarianism, a characteristic which, she says, will be useful in her future career. (Editorial Services Feature)