PRESS RELEASE – TEA Time Jazz is on! This year the event marks a milestone as it celebrates its 20th year of bringing its patrons music, art and heart and will take place on Thursday, May 11 from 1:00 p.m.
The official launch took place on Wednesday, May 3 in an intimate setting at SLASPA's Conference Room. Hosted by the effervescent Marva Greenidge, Marketing Specialist — Commercial Development, the ceremony flowed effortlessly.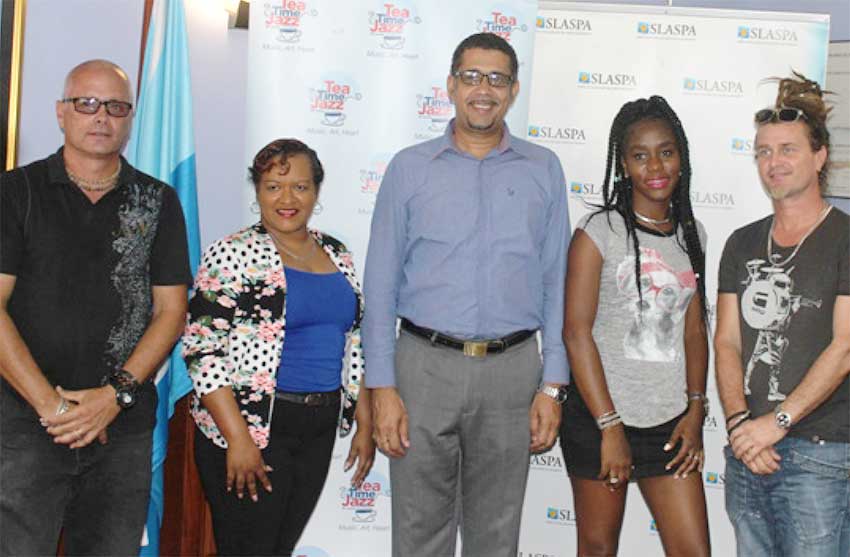 During the welcome, Grace Herman, Senior Business Development Research Analyst, invited guests, senior managers and employees to sit back and enjoy a taste of what is to come. While Thomas Leonce, CEO of Events Company of St. Lucia Inc., fully endorsed Tea Time Jazz as part of its Soleil Saint Lucia Summer Festival, he congratulated SLASPA for having the capability to host an event without fail for the past nineteen years.
Tina Louison, Legal Officer stated, "The Saint Lucia Air and Sea Ports Authority recognises the importance of its corporate social responsibility and, therefore, has over the years prided itself in supporting quite a number of events, like Tea Time Jazz, that seek to develop the youth of our nation in particular and moreso for the past nineteen years, our local musicians by providing a platform to showcase their God-given talent."
She noted that the event would not have been possible without the efforts of the Business Development and Corporate Communications, other corporate sponsors and the many artistes who have participated throughout the years.
This year's Tea Time Jazz line-up will include Dynamix, a group of four male musicians between the ages of fourteen and seventeen years old, all of whom are products of the Saint Lucia School of Music. There is also Claudia Edward, a household name in Saint Lucia and the Caribbean; she is most popular with the Asian continent where she now does her annual Jazz circuits, and will be accompanied by the band, Naked Chords.
Next on the line-up is Rob 'Zii' Taylor, who is also no stranger in the music industry and has opened for artistes such as Maxi Priest, BujuBanton, Beenie Man and Beres Hammond. He has been a member of the groups Amate and Kronic Heights, both of which made waves in the late nineties. Rob's act now includes Phyness, a young and talented singer.
Finally, the climax of the event will be Skip Monday, a five-piece Saint Lucian acoustic and electric alternative rock band. Skip Monday's performance is entirely live and the group has also headlined for Maxi Priest, Shaggy, Third World, Barrington Levy and more recently Karen Briggs at the 2013 Jazz Festival.
Come enjoy authentic Tea Time Jazz as we celebrate 20 years of more music art and heart!