PRESS RELEASE – SAINT LUCIA'S four-member National Boxing Team selected to participate in the 2017 Caribbean School Boys and Juniors Boxing Championships in Guyana has placed third among the six participating countries at the tournament.
The team captured two gold medals, one silver medal and one bronze medal.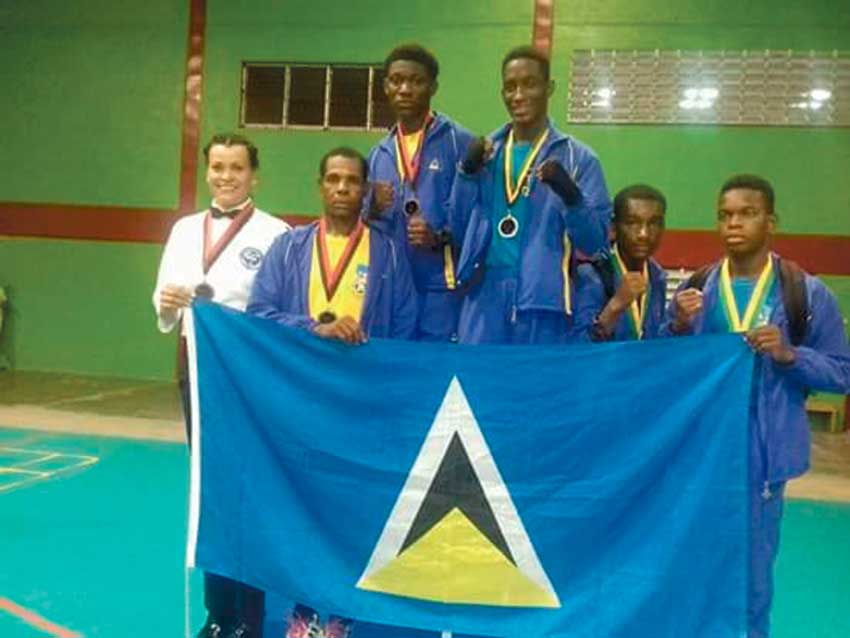 Team captain Nathan Ferrari secured a gold medal in the tournament's featured fight on the last night. The other gold medalist, Kimlyn Martie of the Corinth Secondary School, scored an impressive knockout in only his second competitive bout against an opponent from the host country. Kareem Boyce and Jwevel Martie won silver and bronze respectively.
The team, coached by Conrad Fredericks, returned home Tuesday evening.
This round of latest success is expected to boost team spirit and confidence as the boxers rejoin their comrades here in preparation for the Invitational Creole Boxing Championships from July 4-9.
The Saint Lucia Boxing Association expresses gratitude to the Saint Lucia National Lotteries Authority and the Saint Lucia Olympic Committee for funding the team's participation at the Guyana-held Championships.
Meanwhile, the Association is refocusing its efforts on urgent completion of the National Boxing Gymnasium construction project. The project is eighty percent complete and is currently needed to afford national boxers with a more conducive environment for training.
The Association appeals to businesses and private citizens to continue to make contributions towards the completion of this worthwhile project which is an important investment in the youth.