GAMES continued last evening in the 2017 Saint Lucia Basketball Association/KFC National League.
In Group B, Dennery and Run 'N' Gun squared off in Vieux Fort while the 2016 runners-up VBCC Warlords took on Police at the Vigie Multipurpose Sports Complex.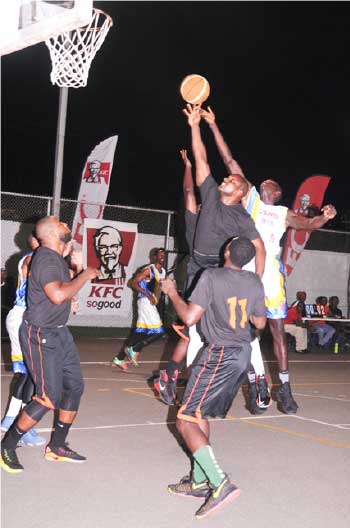 Four games are on the card for this Saturday at the Vigie Multipurpose Sports Complex from 5:00 p.m. VBCC Warlords play Dennery and Basketball for the Future (BFTF) take on Run 'N' Gun of Vieux Fort.
Also on Saturday, in the south of the island, Micoud Hustlers will come up against Combined Schools from 5:00 p.m. and Courts Jet 1 face Canaries at 7:00 p.m. Both matches will be played at the Vieux Fort Court.
Meanwhile, after a weekend break for the Jazz Festival, group stage action continued last Monday with defending champions Courts Jets delivering a 77-43 thrashing to newcomers Bonne Terre at the Vigie Multi-Purpose Sports Complex.
The Jets came out gunning from the beginning, ending the first quarter 23-5. A 12-5 second quarter run by Bonne Terre brought the point difference to 9 at the half time whistle.
However, the defending champs asserted their dominance with a 48-point second half to Bonne Terre's 26, running away with the game.
Leading the way for Courts Jets was KFC Player of the Game, Joel Polius, who raked in a double-double of 13 points, 15 rebounds and 5 steals. National and Commercial League standouts — brothers Andre and Troy Louison — also chipped in with 15 and 11 points respectively. Glen Antoine also scored in double figures for Courts Jets with 12 points and 7 rebounds.
In a losing effort, Bonne Terre was led by Fabian Florton with 13 points while Karlvin Augier contributed 11 points.
Also on Monday, this time in the south of the island, Canaries took on the Combined Schools in a very low-scoring game.
KFC Player of the Game Linzel Alcee delivered a notable all-round performance to deliver a 41-33 victory for the Canaries team. Alcee was 1 rebound and 1 assist shy of a triple-double, scoring 17 points, 9 rebounds and 9 assists.
Jn. Pierre Frederick led the way for the Combined Schools with a double-double of 15 points and 11 rebounds along with 7 steals. However, he had 8 turnovers.