THE excitement continued this past weekend in the preliminary round of 2017 Saint Lucia Basketball Federation-sponsored KFC National League Championships with a combined four games played in the north and south of the island. There were comfortable wins for Bonne Terre, Morne Gladiators, Dennery Dolphins and VBCC Warlords.
In the first game at the Vigie Multipurpose Sports Complex, newcomers Bonne Terre had the better of Combined Schools with a 62-49 win. Gerrick George led the way for the Combined Schools with 13 points and 5 steals; Jean-Pierre Frederick also had a decent showing on centre court with 11 points and 10 rebounds.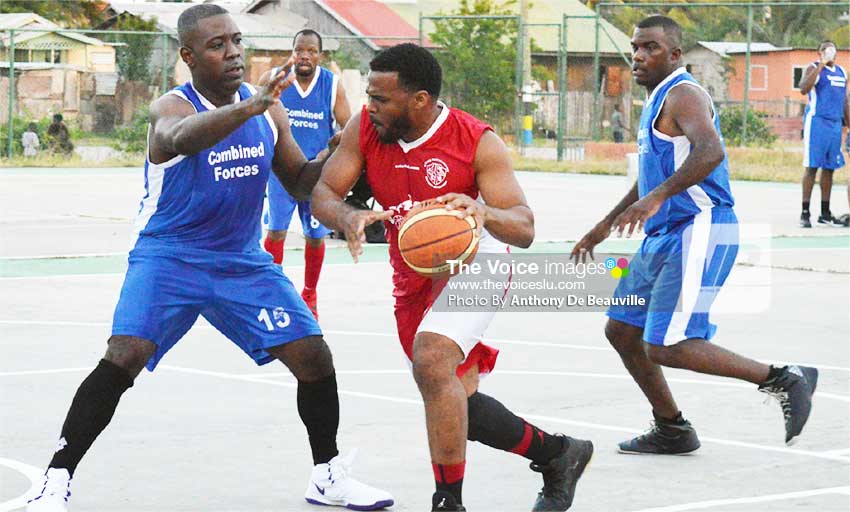 KFC Player of the Game Jamie Blanchard posted 14 points, 12 rebounds and 7 steals for Bonne Terre and was ably assisted by Fabian Florton with 18 points and 4 rebounds.
In game two, Morne Gladiators defeated a shorthanded Canaries team by 71-43 in the second Group A matchup at the same venue.
Despite starting off with a squad of 5 players, the first quarter ended with a 5-point lead for Canaries.
Their momentum slowed, however, during the second quarter as the Morne Gladiators quickly found their footing to take a 31-24 lead at the half, never looking back for the rest of the game.
Ron Edward had 16 points, 5 rebounds, 5 steals and 9 assists for the Morne Gladiators earning him the KFC Player of the Game honours.
Marlon Samuel contributed 21 points and 8 rebounds.
Despite having 3 players with double figures, the Police team did not have enough firepower to take down Dennery when the two teams faced off on the Vieux Fort Court. Dennery defeated them 89-57.
Kevin Mathurin led the way for the Dennery Dolphins with 36 points, 11 rebounds and 6 assists.
A balanced contribution also came from veteran Desmond Vidal who posted an amazing 24 points and 28 rebounds.
Shervon Matthew finished the game with 15 points and 13 rebounds for Police.
The second encounter at the same venue was a much more closely contested affair. The 2016 runners up VBCC Warlords were able to hold on to defeat Run 'N' Gun by 54-52.
Centre Marcian Calderon led the way for the VBCC Warlords, posting 16 points and 20 rebounds while point guard Rahim Auguste finished the game with 17 points, 7 steals, and 4 assists for Run 'N' Gun.
KFC National Basketball League action continues tomorrow with a Group A matchup between Morne Gladiators and Micoud Hustlers from 7:00 p.m. at the Vigie Multipurpose Sports Complex.
Last evening in Group B, Courts Jets 2 played Basketball for the Future (BFTF) at the VMPSC.