ST LUCIA'S Constituency Development Programme (CDP) has received a massive bailout from the Republic of China on Taiwan.
Ambassador Douglas Shen yesterday presented the St Lucia government with a cheque for EC$7.9 million to finance the second phase of the CDP.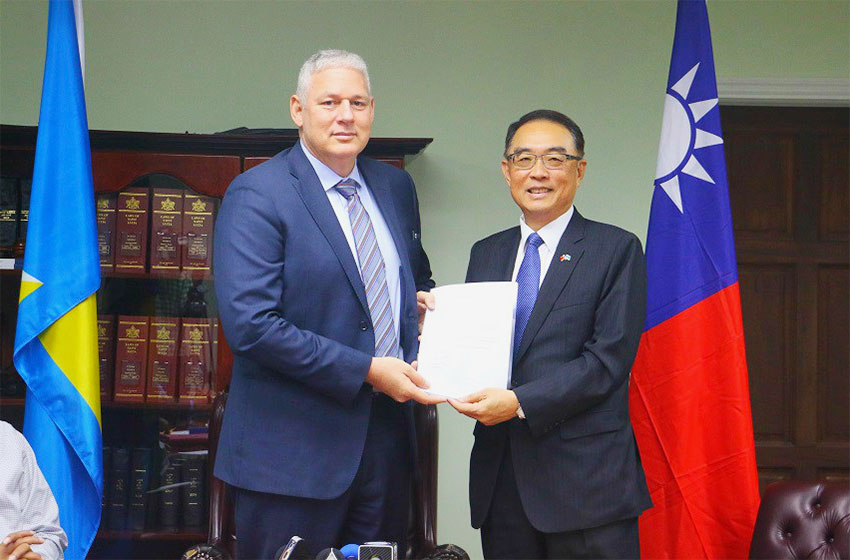 In making the presentation, Shen underscored the importance of the programme this way: "CDP has been one of the most important programmes between our two countries since the year 2007. Under this programme we have had more than 1000 projects completed and created more than 10,000 jobs in various communities all over Saint Lucia. It is my firm belief that through our joint efforts this meaningful CDP will be evenly distributed to create jobs for all people and enhance the safety of the environment for all residents and bring benefit to all communities."
But it was Minister for Economic Development, Housing, Urban Renewal, Transport and Civil Aviation, Guy Joseph, who gave the finer details of the new allocation when he noted that the funds for the second phase had come at a critical juncture as the government was about to commence a new financial year.
"We have many outstanding issues with CDP . . . . The previous administration had expended much more than the allocations that were available to us. So I want to put things in perspective. I am very appreciative of what Taiwan is doing in helping us to resolve all of the outstanding issues with CDP which transpired prior to the elections," noted Joseph.
He added: "Some of these funds will be able to clear the backlog that we owe to the Saint Lucia Development Bank which was used by the previous government as a financier for CDP projects which put the bank in a very difficult financial situation. I am certain that the management of the bank would be happy to note that from the funds we are receiving we will be able to clear some of the backlog of monies owed to them over an extended period of time because they were used to pay the CDP projects."
The Minister also spoke to the issue of contractors on various CDP projects: "These funds will also assist us in clearing the remaining backlog of persons who had completed projects and had not been paid for one reason or another. Everyone who has been cleared in terms of verifying that their projects had been completed we would be able to clear through this process. So this will help us going through to the new financial year to start on a new page, a clean page, where CDP is going to be handled in a manner where we are only going to spend what is available to us."
Joseph expressed his profound appreciation to the Embassy and the Government of Taiwan and he assured the Taiwanese of the prudent management of the CDP resources.
In thanking Taiwan for its latest cash assistance to his government, Prime Minister Allen Chastanet called for a broadening of Saint Lucia's relationship with the Republic of China (Taiwan). Chastanet stated that Taiwan and Saint Lucia needed to form a deeper strategic relationship which will enable both countries to better compete on a global stage.
He said: "I really want to thank the Government and people of Taiwan for what they have been doing to facilitate Saint Lucia and the partnership that we have for development."
Chastanet added: "Saint Lucia is on the other side of the world to Taiwan and we are very much looking forward to being a foothold for the possibility of Taiwanese manufacturing companies and hospitality companies. Let me thank you on behalf of the government and people of Saint Lucia and we are looking forward to a relationship to the mutual benefit of both countries."