TYLER Toussaint of St. Mary's College, alongside Jelanie St. Rose, Ethan James and Regis Joshua, brought the house down on the penultimate day of the 2017 Department of Youth Development and Sports/Saint Lucia Athletics Association Northern Zone Inter-Schools Track and Field qualifier on Tuesday at the Mindoo Phillip Park.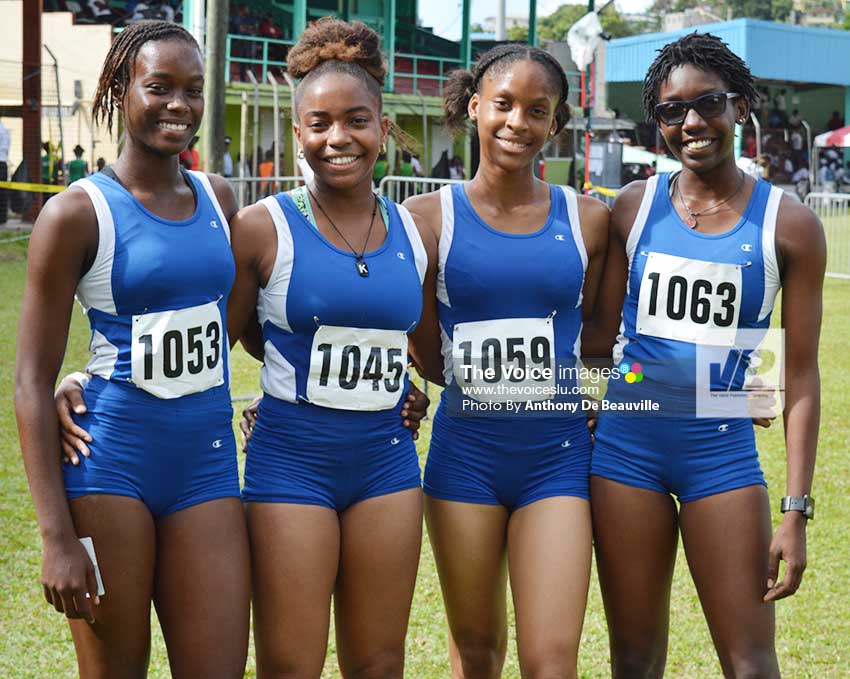 Toussaint anchored the Under-20 boys 4×100 metres relay in a time of 46.95 seconds, ahead of Corinth Secondary's quartet of Anthony Mondesir, Nichols Reuben, Justinus Justin and Mark Mondesir's time of 47.20 seconds and Sir Ira Simmons' third place finish in 47.66 seconds.
SMC's Kemuel Pelage, Cameron Francis, James Kishawn and Miguel Charlery also won the Under-16 boys 4×100 metres relay in a time of 45.64 seconds ahead of Corinth Secondary's 46.83 seconds and Leon Hess Comprehensive's 47.39 seconds.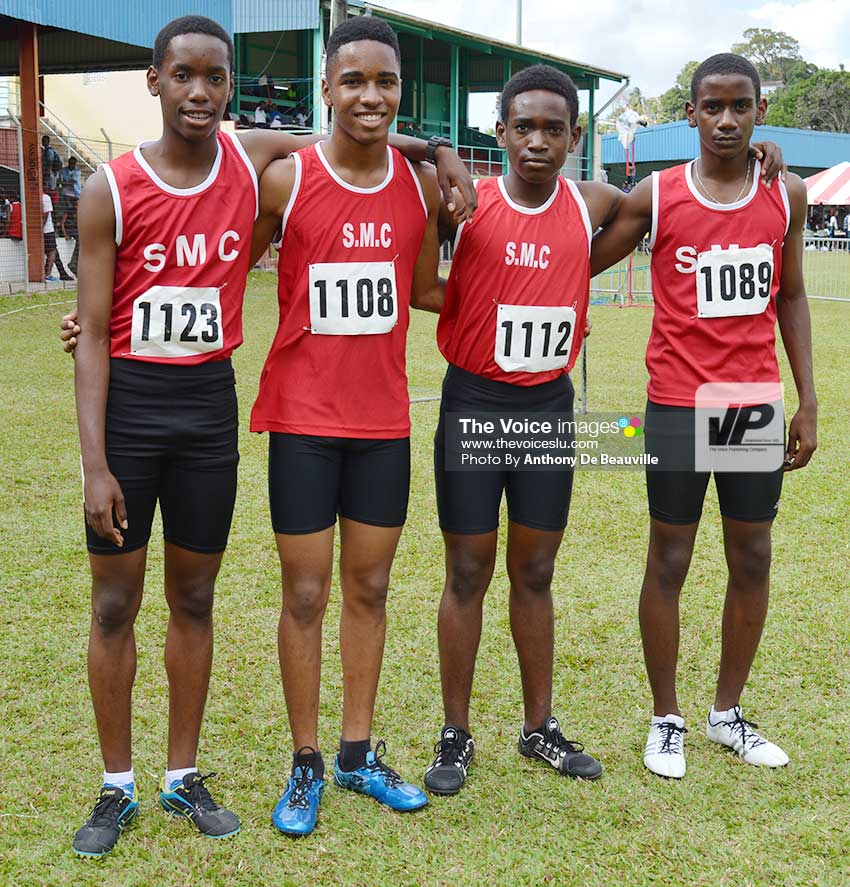 St. Joseph's Convent is certainly one of the teams to keep a close eye on at the semifinals slated for Wednesday. SJC placed second in the 4×100 metres relay races for Under-14 and 16 girls. The eventual winners were Sir Ira Simmons in a time of 57.09 seconds and Leon Hess Comprehensive in a time of 51.27 seconds.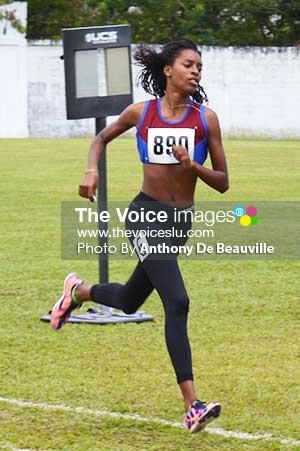 SJC went on to win the girls Under-18s in fine fashion, finishing in 54.23 seconds, ahead of Leon Hess Comprehensive's 58.28 seconds and third place Ciceron Secondary's time of 58.36 seconds.
As expected, ThomykaValcent of Leon Hess Comprehensive took charge of the Under-16 girls 800 metres final, winning in a time of 2 minutes and 42.35 seconds, ahead of second placer Shirniah Emmanuel of SJC who clocked 2 minutes and 43.57 seconds and third placer Jeanne Arlain (Sir Ira Simmons) in a time of 2 minutes and 51.75 seconds.
Two-time CARIFTA athlete KamillahMonroque of Sir Arthur Lewis Community College delivered a stunning performance in the girls 800 metres, clocking 2 minutes and 28.27 seconds, well ahead of Anian Phillip of Corinth Secondary (2 minutes and 43.94 seconds) and Krista Rene (SJC) in 2 minutes and 49.99 seconds.
Monroque's performance on the day was probably her best in the last three years as she showed power, aggression and determination from start to finish. She will certainly start as favourite heading to the semifinal at the Daren Sammy Cricket Ground.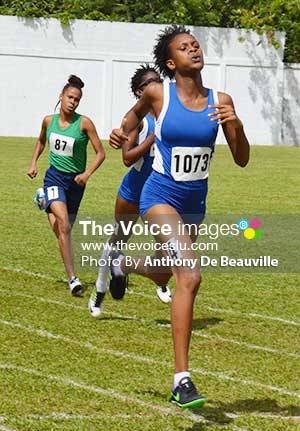 In the boys 800 metres Under-16 final, it was stride for stride between ArdeneHallpike of SMC and Kenrick James of Corinth Secondary as they gave nothing away until the final 100 metres when Hallpike eventually pulled away from James to win in a time of 2 minutes and 13.14 seconds with James clocking in at 2 minutes and 17.07 seconds and Peter Lansiquot of Corinth Secondary third in 2 minutes and 17.26 seconds.
In the girls 600 metres preliminaries, SJC's Anya Lubin (1 minute and 59.24 seconds) and Nakeisha Louis (1.59.79 seconds) and Entrepot Secondary's Shyla Francis (2.00.37 seconds) topped the list of qualifiers for next week's semifinals round.
Another outstanding performance came from Joy Edward of Leon Hess Comprehensive in the girls Under-14 high jump preliminary. She finished first with a clearing height of 4.31 metres, ahead of Namiah Marcellin of SJC (4.18 metres). Edward also finished first in the shot put preliminary with a throw of 10.40 metres, ahead of SJC's Faith Joseph (8.28 metres).
In the girls Under-20 shot put, Sir Arthur Lewis Community College secured the top two spots with Rochelle Etienne throwing 10.79 metres and Marva Herman 8.26 metres.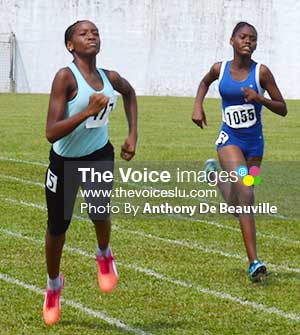 Qiana Joseph of Corinth Secondary won the girls Under-20 javelin preliminary with a throw of 35.28 meters, well ahead of SJC's Gibba Edward's throw of 28.17 metres.
Devon Moise of Gros Islet Secondary won the Under-18 boys javelin preliminary, ahead of Darcy Popo of SMC (43.89 metres) and Markie Francis of Corinth (40.20 metres) while the Under-20 boys event was won by Joshua Donai of Sir Arthur Lewis Community College with a throw of 43.85 metres, with Lindon Thomas of Boys Training Centre (42.18 metres) and Trann Alexander (41.06 metres) placing second and third.
In the Under-14 girls 150 metres race, Kayla Charles of Entrepot Secondary won in a time of 21.44 seconds, ahead of the late-kicking Gizel Louis of Castries Comprehensive in 21.87 seconds, with Mya Jade Napoleon of Gros Islet in third with 21.90 seconds.
In the Under-16 girls 200 metres final, Zoe Dorville of Entrepot, who came into the event with the fastest time 26.62 seconds from the preliminary round, won in a time of 28.25 seconds. In the Under-18 girls, Nysa Pierre of SJC was first across the finish line in a time of 27.15 seconds, ahead of schoolmate Neema Leon (27.94 seconds).
Paul Tyrese of Corinth Secondary powered his way to victory in the Under-18 boys 200 metres in a time of 23.02 seconds, ahead of Jean-Luk Robert of Castries Comprehensive (23.20 seconds).