HUNDREDS of curious students and job seekers flocked the Johnson's Centre last Saturday for the Job Fair Expo '17.
Hosted by AdVizze Consulting Inc. a business development company based in St Lucia, the event had a multi-faceted approach which included providing jobs, internship sign ups, support for CVs and interviews, counselling and opportunities for networking. One of the main functions of the event was to grasp a better understanding of the needs of the unemployed and start providing support in some areas.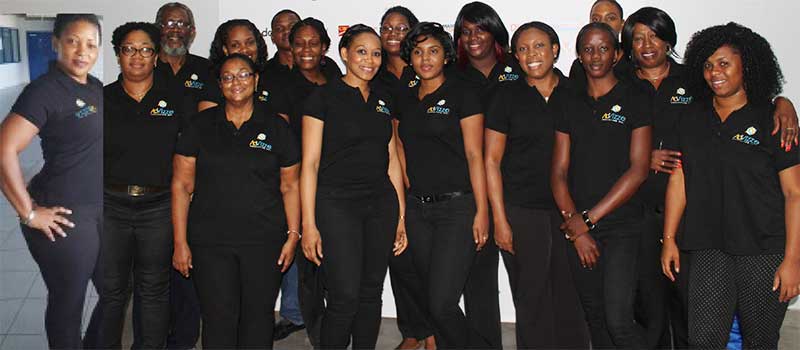 Exhibitors on hand came from the finance, accounting, hospitality, education, advertising, marketing, production, beauty, entertainment, automotive, legal, telecommunications and construction sectors.
Held under the theme 'Bridging the gap between education and employment', insights from the survey conducted by event coordinators during the initiative showed a notable disparity between the qualifications of the unemployed in attendance and the current jobs which actually exist.
Said Event Coordinator KeziaPreville, 'Most attendees were extremely grateful for the initiative but lamented the lack of jobs which they were actually qualified for even with courses available, as they were not in a position to pay for further education which ultimately may not guarantee employment but certainly increase their chances of becoming gainfully employed."
This also was compounded by persons who were qualified but still could not find a job as the number of suitable applicants to available jobs had increased over the years, she said.
Ms Preville further expressed her gratitude to all the sponsors and exhibitors who made this event a reality to help keep the spotlight on improving our work force and be available to educate the persons attending the event of the initiatives the individual companies are undertaking.
Attendees met with entrepreneurs and industry experts including teams from FLOW St Lucia, St Lucia Hotel and Tourism Association, the Chartered Accountant Association, Sir Arthur Lewis Community College, CHTi, Doodle Interactive, First Caribbean International Bank, Tropical Discoveries, Landings Resort & Spa, Beyond Limit Construction, Digicel, HR Wise, Northwest, Accela Marketing, Jobs4U and AdVizze Consulting Inc. Other sponsors who supported this initiative included Digicel, Evergreen Transport Passenger, Exel Signs, Secure St Lucia, Butch Prints, The Wave, Mediazone and Massy Stores.
With a call for more job availability and a repeat of this event, the team hopes to learn from this experience and continue working with the various companies to act as a catalyst for future endeavours of this kind. For more information on the results of the survey and activities related to upcoming events by AdVizze Consulting Inc, email kezia@ad-vizze.com, visit www.ad-vizze.com or follow on social media @AdVizze.