FORMER Micoud South MP, Arsene James was awarded the nation's third-highest honour, Saint Lucia Cross, at the 38th Independence Awards ceremony held at Government House on Sunday.
James, who entered the teaching service at age 13 in 1957 and taught at schools in Micoud and Vieux Fort – including serving as Principal of Micoud Secondary – and successfully contested the 2001 general elections.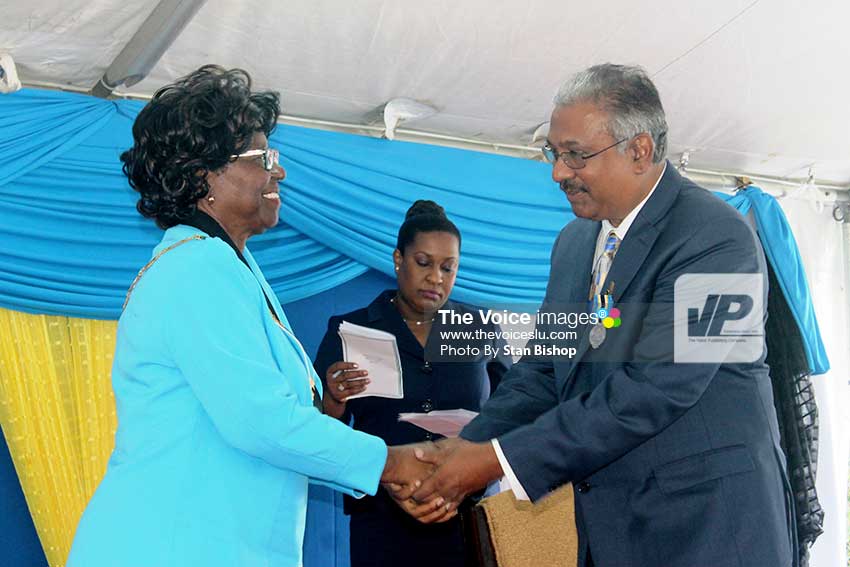 [Best_Wordpress_Gallery id="57″ gal_title="Independence Awards 2017″]
After serving as MP for Micoud South for 15 unbroken years, James quit elective politics last year and UWP Political Leader Allen Chastanet successfully contested that seat.
"It means a lot to me and I accepted it with humility," James told The VOICE about his medal on Sunday. "Normally, I do not like to be in the limelight. However, it was bestowed upon me (because) some people found it fitting and said I deserved it because I have been serving my country from the time I was 13 until now."
In total, thirty-one people received medals from Governor General Dame PearletteLouisy, Chancellor of the Order of Saint Lucia, on Sunday, under other categories, namely Saint Lucia Medal of Honour, Saint Lucia Medal of Merit, Saint Lucia Les Pitons Medal, National Service Cross, National Service Medal and Public Services Long Service Medal.
Recipients included former Police Commissioner Cuthbert Phillips, Dr. Amanda King, Dr. Humphrey Regis, Derede Williams, Dr. Timothy Robinson, broadcaster/talk show host David Samuels, Dr. Leonard Surage, Denis Didier, Dr. Urban Seraphin, Malcolm Burns, Lera Pascal, Cuthbert "Twatinay" Modeste, Tony Wilkinson, former Acting Police Commissioner Errol Alexander and ASP Curtis Sealy.
"It means the world to me," Derede Williams told The VOICE. "I'm being honoured by my country. I've done a lot of work and my life is Saint Lucia."
Williams, however, dedicated her Saint Lucia Medal of Merit (Gold) to the memory of the late Gordon Gene Leon, who died from Stage IV cancer earlier this month. She said there are many other musicians who continue to be pioneers in their field, adding that a special awards ceremony should be organized to recognize the nation's past and present musical talents.
"My objectives are to help elevate kids from the ghetto," sports coach/ole mas character, Modeste, told The VOICE. "If I see they have a talent and want to go forward, I will help because when I was growing up in a poor community, people used to help me. So I want to give back."
While he admitted to being humbled by the honour, Modeste, known affectionately as 'Twatinay', said his Saint Lucia Les Pitons Medal (Bronze) has given him more motivation to help athletes develop their raw talent (he has groomed and nurtured top class athletes such as JeannelleScheper, MakebaAlcide and Julien Alfred). He also plans to bring more punch lines to the ole mas section this carnival season.
Roger Joseph, member of the National Awards Committee, said just over forty nominations were received this cycle compared to more than one hundred in the previous cycle, adding that more Saint Lucians needed to nominate those they deem deserving of receiving such honours. Nevertheless, he said the committee remained concerned about the incompleteness and low quality of the submissions.