THE sixth annual Independence Walk organized by the Northern Long Distance Walkers group will begin in the vicinity of Massy Store in Cul-de-Sac on Tuesday, from 4:00 p.m. and the participating walkers will proceed via the west coast, continue via the east coast to end on the William Peter Boulevard in Castries sometime on Wednesday.
Registration for the event commenced yesterday and will continue up until Tuesday before the official start.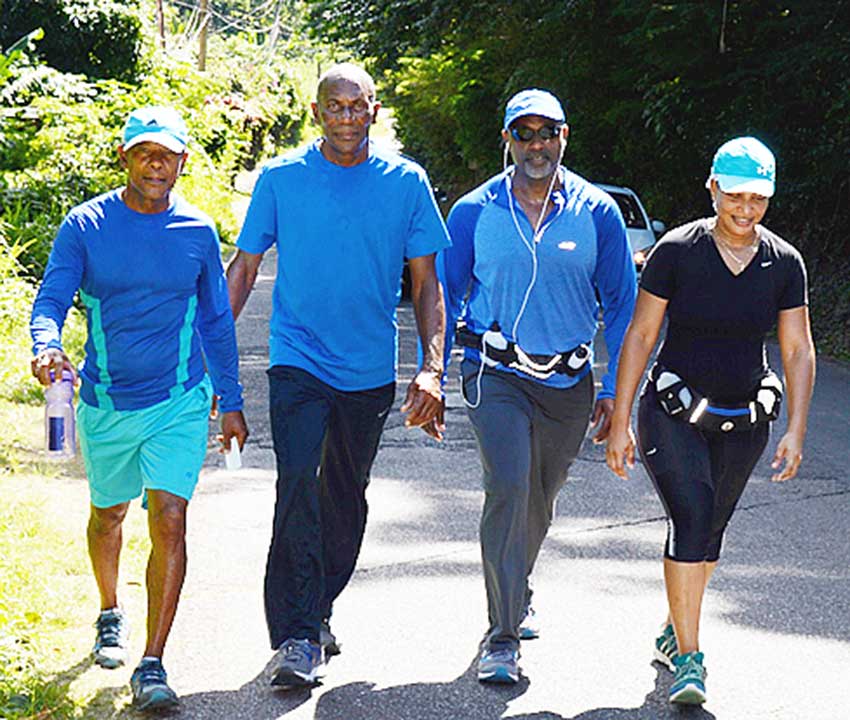 Organizers are optimistic that 200 Saint Lucians will compete, not necessarily to finish the event, but challenge themselves to a particular distance that will prepare them physically and mentally for the following year. Some regular faces are expected to take on the 20-plus hours around-the-island challenge.
The event was first hosted in 2013 and attracted 38 participants with 4 completing the walk done over two days after where participants overnighted in Vieux Fort.
In 2014, the event attracted 89 people, with 9 walkers completing the route, including one female.
In 2015, the number of participants increased remarkably to 150. Twenty-nine walkers completed the route, among them 6 females, 87 participated with 34 completing the route — 30 males and 4 females.
Speaking at Tuesday's official launch, coordinator for the group, Wayne Monrose, said, "We can define ourselves as a group that knows how to 'talk the walk, walk the talk and walk the walk" because if it involves walking, that's what we do best."
The group was registered and formalized in 2015. However, its existence dates back to the late 1980s with the Michel brothers and sisters — John, Costello, Carlos, Lorenzo, Mario, Jose, Erica, Juanita and Yolanda — together with other avid walkers.
In 2012, John Michel was approached by a 74-year-old resident of Babonneau, Gregory Philgence, who presented a challenge to the group to walk around the island. They believed they had accomplished this through their various routes already covered on separate occasions, like Castries to Dennery, Dennery to Vieux Fort, Vieux Fort to Soufriere and Soufriere to Castries.
After a lot of persuasion, in 2013 they were able to get some 38 people, including two women, Wilbertha King and Eugenia Dixon, to take up the challenge.
The group is now a bona fide and registered body fulfilling all the necessary requirements for a –not-for-profit organization. Members also pride themselves in recognizing the health benefits of walking and every effort is made to encourage the nation to enjoy the benefits of regular and daily exercise.
What is new this year is its emphasis on asking individuals to challenge themselves not necessarily to the finish line in Castries but to achieve any point in the walk that they would consider a challenge to themselves.
Meanwhile, like any other activity of this nature, the organizers are reminding participants of the following essentials which they must carry with them, either in a backpack, waist pouch or support vehicle: at least 1 additional pair of sneakers, 2 additional pairs of socks, change of clothes (shirt, pants, briefs), reflective jacket/cap, toilet paper, hand sanitizer, flash light, Vaseline, painkillers, Icy Cool pain reliever for muscle/joints, plasters, foot tape, pen knife, water, coconut water, Gatorade, Lucozade, glucose tabs, nuts, energy bars, fruits and sandwiches/pasta.