P.M. Outlines Plans.
GOVERNMENT intends to undertake various measures this year aimed at tackling crime, Prime Minister Allen Chastanet said last Thursday. However, he said citizens need to do their part in stopping criminality in its tracks.
Chastanet said the appointment of new judges and support staff for the judiciary remains a priority given the growing concerns citizens have been expressing regarding crime. He said such a move is aimed at sending a clear message to criminals that justice will be swift and firm.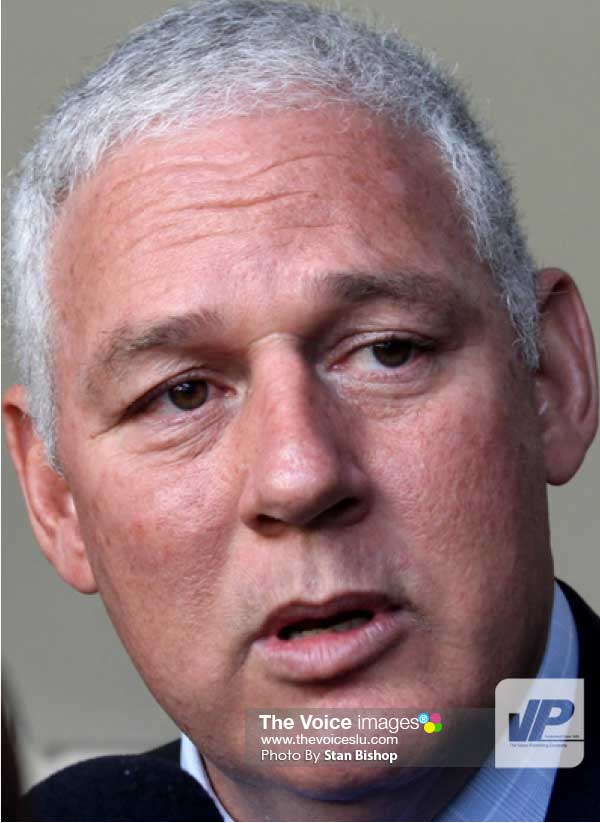 "I've long believed that tackling crime and making sure that there are convictions," Chastanet said. "I think criminals must know, understand and appreciate that when they commit a crime that the judicial system is going to move very swiftly to convict them (and) that there is a penalty to crime."
Chastanet added: "Right now, I think a lot of people commit a lot of crimes in this country because there is no fear of being convicted. We've got to change that. We're going to be putting money into bringing more magistrates and judges in and increasing the number of courthouses we have."
Chastanet said that while government was cognizant about the human and other tolls criminality was having on the citizenry and the island's reputation, every citizen needs to be part of the solution and not leave crime prevention exclusively to the police.
"The solution to crime is not just through the judicial system but, I think, also in our social system. We have to do more work in the schools and communities and get police officers to not only arrest people but be part of the process of preventing crime from taking place in the first place," the Prime Minister explained.
Chastanet added: "Let us not make excuses for crime (because) it is a reflection of us as a society. We can control it. If society says that there's going to be no more killings, there will be no more killings. If people know that their neighbours (and relatives) are going to report them and will not tolerate any form of crime, it will change."
Chastanet said he remains unconvinced that poverty by itself contributes to crime, adding that citizens must see criminals not as 'maleways' but as people who holding the nation to ransom and destroying livelihoods.
"We shouldn't be protecting them," Chastanet stressed. "The police cannot do their jobs exclusively. So it all comes back to the judicial process of getting quick convictions and let people know that crime is not going to pay."
On the issue of security at tourist attractions, Chastanet said he has requested an immediate audit of all touristic sites towards ensuring that every property has its own security in place. Castries, he said, has done much in that regard, with Soufriere doing so to a lesser extent.
Chastanet said government is working towards improving its implementing and use of CCTV cameras, adding that the private sector is being urged to ensure that such surveillance placed on the interior and exterior perimeters of businesses so as to get fuller coverage.
He added that government was also advancing discussions with a regional private sector company towards privatizing the forensics lab. The company, he said, already offers that services to other Caribbean islands.
"There isn't enough business in Saint Lucia to keep a forensics lab open (because) it is a huge financial cost," Chastanet said. "So we think it will augur better for us to have an independent agency running the lab. There is a submission from some other people to run the lab for the government. So those are the two proposals we're looking at and we'll certainly make a decision very soon."
For nearly a year and a half now, the main courthouse on Peynier Street in Castries has been out of service due to renovations that were thereafter completed. However, the building remains closed long after an air assessment report was reportedly done last August. Chastanet said the delay in opening the newly-refurbished courthouse stems from original problems.
"My understanding is that they're cleaning out the ducts. The inspectors came down and found that there was still debris and dust particles in the ducts. So that's now being redone and I'm hoping that's going to be completed in the next three weeks and that the courthouse will be opened within another month or month-and-a-half," Chastanet explained.
The Prime Minister's plans for tackling crime came just days before what has now been dubbed "Bloody Weekend" by many after the island recorded at least six homicides over the weekend, including a police shooting. The spate of homicides has since prompted Chastanet to summon a meeting with police and officials from the Ministry of Social Justice.