GG: 'Let Us Show Who We Are'.
A name change to what had traditionally become known as Nobel Laureate Week is expected to add more enthusiasm to this year's event that pays homage to Saint Lucia's two Nobel Prize-winners, Sirs William Arthur Lewis and Derek Alton Walcott.
The festival runs from January 15 through February 4 and a number of activities aimed at celebrating excellence and tapping into the Saint Lucian psyche have been planned.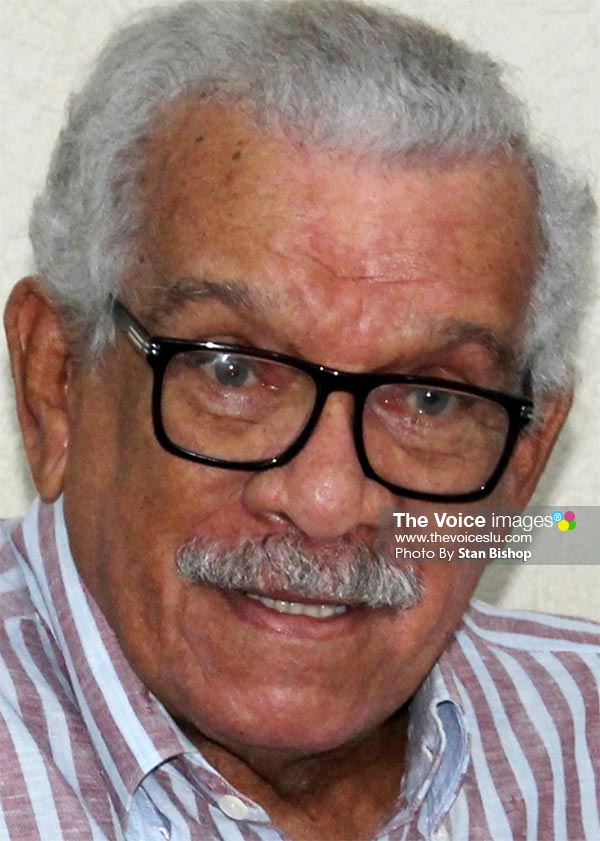 During the media launch of what has now been renamed Nobel Laureate Festival, held at Government House on Tuesday morning, Governor-General and Chairperson of the Nobel Laureate Festival Committee, Dame PearletteLouisy, said the event which began in January 1993 as Nobel Laureate Day before being rebranded Nobel Laureate Week, said both men were deserving of the tribute.
"Our two Nobel laureates have made us extremely proud as a nation and people," Dame Pearlette said. "So it is only fitting that we have chosen as the theme for this year, 'Celebrating Excellence: Fostering National Pride'.
"This fostering of national pride is not to be seen as a pipedream or balm to soothe or sugarcoat the challenges we are currently facing as a nation; it is an affirmation that we have in us the seed of greatness, the potential to excel and to compete successfully with the world's best."
Sir Arthur won the Prize for Economics in 1979 and Sir Derek won the Prize for Literature in 1992.
Dame Pearlette said both men have demonstrated that they were not prepared to hide their talents and live vicariously through the reflected light of others, adding that more Saint Lucians need to emulate their characteristics. As Saint Lucians prepare to observe the 38th anniversary of the island's independence from Britain on February 22, she urged citizens to shine.
"This year, let us resolve to show ourselves and the world the stuff that we Saint Lucians and Caribbean people are made of," Dame Pearlette said.
Dame Pearlette said the name change became necessary so as to emphasize the festive nature of the event. Over the years, the Committee has lamented the poor attendance at events – most of which are free to the public — hosted across the island.
Among the reasons for the low turnout are some people deeming the functions elitist and irrelevant while others believe more needs to be taught in schools about the laureates' work throughout the year. However, Dame Pearlette said that while the events will be festive, the enlightening aspects remain, and therefore encouraging all Saint Lucians to attend the events.
One of the Committee's many challenges over the years has been the poor response from the corporate sector in sponsoring the Committee's programme. Former Committee member, Dr. June Soomer, now Secretary General of the Association of Caribbean States (ACS), conveyed a letter to Dame Pearlette recently indicating the ACS's pledging of a cheque for US$10,000 towards defraying this year's expenses.
Among the highlights of this year's festival are the following:
• Saturday, January 14: A one-hour Dolor Factor roundtable discussion special with local poets featuring Sir Derek, Jane King, KendelHippolyte, John Robert Lee and Vladimir Lucien (executive produced by presenter and Nobel Laureate Festival Committee Coordinator, Delia Dolor) on CaribVision and FLOW
• Monday, January 16: Schools' Music Festival, National Cultural Centre, 10:00 a.m.
• Tuesday, January 17: National Awards of Excellence, National Cultural Centre, 10:00 a.m.
• Tuesday, January 17 through Friday, January 20: Children's Book Fair, Castries City Hall, from 10:00 a.m. to 4:00 p.m.
• Wednesday, January 18: Sir Arthur Lewis Community College Poetry Exposé & Elocution Contest, SALCC, 10:00 a.m.
• Thursday, January 19: National Youth Council (NYC) Debate, NTN Studios, 5:30 p.m.
• Friday, January 20: Nobel Laureate Friday – all schools
• Monday, January 23 through Friday, January 27: Walcott Place Open House, Walcott Place, 10:00 a.m. to 3:00 p.m.
• Tuesday, January 24: Sir Derek Walcott Lecture, "Our Homer: Derek Walcott", delivered by Antiguan author and Professor of African and American Studies in Residence, Harvard University – National Cultural Centre, 7:30 p.m.
• Saturday, January 28: Saint Lucia Business Awards, Johnsons Centre, Rodney Bay
Sir Arthur's work in developmental economics is known the world over, with many countries adopting his economic principles as basis for planning their economies, including Singapore. In 1955, he published his "Theory of Economic Growth" which sought to "provide an appropriate framework for studying economic development", driven by a combination of "curiosity and of practical need". He died in 1991 at age 76.
Sir Derek, 87, is a poet and painter and is best known for his seminal work, "Omeros", has used poetry to create vivid impressions of Saint Lucian way of life. Awarded a knighthood last year, he also had his childhood home on Chaussee Road transformed into a museum.