IN an era where reggae music has attracted criticism on some levels for communicating a negative message through unflattering, demeaning lyrics, Meshach Nestor certainly makes a difference. The tall, dreadlocked Choiseul native is both charismatic and inspiring and his music is potent enough to reach any walk of life.
Born in La Fargue, Meshach recalls music has always been there, including those times his mother sent him on errands to the shop when he would just sing as he walked down the road. Even at school and in the bathroom, Meshach remembers "just singing my life away." He grew up with his two brothers, Niger and Ronald, describing Ronald as "a very intelligent youth" from whom both he and Niger learned a lot from him musically.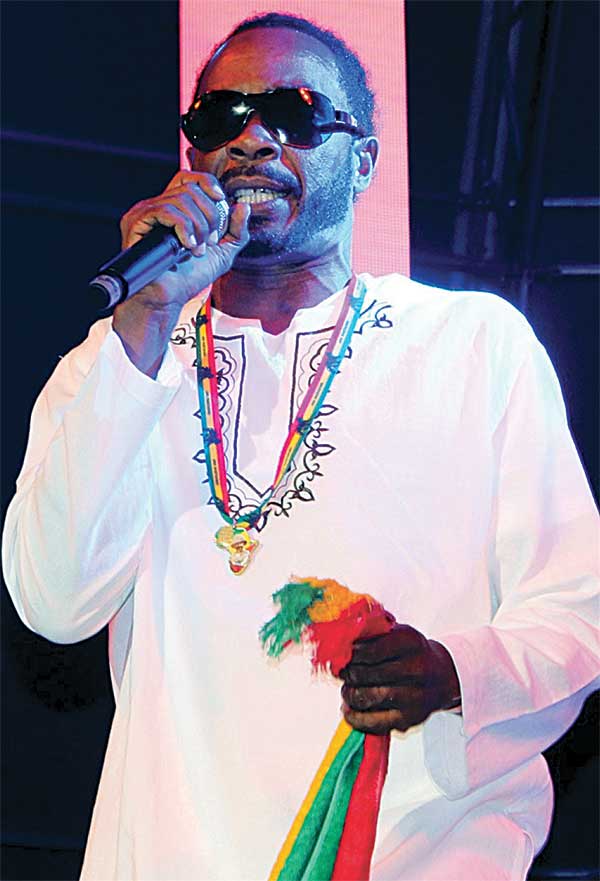 "We used to make hi-hats for the drum sets out of the lids of milk cans, pieces of metal, wood and springs," Meshach tells me before pausing to sip on a drink "We also used a wooden box as our bass drum. We also made guitars from pieces of wood and fishing line. But we were all inspired from that rich cultural vibe that was happening in Choiseul. We basically grew up with music around us because there was always some cultural group performing or 'blocko' in the community."
His father, Francis, was a master guitarist and loved playing Trinidadian calypsos by Mighty Sparrow and Lord Kitchener. So good was Francis, Meshach said, that "he would look at you and write a song about you on the spot". His mother, Raymonise, played the chakchak and sang in a band. However, Meshach's brand of music back then was from Jamaica.
"I really loved listening to music from Bob Marley, Jacob Miller and Eric Donaldson, all of whose music was popular on the radio stations. So my brothers and I gravitated towards that reggae vibe," he explained.
Despite being adolescents at the time, the brothers began playing at various functions in Choiseul, much to the delight of the community, with Meshach being the front-man of the band because of his knack for being an extrovert. They were boys trying to make a mark by showing people that they had talent and were doing just that until Ronald died while in junior secondary school. Both the Nestor family – and the band – suffered from that loss.
LapoKabwit
After Niger left Choiseul and went to Castries to join the band, LapoKabwit, Meshach was left to continue his musical pursuits by teaming up with friend, Sabby, in the band, San Nou.
"Ronald was the medium that made us see the light through music," Meshach said, lowering his head momentarily. "So I still respect him for that. After that, Niger carried on with the group."
At age 19, Meshach failed to make the grade to become a police officer despite having the required height. However, his friend's sister got him a job as a bellhop at Couples Hotel at Vigie. In an effort to take care of his mother, he reluctantly left the calm of Choiseul for the busy life of the city.
While there, he was able to learn a great deal about the hospitality sector and the value of interacting with people. After being told that employees who performed at regular staff shows would be rewarded every three months – sometimes with a trip abroad – Meshach signed up right away. He eventually won trips to Venezuela and Barbados for a few days of relaxation at the hotel's expense. After finding out that Le Sport was hiring, he soon parted with Couples and became a social coordinator there and even joined a dance group of which Carlton Ishmael was a member.
"As a social coordinator, I became fluent with language and dealing with people more confidently. But I got a vibe one day that told me that I was missing something, that I was missing music, and needed to get it back. I used to live in the hotel for three months straight without going to Choiseul. That revelation reminded me that I was a child of the soil and needed to go back to my Choiseul roots."
After the Gulf War started in Iraq in 1991 and tourism numbers began to decline, 21-year-old Meshach lost his job at Le Sport and returned to Choiseul to take up farming. With time on his hands, he took up playing the guitar seriously, buoyed by his adoration of Bob Marley and BujuBanton's rise to fame.
During that period of finding himself spiritually, "Gather Children" became the first song he penned while strumming his guitar. It was recorded in 1999 in collaboration with music producer Adam Gilmore. Another song, "Hail", came soon after and he and Niger began performing at various venues, including in Choiseul. They took on the name Wevolusion, in tribute to Ronald, who always envisioned the brothers creating a musical revolution.
In 2002, Meshach released his first full-length album, "Awake", which featured twelve tracks written by him and a version. Songs included "Everlivin", "Awake", "New Dreams", "Mr. Greedy Joe", "Hail Jah", "Long Suffering", "Burnin", "Ethiopian Princess", "Gather Children", "Hail", "Hands of Life" and "God of the System".
Wevolusion later toured Martinique, Barbados and Dominica, acquiring much fame before members drifted apart. Niger, too, wanted to spread his wings and perform at hotels in the city with other bands while Meshach chose to stay grounded in Choiseul. Meshach, however, still longs for those days when the band won the hearts of fans.
"Right now, I'm thinking of putting the band back together, so I'm looking for some serious musicians who are not tied down to other musical commitments. For me, it's not just about making money but rather spreading a positive message to the people," Meshach explained.
He added: "Many people might not know it, but I've written many songs in creole. I just haven't recorded them yet."
Violence
For many years, Meshach has used his voice as an instrument to speak out against violence. By reaching across to the youth especially he has become an integral part of the anti-violence consciousness that often finds him visiting schools to spread his message of love, peace and unity. His anthem, "Stay Out Of Trouble", speaks directly to the youth, encouraging them to think and act positively.
"I want good things for the people of the world," he stressed. "But we have to work towards making things right. I mean, just look at where we're heading. However, despite us having gone through many problems in the past we need to come together now to change things for the better. We need unity and we need to respect each other."
Since 1996, Meshach has shared a special bond with Claudette Adjodha, whom he met while she was performing with a band at a music event at Alliance Francaise that year. He said he recognized her strength immediately and decided that he needed someone like her to help him with his music, adding that the song, "Ethiopian Princess", was a tribute to her.
Adjodha has since been Meshach's manager and was executive producer for his "Awake" album and provided backing vocals. She used up her gratuity cheque to pay for the songs to be recorded in the United States. Meshach describes her as "an angel" and "warrioress".
"She's brought a lot of light and comfort to my life," Meshach said. "She's very deep."
In 2015, Meshach performed on the Main Stage at the Saint Lucia Jazz & Arts Festival, sharing the stage with Barbadian band, Krosfyah, and Jamaican reggae star, Beres Hammond. He told reporters backstage that it was "the best performance of my life". Unfortunately, that high point still finds him wanting.
"It was a great performance," he tells me. "But I really wanted to keep momentum from the jazz festival going. So far, I still cannot get it right due to the fact that I'm having some financial problems. My music might be rich in value but I don't have much money. So I'm hoping for a producer such as Chris Blackwell would open a door for me and my music."
These days, Meshach spends his time on his farm, being a father and writing songs. He said parenthood has taught him many lessons that continue to shape him as a musician. While he has aspirations to take his music higher, he said he remains committed to being around to raise his children.
Respected by many for being a positive messenger and cultural ambassador, Meshach continues to spread his musical influence by being an ambassador for peace and instrument for societal change. With new music on the way, his new dreams might well turn out to cause another awakening in us as he keeps the positive fire burning.